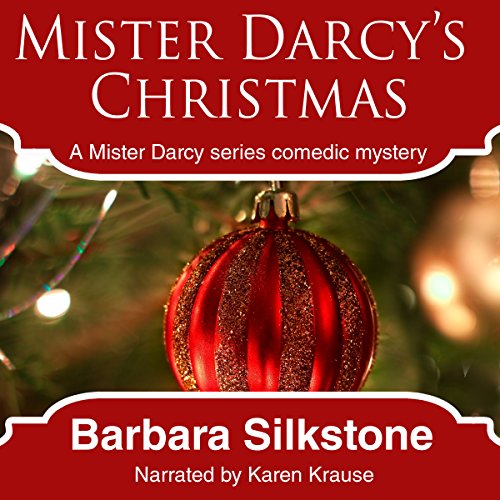 Narrated by Karen Krause
Run Time: 3 hrs and 7 mins
Genre: Fluffy romance, British
Summary:
Lizzie almost gets run over but a stray dog of sorts saves her. The dog is traveling with a scruffy little girl. Lizzie and her sisters take the street urchin to Mr. Darcy's place to get out of a storm. The next day, they plan to have a lovely Christmas eve with the street urchin's family, a rather large collection of kids.
Additional Comments:
Light, fluffy romance.
This one can be read without the previous and likely subsequent stories in the series. It's a re-imagining of Pride and Prejudice. Still baffles me the amount of spinoffs that okay story has generated.
Darcy's still a saint, but this round, Elizabeth is holding him at bay because she wants to start a dog psychology business all on her own.
Thank heavens she doesn't mention she's Doctor Bennett every 3 seconds like she did in the first book. That was super annoying. If you have to stress it that much, nobody gives 2 shakes of a dog's tail, get over yourself.
Georgiana's still sweet and naïve. Wickham's not mentioned at all, thank goodness.
Caroline Bingley is a twit and mean spirited to boot.
Jane and Charles are still moon-eyed.
Derby and Squire – Darcy's dogs – are still adorable.
Conclusion:
This isn't a deep thinker. If you're into light, fluffy Christmas cheer sorts of romantic comedies, this should fit the bill fine.
If you want to get 5 clean audio promos a month. Sign up here.
Audiobook Promotions …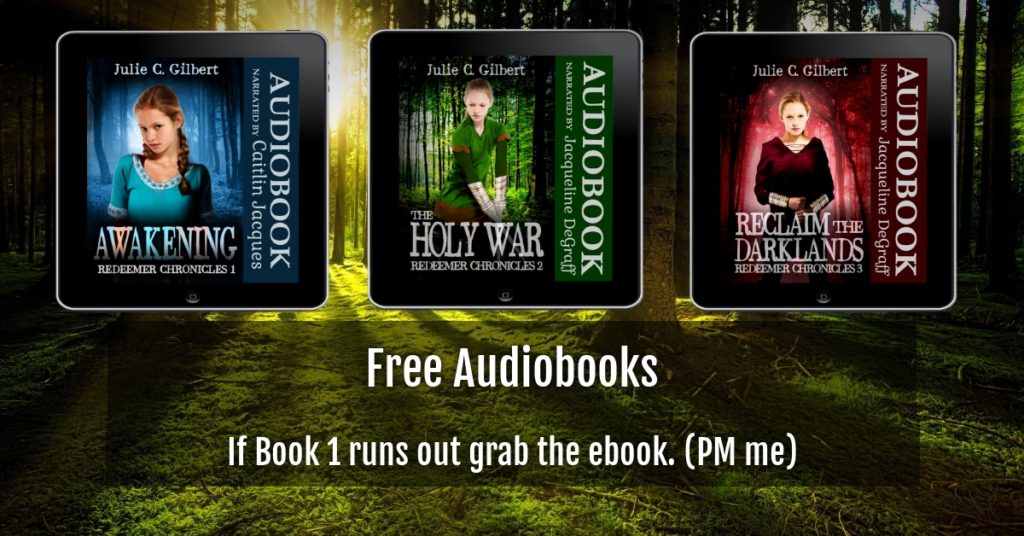 Many of my 50 audible titles are listed on Audiobooks Unleashed.
Whether you're looking for mystery or suspense or fantasy, I've got a title for you. Free codes are probably on audiobooks unleashed.
Normal links go to audible. *The Amazon labeled links are affiliate links. That means I get a very small payment from Amazon if you go through with a purchase.*
Note: Filter by US if you're looking for those codes as many titles are out.
Ones I think may still have US codes: Reshner's Royal Ranger, Never Again, Innova, The Golden City Captives, The Holy War, Reclaim the Darklands, Eagle Eyes, Treachery Makes it Tense, Ashlynn's Dreams Shorts, The Dark Side of Science, Ashlynn's Dreams, Nadia's Tears, Malia's Miracles, and Varick's Quest
There are plenty of UK codes, but not many US ones left.
Redeemer Chronicles (Fantasy)
Awakening – Redeemer Chronicles Book 1, MG fantasy (Amazon) (free codes)
The Holy War – Redeemer Chronicles Book 2, MG fantasy (Amazon) (free codes)
Reclaim the Darklands – Redeemer Chronicles Book 3, MG fantasy (Amazon) (free codes)
River's Edge Ransom – Prequel to Redeemer Chronicles (Amazon) (email devyaschildren @ gmail.com for free codes)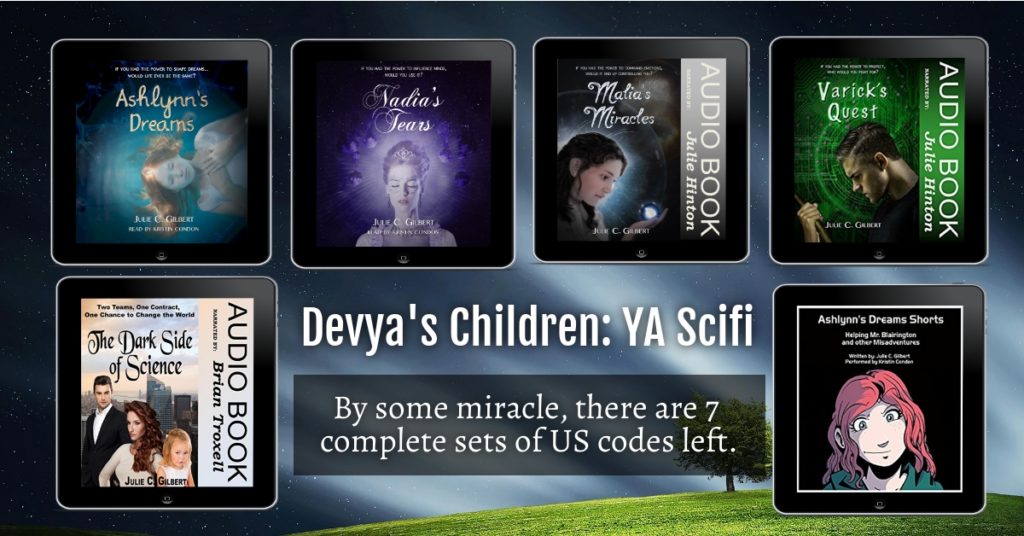 Devya's Children Series Links:
Ashlynn's Dreams Shorts – short stories featuring Jillian. (Amazon) (free codes)
The Dark Side of Science – official prequel to Devya's Children; Genetically altered kids fight for the right to live. (Amazon) (Please email devyaschildren @ gmail.com for free codes)
Ashlynn's Dreams – Genetically altered Dream Shaper learns her gift. (Amazon) (free codes)
Nadia's Tears – Jillian tries to awaken her sister, Nadia, from a coma. (Amazon) (free codes)
Malia's Miracles – Jillian and her siblings try to save a friend's mother. (Amazon) (free codes)
Varick's Quest – Jillian and Danielle get kidnapped. Nadia's also in trouble. (Amazon) (free codes)
More Scifi:
Reshner's Royal Ranger (epic sci-fi) just made it there. (Amazon) (free codes)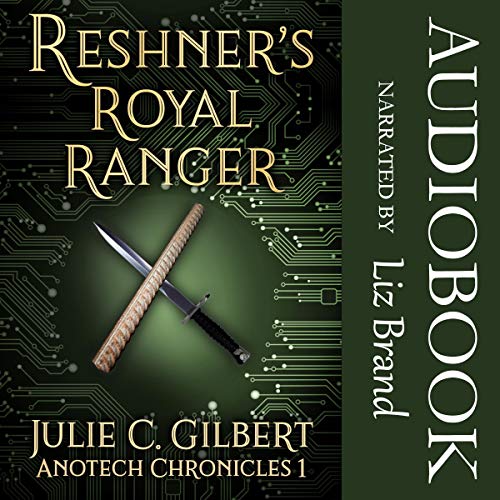 Guardian Angel Files:
Spirit's Bane – Allister and Mina are training to be Guardians. Satan's out to get them. (Amazon) (free codes)
Kindred Spirits – Mina's exiled to Earth. Allister's stuck in the Heavens. (Amazon) (free codes)