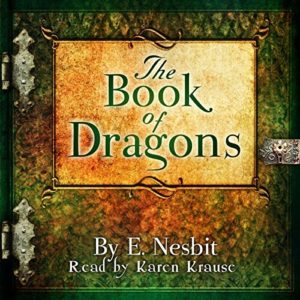 Summary:
About 8 separate tales featuring dragons of all shapes, sizes, and temperaments.
Additional Comments:
– I heard the audiobook, and I went into it knowing I already like the narrator. This is one of the first books that I had a hard time finding on audible due to the fact that there are like 6 different versions. Since it's a public domain book, quite a few people have taken a crack at it.
– The narrator indeed put on a lovely performance.
Here are my individual ratings for the stories:
– The Book of Beasts – (3/5) Lionel lets out all sorts of things from a magic book. Kind of just wanted to smack the small idiot king.
– Uncle James, or the Purple Stranger – (4/5) a kingdom has animals that vary in size from what we're used to. Intriguing twists involved here.
– The Ice Dragon, or do as you are told – (4/5) Sort of a moral "here's what sort of trouble you get if you don't listen" tale. Features really annoying dwarves.
– The Island of Nine Whirlpools – (5/5) This is what you expect when you think tales with dragons and princesses.
– The Dragon Tamers – (4.5/5) Not sure why it starts so early in the timeline of the story, but it's a fun tale overall.
– The Fiery Dragon or the Heart of Stone or the Heart of Gold – (4/5) Typical tale of strange magic rules of saving somebody.
– Kind Little Edmund or the Caves and the Cockatrice – (3.5/5) That poor kid. This one hit several bizarre buttons in me, even for a fairy tale.
Conclusion:
These are classic style fairy tales. As with any collection, I enjoyed some way more than others. It's somewhat disappointing that the last one didn't connect well with me, but it's a worthwhile collection of stories.
Associate links to follow…
Amazon Prime
Audible – If you'd like some free codes, please email me at [email protected] with requests for any of my works.