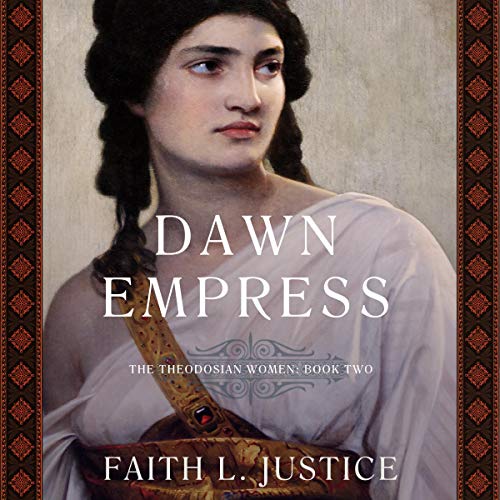 Performance and story 4 stars
Narrated by Kathleen Li
Run Time 12 hrs and 41 mins
Summary:
When her parents die young, Pulcheria takes it upon herself to protect her younger siblings. Her brother, Theodosius II, becomes emperor as a kid. The plots and schemes of church people, guardians, and many more keep the princess busy. She practically raises her kid brother, but can she save him from himself?
Additional Comments:
Historical fiction of the sort isn't my typical audio-fare, but this was good.
It goes into a tad too much detail on certain developmental life stages for the young princess, but that's forgivable and probably a necessary evil in terms of discussing certain schemes launched at her and how she countered the moves.
Kathleen Li provides a solid performance and keeps the reading engaging.
Pulcheria had quite the handful keeping her brother safe. The intrigue in here is more subtle than I'm used to. It's more about controlling the emperor than getting in a sword fight. Sweeping changes were made with little more than whispers placed in the man's ears. The golden apple affair true or not was fun. Still wanted somebody to run the scheming eunuch through with a sword, but alas, sometimes, history is more boring than that.
I could feel Pulcheria's frustration when her brother gave her the "gift" of retirement. I mean, that's essentially what she did years earlier with some of the scheming people in charge of her brother.
I enjoyed the descriptions of her work with the poor.
Pretty sure I missed some important details throughout like the significance of certain political moves or alliances. Still, I enjoyed this bit of history.
Thank goodness for the beginning part that explained titles.
Conclusion:
A fascinating look into the life of a brave young empress.
Audiobook Promotions …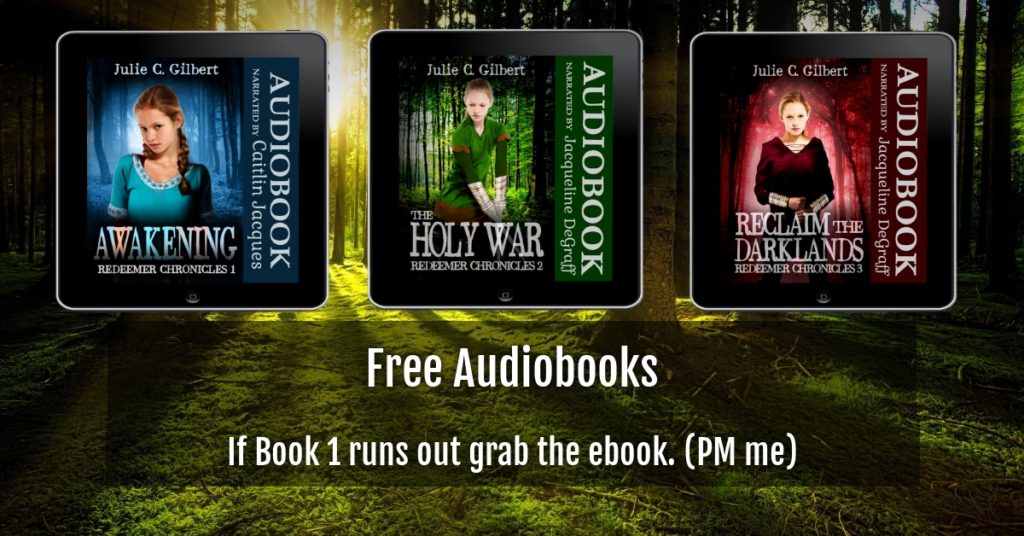 Many of my 50 audible titles are listed on Audiobooks Unleashed.
Whether you're looking for mystery or suspense or fantasy, I've got a title for you. Free codes are probably on audiobooks unleashed.
Normal links go to audible. *The Amazon labeled links are affiliate links. That means I get a very small payment from Amazon if you go through with a purchase.*
Note: Filter by US if you're looking for those codes as many titles are out.
Ones I think may still have US codes: Reshner's Royal Ranger, Never Again, Innova, The Golden City Captives, The Holy War, Reclaim the Darklands, Eagle Eyes, Treachery Makes it Tense, Ashlynn's Dreams Shorts, The Dark Side of Science, Ashlynn's Dreams, Nadia's Tears, Malia's Miracles, and Varick's Quest
There are plenty of UK codes, but not many US ones left.
Redeemer Chronicles (Fantasy)
Awakening – Redeemer Chronicles Book 1, MG fantasy (Amazon) (free codes)
The Holy War – Redeemer Chronicles Book 2, MG fantasy (Amazon) (free codes)
Reclaim the Darklands – Redeemer Chronicles Book 3, MG fantasy (Amazon) (free codes)
River's Edge Ransom – Prequel to Redeemer Chronicles (Amazon) (email devyaschildren @ gmail.com for free codes)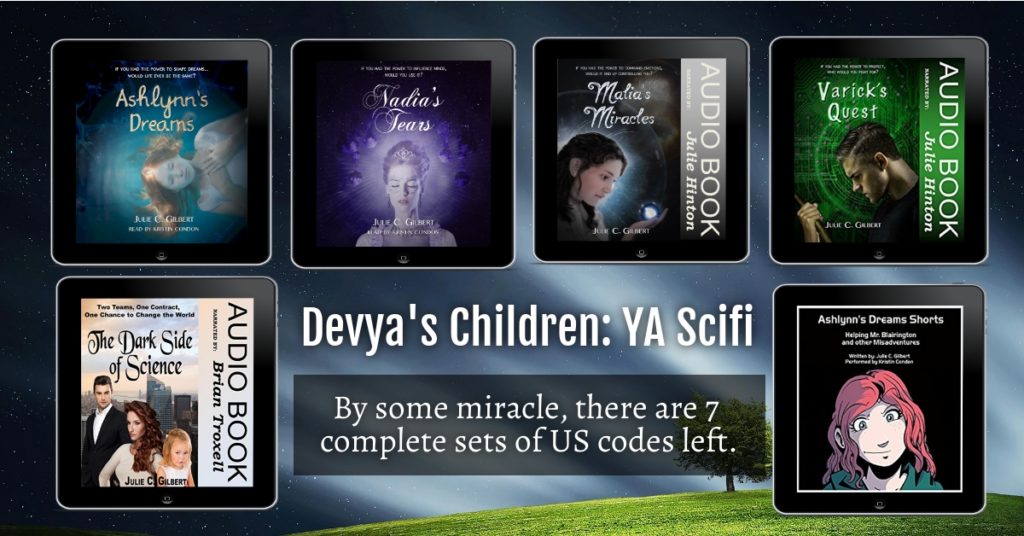 Devya's Children Series Links:
Ashlynn's Dreams Shorts – short stories featuring Jillian. (Amazon) (free codes)
The Dark Side of Science – official prequel to Devya's Children; Genetically altered kids fight for the right to live. (Amazon) (Please email devyaschildren @ gmail.com for free codes)
Ashlynn's Dreams – Genetically altered Dream Shaper learns her gift. (Amazon) (free codes)
Nadia's Tears – Jillian tries to awaken her sister, Nadia, from a coma. (Amazon) (free codes)
Malia's Miracles – Jillian and her siblings try to save a friend's mother. (Amazon) (free codes)
Varick's Quest – Jillian and Danielle get kidnapped. Nadia's also in trouble. (Amazon) (free codes)
More Scifi:
Reshner's Royal Ranger (epic sci-fi) just made it there. (Amazon) (free codes)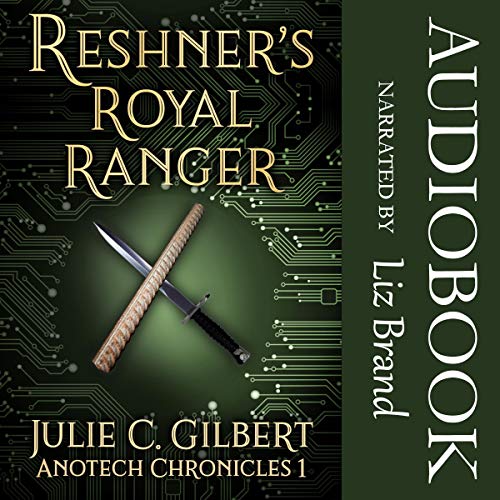 Guardian Angel Files:
Spirit's Bane – Allister and Mina are training to be Guardians. Satan's out to get them. (Amazon) (free codes)
Kindred Spirits – Mina's exiled to Earth. Allister's stuck in the Heavens. (Amazon) (free codes)