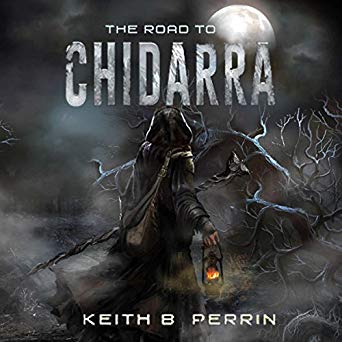 *mild spoilers possible in the discussion
Summary:
Three-ish loosely connected tales set in a dangerous, dark land.
Additional Comments:
– Note: I heard the audiobook, so I'm probably gonna butcher names left and right.
– Plot 2/5 stars: If you try to beat it into one coherent story, you're going to get seriously peeved. I think it would have been better to bill it as 3 short stories set within the same world. A lot of things happen, but there's no overarching start to finish plot, just vignettes of bad things happening and good guys dealing with it.
– Content warnings: violence, talk of rape, talk of transformation into evil creatures, general fantasy fights
– World-building 4.5/5 stars: Clearly, this is a lovingly crafted world.
– Characters 3/5 stars: They're intriguing but hard to connect to. There are the soldiers of Chidarra, the prophet, and the little people (not sure if they were named or not, they probably were).
– Narration 5/5 stars: voice picked was perfect for the story.
– It's very clear about being Christian fantasy. What surprised me was how bluntly it tried to merge Earth Christian beliefs and fantasy things. It's an intriguing approach, but I don't think it quite worked for me. The story takes place in a world of ogres, werewolves, and other mythical creatures, and then it'll says stuff like the God of Israel. Don't get me wrong here, the portrayal of God seems accurate, but making the God of this world the God of that world just poked holes in my little fantasy bubble.
– Cover fits the story well.
– Narration style (voice of the writing) takes some getting used to, but I think it was a good choice for a story like this.
Conclusion:
If you very clear-cut battles of good versus evil told in parable fashion, check out this book.
Associate links to follow…
Amazon Prime
The Collins Case – 2 FBI agents track down a kidnapped family. Kid friendly.
If fantasy's more your thing, go Redeemer Chronicles. The first, Awakening, is available as an audiobook.
Ashlynn's Dreams Shorts – a kid deals with her parents' divorce, bullies, and the wonder of discovery.
Try The Dark Side of Science – Genetically altered kids fight for the right to live.
Beyond Broken Pencils – Contemporary literary tale of a school shooting. Ian unleashes his inner demons on his classmates and teachers…
Scratched Off – FBI agent vs a serial killer. When Sam Kerman sets out to hunt a serial killer, he has no idea how personal the case will become.

OR