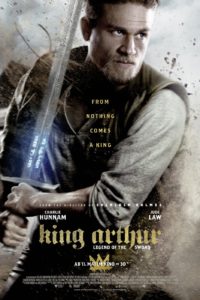 3/5 King Arthur: Legend of the Sword – mild spoilers possible
Summary:
A new twist on an old tale. A brother rises up against his brother to steal the throne. His quest for power leads him to corruption, power, and ultimately doom.
Additional Comments:
– beginnings reminds me of LOTR with the elephants
– nice use of magic. Weird music.
– bridge fight like Thor.
– dude who plays Littlefinger is in this.
– civil war? Jude Law's character. Sacrifice… ouch.
– dude who played Bolton is also in it, Jack.
– dude from orphan black in here too. Donnie I think.
– all the slow motion stuff is tedious.
– Art becomes a fugitive.
– very public execution. The mage and rebels save him.
– the sword keeps kicking his behind.
– chase scene is disorienting.
– plot is standard yet still effective. Capture his friends.
– it's like a very strange video game.
Conclusion:
If you like strange takes on medieval tales, like A Knight's Tale, then the music choices won't throw you. If you're looking for a faithful rendition of King Arthur's rise to power, then you might be a tad disappointed. It's entertaining but in a weird way.
Associate links to follow…
(If you click through and buy something, there's the chance I'll earn like $0.04 … not kidding, that's basically it.)
Amazon Prime
Audible – If you'd like some free codes, please email me at [email protected] with requests for any of my works.
Try Awakening. Or The Golden City Captives.

OR