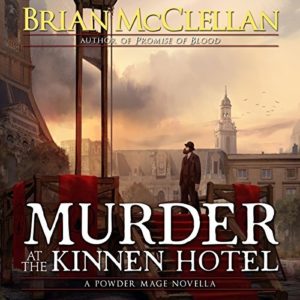 4.5/5 stars Awesome Introduction to an Intriguing World
Murder at the Kinnen Hotel by Brian McClellan (Narrated by Julie Hoverson)
Summary:
A young policeman with a gift for remembering everything struggles to solve several murders, save a friend from the guillotine, and preserve his own career before the rich and powerful destroy him.
Additional Comments:
– I've never read the Powder Mage series, but this is a nice introduction to that world.
– 5/5 stars world-building: Fantasy of this sort hinges on creating a world at once familiar yet fantastically and fundamentally different. Brian McClellan does both. It probably helps that he already did the heavy lifting in the regular series, so he's very comfortable describing his world to us.
– 4/5 stars characters: Adamat's the sort of guy one can root for. Captain Hewi seems competent. Lieutenant Dorry's somebody you'd love to hate. Adamat's friend (the businessman) comes across as a useless lout, which is unfortunate because I think we're supposed to like him. I don't even remember his name and I finished the book yesterday. The cabal lady was suitably scary and awesome at the same time.
– 4.5/5 Plot: Things work out and tie up nicely. I liked the pieces where Adamat could explain stuff he'd read in newspapers several weeks ago. Kind of reminded me of a Sherlock Holmes' moment.
– Content warning: standard fantasy violence. A few descriptions of blood and gore but nothing that would shake most genre fans.
Conclusion:
Not sure where this fits in the grand scheme of the world, but it's a cool introduction all the same. (Also not sure I'd invest $2.99 per subsequent 75 page novella … I'd probably wait for a combo book.)
Associate links to follow…
Amazon Prime
Audible – If you'd like some free codes, please email me at [email protected] with requests for any of my works.