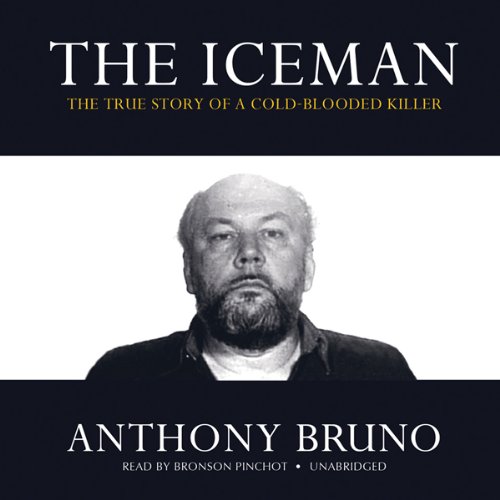 Narrated by Bronson Pinchot
Run Time: 8 hrs and 5 mins
Genre: Nonfiction, serial killers, true crime
Summary:
Nobody knows how many people got iced by Richard Kuklinski. He got the nickname The Iceman because he once put a body on ice 2 years to see what it would do in terms of preservation.
Additional Comments:
There's hope for the true crime genre yet!
Richard Kuklinski led quite the interesting double life. Family man and hit man.
He's not your stereotypical mob hitman. You wouldn't cast a Hollywood heartthrob to represent him. He didn't lead a heart-pounding life of danger and thrills. He did dark deals in back rooms.
His first crime was running off with a crate of wine, then puking his guts out. Later he killed a neighborhood bully.
Most of the people who got killed kind of deserved it, so it was a little hard to feel sorry for them.
There were tales of bravery too. Found it intriguing that the one dude went back to die to protect his family.
It's like a true Sith tale, a master, an apprentice, and a betrayal when things go wrong.
Kind of makes you wonder about the history of the place you live in.
Was one heck of an investigation.
Cyanide is an undervalued poison. I found the range of Kukinski's weapons intriguing. He didn't hesitate to shoot people, but he also claimed to be able to make it look accidental with cyanide mist.
I found it even more fascinating because I recognized some of the places in New Jersey. Most of the famous serial killers come from other places.
Narration was fine. It's not exactly a book that calls for a million voices, but the actor did a nice job distinguishing the 8-10 different people, both male and female.
Content Warnings: flagrant use of f-bombs. It fits the moment, but I wouldn't exactly count this as a clean book.
Conclusion:
An interesting account of Richard Kukinski's life and work and a bit about the guy who took him down.
*I got the book from Audible plus.
If you want to get 5 clean audio promos a month. Sign up here.
Audiobook Promotions …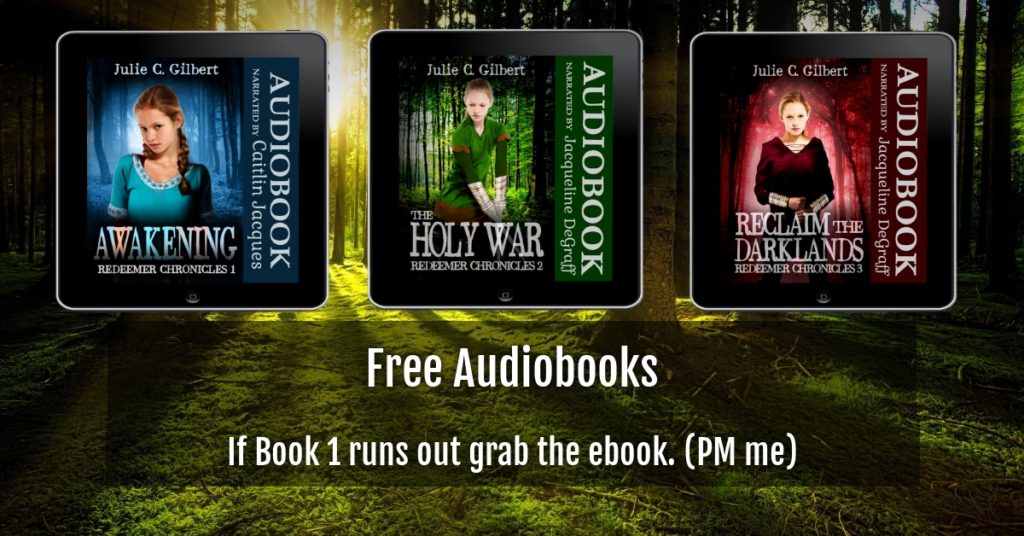 Many of my 50 audible titles are listed on Audiobooks Unleashed.
Whether you're looking for mystery or suspense or fantasy, I've got a title for you. Free codes are probably on audiobooks unleashed.
Normal links go to audible. *The Amazon labeled links are affiliate links. That means I get a very small payment from Amazon if you go through with a purchase.*
Note: Filter by US if you're looking for those codes as many titles are out.
Ones I think may still have US codes: Reshner's Royal Ranger, Never Again, Innova, The Golden City Captives, The Holy War, Reclaim the Darklands, Eagle Eyes, Treachery Makes it Tense, Ashlynn's Dreams Shorts, The Dark Side of Science, Ashlynn's Dreams, Nadia's Tears, Malia's Miracles, and Varick's Quest
There are plenty of UK codes, but not many US ones left.
Redeemer Chronicles (Fantasy)
Awakening – Redeemer Chronicles Book 1, MG fantasy (Amazon) (free codes)
The Holy War – Redeemer Chronicles Book 2, MG fantasy (Amazon) (free codes)
Reclaim the Darklands – Redeemer Chronicles Book 3, MG fantasy (Amazon) (free codes)
River's Edge Ransom – Prequel to Redeemer Chronicles (Amazon) (email devyaschildren @ gmail.com for free codes)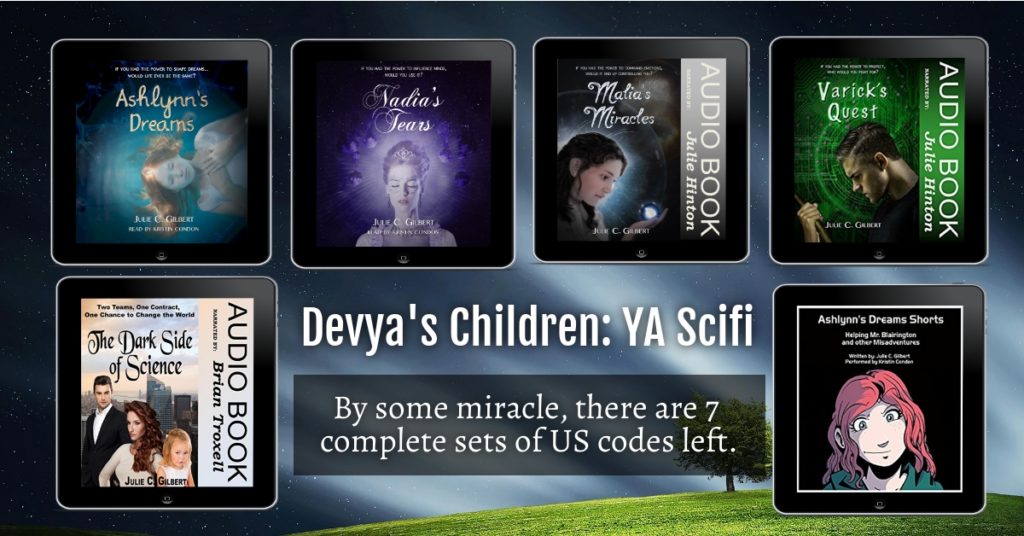 Devya's Children Series Links:
Ashlynn's Dreams Shorts – short stories featuring Jillian. (Amazon) (free codes)
The Dark Side of Science – official prequel to Devya's Children; Genetically altered kids fight for the right to live. (Amazon) (Please email devyaschildren @ gmail.com for free codes)
Ashlynn's Dreams – Genetically altered Dream Shaper learns her gift. (Amazon) (free codes)
Nadia's Tears – Jillian tries to awaken her sister, Nadia, from a coma. (Amazon) (free codes)
Malia's Miracles – Jillian and her siblings try to save a friend's mother. (Amazon) (free codes)
Varick's Quest – Jillian and Danielle get kidnapped. Nadia's also in trouble. (Amazon) (free codes)
More Scifi:
Reshner's Royal Ranger (epic sci-fi) just made it there. (Amazon) (free codes)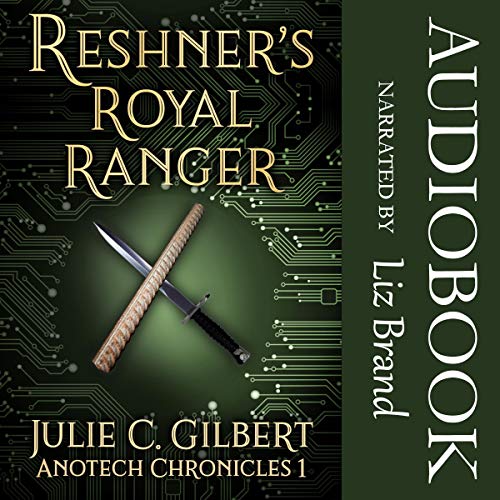 Guardian Angel Files:
Spirit's Bane – Allister and Mina are training to be Guardians. Satan's out to get them. (Amazon) (free codes)
Kindred Spirits – Mina's exiled to Earth. Allister's stuck in the Heavens. (Amazon) (free codes)