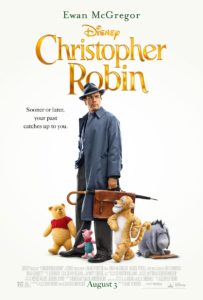 Summary:
Christopher Robin (Ewan McGregor) has grown up and become a responsible adult, but he's not entirely happy with his life.
Additional Comments:
– The target audience is really anybody who great up loving Winnie the Pooh, not really their kids. Family friendly, though not really aimed at children.
– Pooh goes to London to visit with Christopher Robin and helps him find joy again.
– Cast 5/5: All parts are well-played. I always love McGregor, though to be fair he has picked up some weird roles over the years. Haley Atwell is amazing too. Even the kid who plays "The Madeline" is great in the role.
– Pacing 4/5: Not perfect. Not terrible. It's a tad on the long side, but you need a fair amount of setup.
– I loved the illustrated book to moving picture bits. It can be overused, but here, I think they found a nice balance.
– Pooh's all about that red balloon. You actually don't get to see too much of the other friends. They have small parts, but as per the title, this movie is really all about Christopher Robin.
Conclusion:
Not really something that you must see in theaters, but a fun movie worth seeing.
Associate links to follow…
(If you click through and buy something, there's the chance I'll earn like $0.04 … not kidding, that's basically it.) Can I interest anybody in an audiobook? Those links are worth much more, but I think you'd have to become an audible member to benefit me.
Amazon Prime
Audible – If you'd like some free codes, please email me at [email protected] with requests for any of my works.

OR