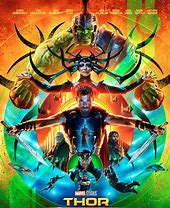 Spoilers ahead, maybe.

4/5 Thor Ragnarok
Summary:
Fun and weird. Some pretty sad and twisted stuff happens, but it's no Game of Thrones in terms of grim factor. There's usually some light moment to break up the horror of war and death.
Additional Comments:
Cate Blanchett plays one heck of a Goddess of Death.
Jeff Goldblum as the Master was pretty funny.
Tessa Thompson as the Valkyrie rocked too. Her relationship with Thor was intriguing: first captor, then reluctant ally, then committed ally.
I was trying to figure out what else Karl Urban was in. I think it was Almost Human that I remembered him most for. I miss that quirky show. Though I will say, he definitely looks better with hair.
Thor's new look suits him well, but I kinda miss the golden locks.
The poster looks like a gobstopper candy.
I'm gonna hold on to the fantasy that they make it and live happily ever after.
Conclusion:
Not going to go down as the most serious Marvel movie, but an interesting time. Worth seeing a few times.
Associate links to follow…
Amazon Prime
Audible – If you'd like some free codes, please email me at [email protected] with requests for any of my works.
Try Spirit's Bane.

OR