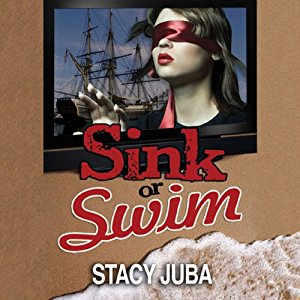 4.5/5 Fame's not what Cassidy thought it would be
Summary:
Cassidy's stint on a hot new reality TV show, Sink or Swim, propels her into unwanted stardom and earns her a stalker. She misses the million by five points, but still winds up with more attention than she'd like.
Additional Comments:
It's a predictable yet enjoyable story.
I heard the audiobook, and the narrator's performance was very good.
I like the concept of the reality TV show and the idea of stalker angle. It went on a tad longer than it truly had momentum for, but there were some interesting red herrings. It's not really about the TV series, but that's a neat angle.
Her family dynamics worked for me. Mother and father divorced amiably and a devoted kid half-brother. I enjoyed the fact that the family wasn't picture perfect with a white picket fence.
The murder angle was okay, but I think it distracts from the terror caused by the stalker.
The gun thing was kinda dumb, but I can forgive the character under pressure some irrationality.
I didn't get a big "personal trainer" vibe from Cassidy. I'm not sure the book describes her running once, though I do remember her lifting weights or something. I haven't had a personal trainer, but I think a lot of their job is the mental piece. I would have expected some of that disciplined mindset to bleed into her thought process while dealing with the stalker.
Conclusion:
Intriguing stalker book.
As Always …
If you want the chance to get the audiobook for free, please join Audiobook Readers' Edge.
If you're an author (or a narrator) with an audiobook you'd like featured, sign up for Audiobook Authors' Edge.
Thanks for your time.
Sincerely,
Julie C. Gilbert
Audiobook Edge and it's Matchmaker Program are completely free now, but if you wanna donate anyway, go for it 😉
Please, just do it as a friend b/c otherwise, you're basically just paying paypal.
[paypal-donation]
Prime Student – Oh, how I wish I was still a student.
Kindle Unlimited – Keep that Kindle Happy. 30 FREE trial
Free Kindle Reading App