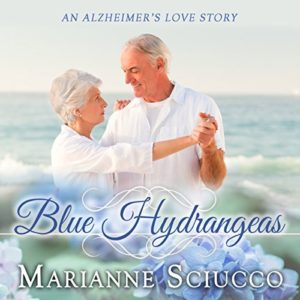 Summary:
Jack's struggling to take care of his wife. She has good days and bad days. On good days, she remembers who she is, where she is, and what she's doing. On bad days, she could end up anywhere in a panic because her mind's being blasted to bits by an awful disease.
Additional Comments:
– The narrator's performance did the story justice.
– Plot (4/5): Nothing that happens seems out of the ordinary for the situation. I'm sort of used to books with more murder and mystery, but it's still a touching story.
– Characters (4/5): Jack and Sara are a lovely couple. There's not much information about what they did before retirement. They ran their home as a bed and breakfast. He did some sort of business in a city. She's an artist. Who's Emily? Not terribly clear on the rest of who's who in their family. As I understand it, Derek and Jesse are the grandsons, their father is David, who is Jack and Sara's son. David's wife is Anne. I think that sums up the major players.
– Flashbacks: I'm not a fan, but one probably couldn't really tell such a tale without them.
– The descriptions of Jack's struggle to care for Sara are touching.
– The crisis that the family's in over the disease seems realistic.
Conclusion:
A different kind of drama than I'm used to, but heartfelt nonetheless.
Associate links to follow…
Amazon Prime
Audible – If you'd like some free codes, please email me at [email protected] with requests for any of my works.
Go here if you want to learn more about Alzheimer's disease: