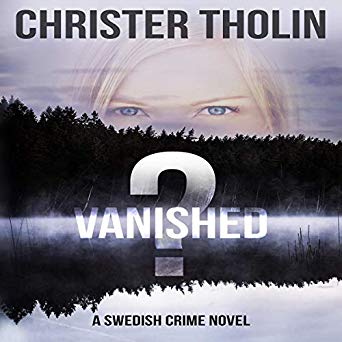 Summary:
Looking to reset his life, Martin takes a vacation to Sweden and gets more than he bargained for. He makes plans to meet up with a nice lady and winds up searching for her. He's not kin, so the police won't listen to him, but he can't just forget about her either.
Additional Comments:
– Characters 3.5/5 stars: Martin's a decent chap. He really wants to save Liz, even though he just met her. Liz is gorgeous and in trouble. She's got the perfect life, unless you count the people kidnapping her. Elin and Lars step in as private detectives at Martin's behest.
– Plot 3.5/5 stars: It would have been a tad more believable if Liz and Martin knew each other a little bit longer. Quite a few other things happen after that, but I won't say much more to avoid spoilers.
– Narration 4/5 stars: The characters aren't super distinguishable, but the performance is solid and males/females are distinct.
– Potential 3.5/5 stars: There's decent potential for the series as a whole. Lars and Elin don't have great chemistry as partners, but the type of detective work they do here is believable.
– Content Warnings: some violence, some language, fade to black type adult scenes, same sex couple
Conclusion:
There's definite potential for the series to go somewhere great. I'd say this is a fair introduction to a mystery series. It's a little hard to tell who the main characters are though. Martin gets a LOT of page time, but I think the rest of the series is going to focus on the detectives.
Associate links to follow…
Amazon Prime
The Collins Case – 2 FBI agents track down a kidnapped family. Kid friendly.
If fantasy's more your thing, go Redeemer Chronicles. The first, Awakening, is available as an audiobook.
Ashlynn's Dreams Shorts – a kid deals with her parents' divorce, bullies, and the wonder of discovery.
Try The Dark Side of Science – Genetically altered kids fight for the right to live.

OR