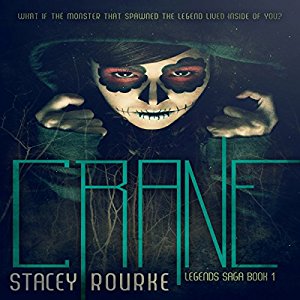 Content warning: Language; graphic violence
(Sorry about the name spellings. I heard the audio version.)
Summary:
Ireland Crane moves to Sleepy Hollow/ Terrytown to get away from a disastrous romance. What awakens in her when she gets there is much, much worse.
Additional Comments:
– There's a good deal of snark in the lines of dialogue and in the protagonist's thoughts. It adds a much-needed lightness to an otherwise gripping but very, very grim, dark, horrific plotline.
– Content warnings: language, graphic violence
– Characters: excellent. One can truly sympathize with Ireland. Noah's kind of a flat character, but he's still awesome. Rip is funny, but he doesn't play much more of a role than inept conscience.
– Although the main character's supposed to be a school guidance counselor, she does and says some stuff that makes me doubt she's ever been in earshot of a school.
– Plot: Good but there are some leaps of logic required that have nothing to do with the fantasy side of the story.
– It's an interesting twist on the legend of the headless horseman.
Conclusion:
If you can handle gruesome, go for it. There's even some fun to be had in this bloody tale.
It's one of the creepiest books I've heard in a long time, yet it was very, very compelling.
As Always …
If you want the chance to get the audiobook for free, please join Audiobook Readers' Edge.
If you're an author (or a narrator) with an audiobook you'd like featured, sign up for Audiobook Authors' Edge.
Thanks for your time.
Sincerely,
Julie C. Gilbert
Audiobook Edge and it's Matchmaker Program are completely free now, but if you wanna donate anyway, go for it 😉
Er, just do it as a friend b/c otherwise, you're basically just paying paypal.
[paypal-donation]
Prime Student
Kindle Unlimited
Amazon Prime
Free Kindle Reading App
Audible