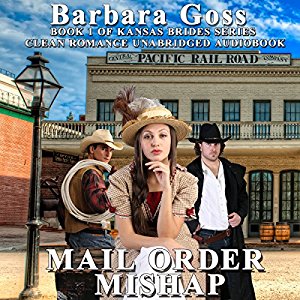 Summary:
The American Civil War leaves behind a shortage of men in the South. Wanting a husband and children, Amber Wakefield travels to Hunter's Grove, Kansas in answer to a mail order bride ad. There, she finds not everything is as it seems.
Additional Comments:
The narrator handled the Southern accent very well.
Romance typically isn't my genre, but I found this enjoyable.
It's totally predictable from the cover right down to the conclusion, yet that does not detract from the fun factor.
Parts made me laugh out loud. That's always a plus.
It's short enough that it didn't frustrate me. (A story like this where the two main characters dance around each other being miserable has the potential to get old real quick. But the length of this story was perfect to let the characters get flustered to a point then bring everything to a satisfying conclusion.)
Adult themes are handled tastefully. I'd consider this a "clean" book.
Conclusion:
A nice, light, inspirational romance story.
As Always …
If you want the chance to get the audiobook for free, please join Audiobook Readers' Edge.
If you're an author (or a narrator) with an audiobook you'd like featured, sign up for Audiobook Authors' Edge.
Thanks for your time.
Sincerely,
Julie C. Gilbert
Audiobook Edge and it's Matchmaker Program are completely free now, but if you wanna donate anyway, go for it 😉
Er, just do it as a friend b/c otherwise, you're basically just paying paypal.
[paypal-donation]