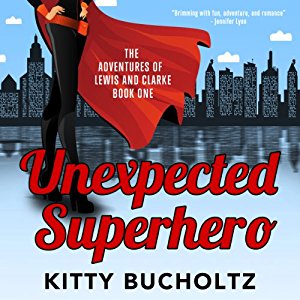 Introduction:
Some superhero books try to be serious. This isn't one of those times. There might be possible spoilers ahead in my discussion. I have some mixed feelings about the book as a whole. There's a lot to love and some stuff that raises eyebrows.
Summary:
Tori Lewis discovers she has a superpower. Meanwhile, her new husband, Joe Clarke, also has a secret identity.
Additional Comments:
I love the pop culture references. The references include: Spiderman, The X-Files, Superman, and much more.
Comic books do not qualify as research.
Neutral:
Limited first person sometimes slips into stream of consciousness. In general, the amount of arghs and grrs should be kept to a bare minimum in books, especially audios.
The MC gets mugged twice.
What I couldn't connect with … :
The genres flip quite regularly. It's mostly a lighthearted romantic comedy set in a mildly urban fantasy setting. In addition, there are elements of Christian romance, Harlequin romance, mystery, and scifi. I happen to like most of those, but I'll admit the blend is not always pretty. Odds are very good that either you're going to be offended by the amount of intimate scenes described between the newlyweds or you're going to be offended by the amount of times Tori prays or somebody brings up a Bible verse.
Content warning: contains curse words and "moderate spice adult scenes"
There's a fair amount of very slow build. I clocked it. Tori took 7.5 hrs to tell Joe the truth, and he took about 9.2 hours to tell the truth. That's weeks upon weeks in their time. I'll tell him soon, I'll tell him later, I'll tell her soon, I'll tell her later, well maybe … It got maddening.
Some plot threads get brushed off in a "that's not really our focus as super heroes" vibe instead of wrapped up.
What I liked:
The narrator fit the character very well. She gave a solid performance.
The scifi and mystery aspects are great. I wish more of this existed.
I enjoyed Kane (sorry about spelling, I heard the audio) as a villain.
The last hr and a half was excellent. Once they leveled with each other and finally got to the exciting stuff including the showdown, it was awesome.
Conclusion:
If you can handle the "heat level" and don't mind genres flipping all over the place, it's an intriguing tale.
As Always …
If you want the chance to get the audiobook for free, please join Audiobook Readers' Edge.
If you're an author with an audiobook you'd like featured, sign up for Audiobook Authors' Edge.
Thanks for your time.
Sincerely,
Julie C. Gilbert
Audiobook Edge and it's Matchmaker Program are completely free now, but if you wanna donate anyway, go for it 😉
Er, just do it as a friend b/c otherwise, you're basically just paying paypal.
[paypal-donation]
Music Unlimited
Home Services – Is there anything Amazon doesn't dabble in?