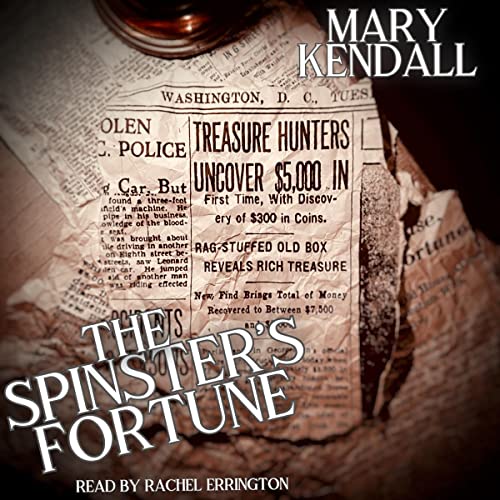 Narrated by Rachel Errington
Run Time 7 hrs and 55 mins
Summary:
There are almost two storylines here. There's what happened in the past to Blanche and between Blanche and her sister Emily. Then, there's also Margaret's quest to find Blanche's fortune.
Additional Comments:
I feel like this has some pacing issues. There's a lot of setup to get to the payoff.
Margaret's okay, but I don't really feel like rooting for her. She's a rich lady getting richer. Her husband's a dud, but that's her own fault for marrying the pretty drunk.
Blanche is okay. We do get to see her a wee bit in her mind as the beautiful young woman she was once upon a time.
The cousin is downright annoying. Note: she's supposed to be, so in that sense, it was intended.
The sister for Margaret didn't add anything. There could have been a chance to contrast the relationships between Blanche and Emily and Margaret and her sister, but it just felt like a lost thread.
Margaret's husband has few redeeming qualities. It's never really clarified if he was straight up cheating on her though. There are a few other threads that feel unresolved.
Robert's the quinessential nice guy.
I had a very difficult time figuring out what era the story was told in. Part of the history is back during the Civil War, but most takes place in the early 1900's-ish. There are cars. The servants seem to be relics that came with the place.
The treasure hunt aspect was fun.
There are a few nice twists that redeem some of the confusion along the way.
Wrapup works even if it seems too convenient.
Conclusion:
It's an interesting historical-ish piece. If you enjoy slow-build stories with decent payoffs to mini mysteries, give it a go.
If you want to get 5 clean audio promos a month. Sign up here.
Have You Tried Kindle Vella Yet?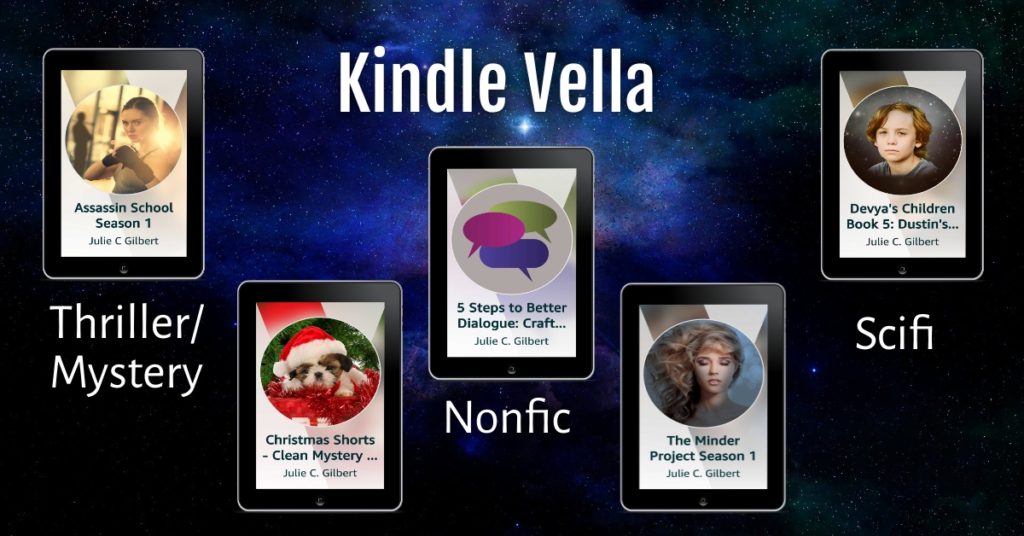 Christmas Shorts – (Mystery, thriller, Christian, suspense; Ongoing; story 1 is complete) Only one story right now, but will be a collection of short stories with characters from across my series. Typically, FBI agents with personal drama. Might feature an abundance of cute puppies.
The Minder Project Season 1 – (scifi, genetic engineering, superpowers; shares characters with Dustin's Decision, Updated Wednesdays) The government gave her genetic Gifts. Now, it wants what it paid for from the program.
5 Steps to Better Dialogue – (nonfiction, writing skills; Complete) I feel like nonfiction titles should come with spoiler tags. This is a book for writers seeking to learn more about the creation of realistic characters and dialogue.
Assassin School Season 1 – (thriller, YA; Complete) Teen spies try to survive the rigorous training and other drama as powerful people battle to control the Ghost children.
Dustin's Decision Devya's Children Book 5 – (YA scifi, shares characters with The Minder Project; Complete) Genetically altered teens struggle to navigate the murky world and control their Gifts.