Narrated by Jenny Hoops
Run Time: 6 hrs and 48 mins
Summary:
This is a good but skippable adventure in the life of Louise Pearlie. The lady attracts trouble wherever she goes as all respectable semi-spies do.
Additional Comments:
I highly recommend the series as a whole.
Jenny Hoop's voice was made for this book, series, and character. I've listened to other books she's narrated, and while good, they're not quite as perfect a fit as she is to Louise Pearlie.
So, basically, Louise gets a job transfer to London. The entire book, save maybe 40 minutes, takes place on the ship while she goes to that job. She runs smack into a whodunnit on the Atlantic crossing.
It covers most of the same ground as previous books as far as Louise's personal beliefs, which are in the progressive camp for the time. But not every character is as enlightened as she is, so expect some attitudes about race relations to be typical of the WWII era. If that's gonna bother you, go find something else. Your loss though because this series is a lot of fun.
Conclusion:
We don't learn much new about our government girl, but it's still a decent caper story.
If you want to get 5 clean audio promos a month. Sign up here.
Audiobook Promotions …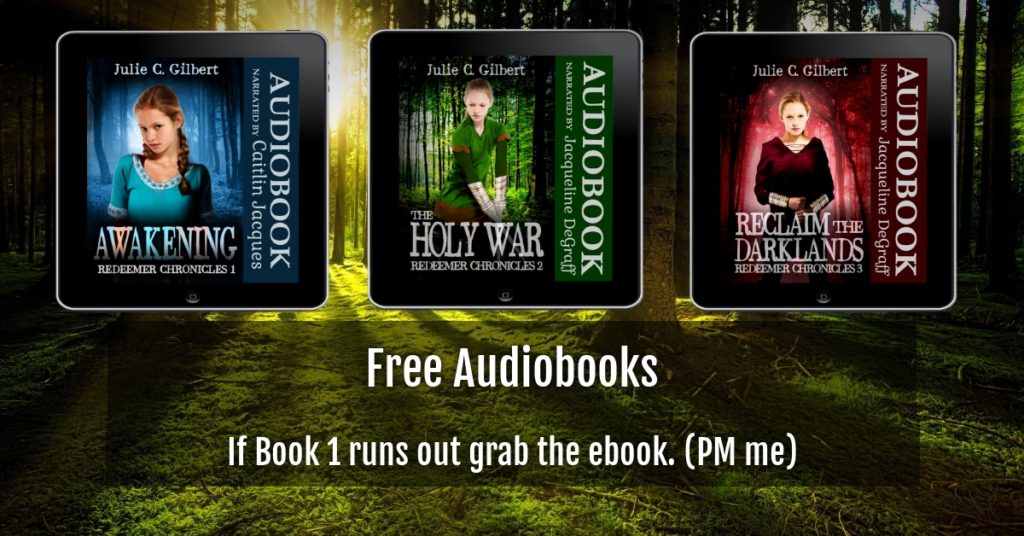 Many of my 50 audible titles are listed on Audiobooks Unleashed.
Whether you're looking for mystery or suspense or fantasy, I've got a title for you. Free codes are probably on audiobooks unleashed.
Normal links go to audible. *The Amazon labeled links are affiliate links. That means I get a very small payment from Amazon if you go through with a purchase.*
Note: Filter by US if you're looking for those codes as many titles are out.
Ones I think may still have US codes: Reshner's Royal Ranger, Never Again, Innova, The Golden City Captives, The Holy War, Reclaim the Darklands, Eagle Eyes, Treachery Makes it Tense, Ashlynn's Dreams Shorts, The Dark Side of Science, Ashlynn's Dreams, Nadia's Tears, Malia's Miracles, and Varick's Quest
There are plenty of UK codes, but not many US ones left.
Redeemer Chronicles (Fantasy)
Awakening – Redeemer Chronicles Book 1, MG fantasy (Amazon) (free codes)
The Holy War – Redeemer Chronicles Book 2, MG fantasy (Amazon) (free codes)
Reclaim the Darklands – Redeemer Chronicles Book 3, MG fantasy (Amazon) (free codes)
River's Edge Ransom – Prequel to Redeemer Chronicles (Amazon) (email devyaschildren @ gmail.com for free codes)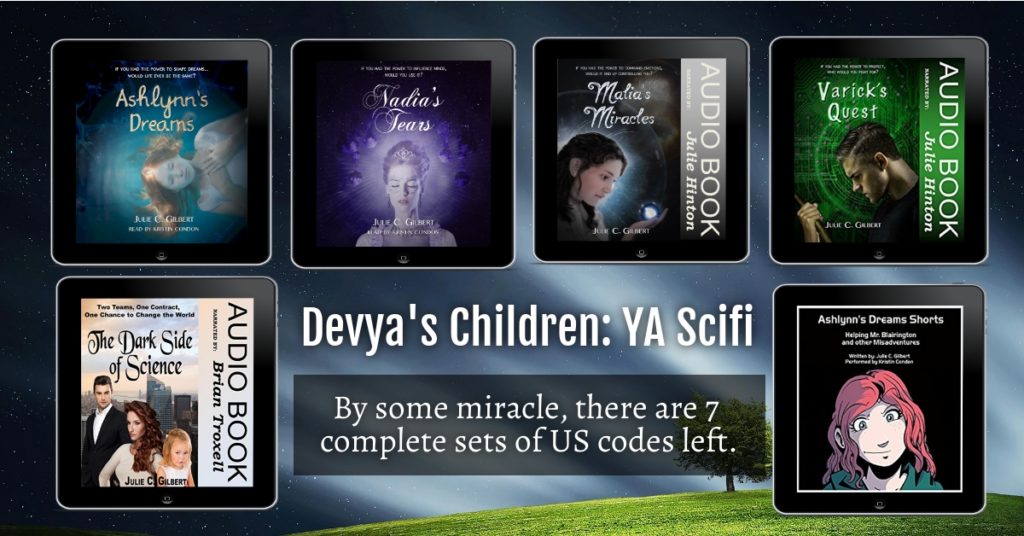 Devya's Children Series Links:
Ashlynn's Dreams Shorts – short stories featuring Jillian. (Amazon) (free codes)
The Dark Side of Science – official prequel to Devya's Children; Genetically altered kids fight for the right to live. (Amazon) (Please email devyaschildren @ gmail.com for free codes)
Ashlynn's Dreams – Genetically altered Dream Shaper learns her gift. (Amazon) (free codes)
Nadia's Tears – Jillian tries to awaken her sister, Nadia, from a coma. (Amazon) (free codes)
Malia's Miracles – Jillian and her siblings try to save a friend's mother. (Amazon) (free codes)
Varick's Quest – Jillian and Danielle get kidnapped. Nadia's also in trouble. (Amazon) (free codes)
More Scifi:
Reshner's Royal Ranger (epic sci-fi) just made it there. (Amazon) (free codes)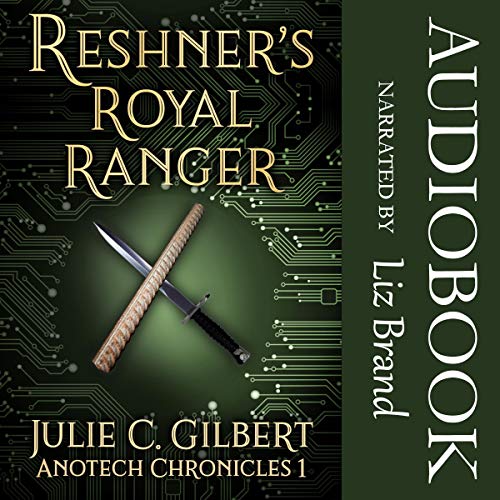 Guardian Angel Files:
Spirit's Bane – Allister and Mina are training to be Guardians. Satan's out to get them. (Amazon) (free codes)
Kindred Spirits – Mina's exiled to Earth. Allister's stuck in the Heavens. (Amazon) (free codes)