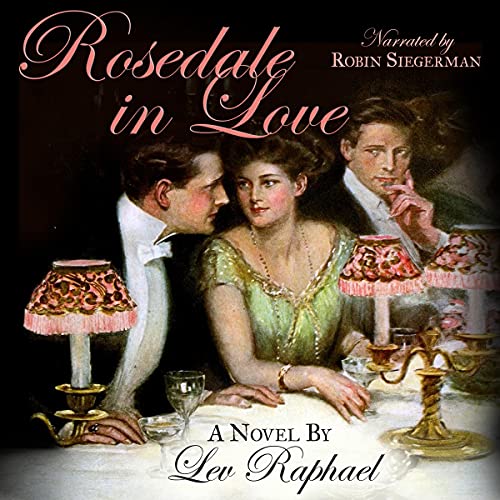 Narrated by Robin Siegerman
Genre: historical fiction 
Disclaimer: Not a genre I read a lot.
Summary:
A rich Jewish man desperately trying to climb the social ladder in early 20th century America, has chosen a woman well out of his league whose fortunes are fading fast.
Additional Comments:
– I maintain than all these kinds of books would be worlds better if somebody up and kidnapped the heroine.
– 4/5 Performance- The performance fits the narrative very well. There is a nice rhythm and flow.
– 4/5 Main Characters: I liked Florence and her mother troubles and her unacknowledged love for her cousin.
– 3.5/5 Plot – maybe I just read too much mystery thriller stuff. It makes things like this almost deadly dull. He pines, makes a social blunder, pines some more, goes to a party, goes to the theater, pines some more, hears something scandalous, more social blunders, attends another tedious party, etc, etc. It would seem odd and futile if there wasn't still a set of uber rich people who put on airs to fit in.
– side characters: they aren't very likable. Except for Florence's eccentric actress friend.
– It has a happy ending. Sort of.
– There are a lot of fifty-cent words in here. I think that is part of it being a period piece, but still, I would not have finished the book if it wasn't in audio format. The narrator handled the biggie words well.
– The cat and mouse games people play with each other in here are well-described but still frustrating. The people are exceedingly fake to come across as kind and generous. It's exhausting. Guess it's a commentary on people in general, and in that way, it's accurate.
– This sort of reminds me of The Great Gatsby, which a lot of people love, love, love. I thought that one was a waste of my time, but it has been a while. Maybe I would have a different opinion if forced to read it again. I did like this book better than Gatsby, but to be honest, that's a low bar to hop for me. I think the mental link is rich people being snobby to each other.
– Who is this book for? Fans of early 20th century literature. Historical fiction buffs.
– While the book didn't connect well with me, I have hotdog/hamburger/French fries taste in books and this is caviar/lobster/and fooffy super-expensive icky foods fare. There is certainly a set of people who love this sort of thing.
Conclusion:
A study of a man who thinks he's in love but really loves himself, his wealth, and the great social climb.
Audiobook Promotions …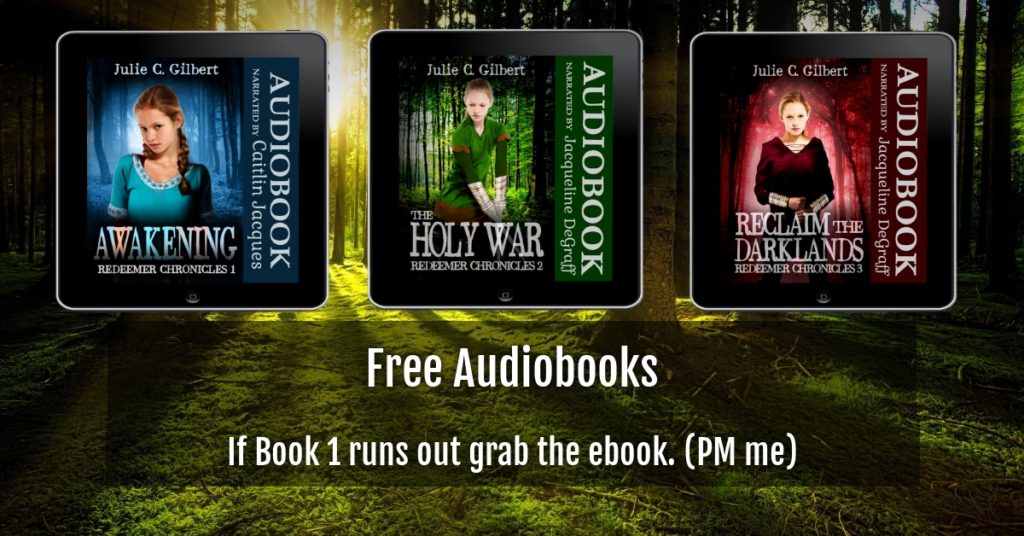 Many of my 50 audible titles are listed on Audiobooks Unleashed.
Whether you're looking for mystery or suspense or fantasy, I've got a title for you. Free codes are probably on audiobooks unleashed.
Normal links go to audible. *The Amazon labeled links are affiliate links. That means I get a very small payment from Amazon if you go through with a purchase.*
Note: Filter by US if you're looking for those codes as many titles are out.
Ones I think may still have US codes: Reshner's Royal Ranger, Never Again, Innova, The Golden City Captives, The Holy War, Reclaim the Darklands, Eagle Eyes, Treachery Makes it Tense, Ashlynn's Dreams Shorts, The Dark Side of Science, Ashlynn's Dreams, Nadia's Tears, Malia's Miracles, and Varick's Quest
There are plenty of UK codes, but not many US ones left.
Redeemer Chronicles (Fantasy)
Awakening – Redeemer Chronicles Book 1, MG fantasy (Amazon) (free codes)
The Holy War – Redeemer Chronicles Book 2, MG fantasy (Amazon) (free codes)
Reclaim the Darklands – Redeemer Chronicles Book 3, MG fantasy (Amazon) (free codes)
River's Edge Ransom – Prequel to Redeemer Chronicles (Amazon) (email devyaschildren @ gmail.com for free codes)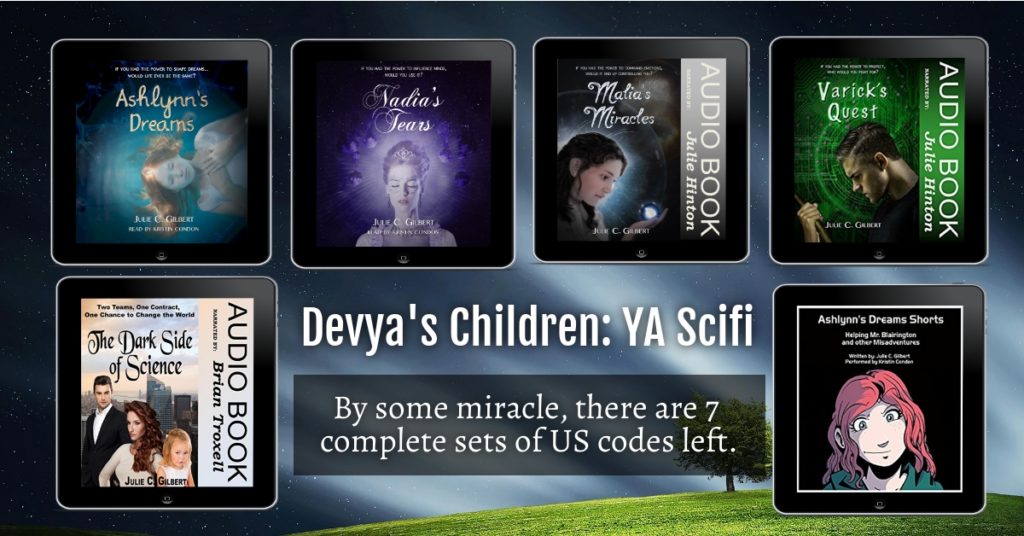 Devya's Children Series Links:
Ashlynn's Dreams Shorts – short stories featuring Jillian. (Amazon) (free codes)
The Dark Side of Science – official prequel to Devya's Children; Genetically altered kids fight for the right to live. (Amazon) (Please email devyaschildren @ gmail.com for free codes)
Ashlynn's Dreams – Genetically altered Dream Shaper learns her gift. (Amazon) (free codes)
Nadia's Tears – Jillian tries to awaken her sister, Nadia, from a coma. (Amazon) (free codes)
Malia's Miracles – Jillian and her siblings try to save a friend's mother. (Amazon) (free codes)
Varick's Quest – Jillian and Danielle get kidnapped. Nadia's also in trouble. (Amazon) (free codes)
More Scifi:
Reshner's Royal Ranger (epic sci-fi) just made it there. (Amazon) (free codes)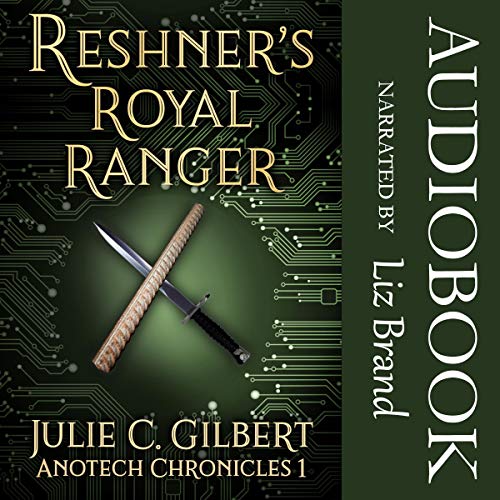 Guardian Angel Files:
Spirit's Bane – Allister and Mina are training to be Guardians. Satan's out to get them. (Amazon) (free codes)
Kindred Spirits – Mina's exiled to Earth. Allister's stuck in the Heavens. (Amazon) (free codes)