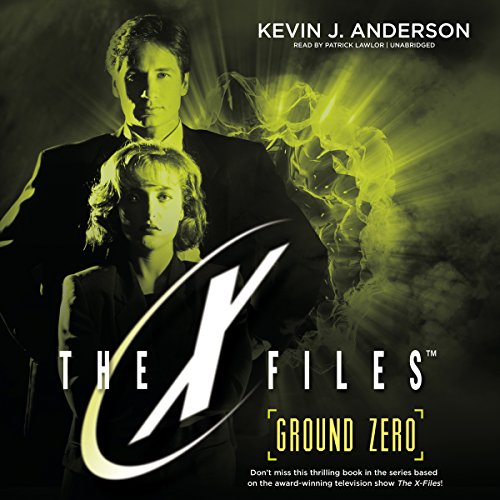 Narrated by Patrick Lawlor
Run Time: 8 hrs and 24 mins
Summary:
Dr. Gregory dies a gruesome death in his own lab. A second victim dies similarly on the other side of the country out in the middle of nowhere. A third victim gets struck in Washington, D.C. This one has some ties to nuclear research.
Additional Comments:
Definitely of the paranormal flavor. A wee bit of government conspiracies thrown in.
Revenge is best served stone cold, I guess.
Mulder and Scully poke around, but they're not even sure what kinds of questions to ask. They keep getting stonewalled by government officials. Not even their FBI clearances will pull back the curtain and shed light on the super-secret project.
I don't really like the researcher who turned protestor, but I do sort of like her fate. It's oddly fitting but horrific at the same time.
I liked the little bits of Scully's past being tied in.
Gee, you probably don't want to be the person who opens one of these books because you're gonna die in a gruesome manner.
Patrick Lawlor's performance works swell. He doesn't attempt to go full falsetto for women, but you can still tell when the speaker is a lady.
Mulder and Scully take on a hurricane. Nice. I enjoyed the conversation Mulder has with the kid who answers the phone number he's not supposed to have.
Conclusion:
No need to hear these in order. There is zero link between the stories, but they're all uniquely fun in their own twisted little way.
Audiobook Promotions …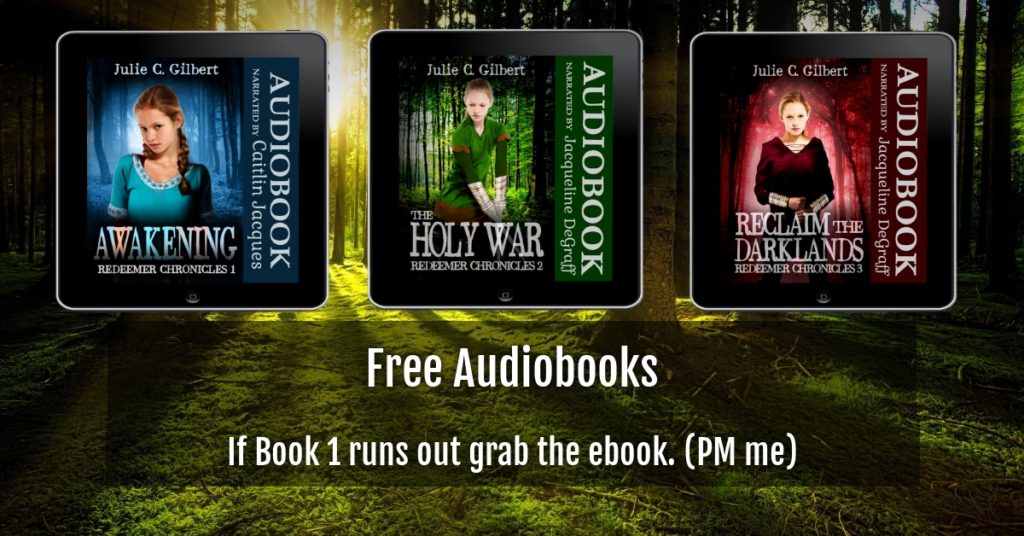 Many of my 51 audible titles are listed on Audiobooks Unleashed.
Whether you're looking for mystery or suspense or fantasy, I've got a title for you. Free codes are probably on audiobooks unleashed.
Normal links go to audible. *The Amazon labeled links are affiliate links. That means I get a very small payment from Amazon if you go through with a purchase.*
Note: Filter by US if you're looking for those codes as many titles are out.
Ones I think may still have US codes: Reshner's Royal Ranger, Never Again, Innova, The Golden City Captives, The Holy War, Reclaim the Darklands, Eagle Eyes, Treachery Makes it Tense, Ashlynn's Dreams Shorts, The Dark Side of Science, Ashlynn's Dreams, Nadia's Tears, Malia's Miracles, and Varick's Quest
There are plenty of UK codes, but not many US ones left.
Redeemer Chronicles (Fantasy)
Awakening – Redeemer Chronicles Book 1, MG fantasy (Amazon) (free codes)
The Holy War – Redeemer Chronicles Book 2, MG fantasy (Amazon) (free codes)
Reclaim the Darklands – Redeemer Chronicles Book 3, MG fantasy (Amazon) (free codes)
River's Edge Ransom – Prequel to Redeemer Chronicles (Amazon) (email devyaschildren @ gmail.com for free codes)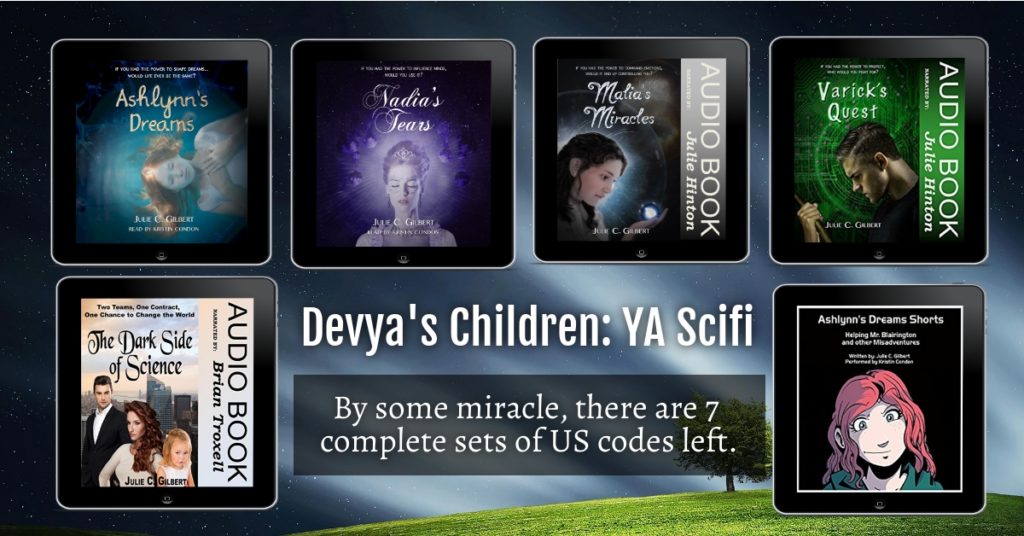 Devya's Children Series Links:
Ashlynn's Dreams Shorts – short stories featuring Jillian. (Amazon) (free codes)
The Dark Side of Science – official prequel to Devya's Children; Genetically altered kids fight for the right to live. (Amazon) (Please email devyaschildren @ gmail.com for free codes)
Ashlynn's Dreams – Genetically altered Dream Shaper learns her gift. (Amazon) (free codes)
Nadia's Tears – Jillian tries to awaken her sister, Nadia, from a coma. (Amazon) (free codes)
Malia's Miracles – Jillian and her siblings try to save a friend's mother. (Amazon) (free codes)
Varick's Quest – Jillian and Danielle get kidnapped. Nadia's also in trouble. (Amazon) (free codes)
More Scifi:
Reshner's Royal Ranger (epic sci-fi) just made it there. (Amazon) (free codes)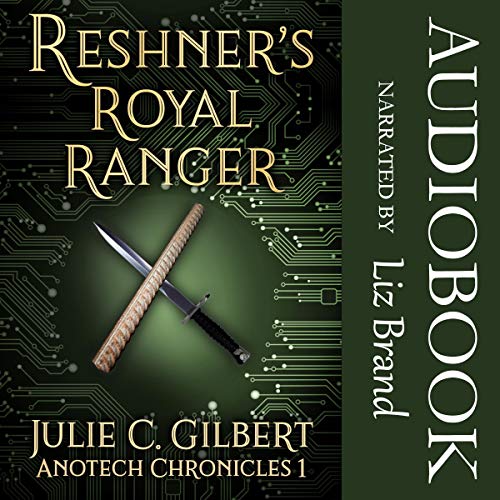 Guardian Angel Files:
Spirit's Bane – Allister and Mina are training to be Guardians. Satan's out to get them. (Amazon) (free codes)
Kindred Spirits – Mina's exiled to Earth. Allister's stuck in the Heavens. (Amazon) (free codes)