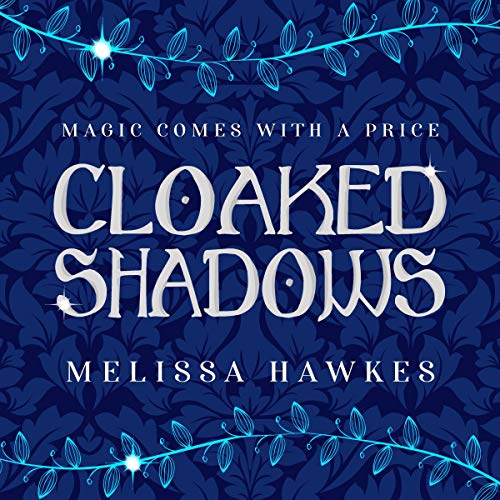 Narrated by Rebecca H. Lee
Run Time: 8 hrs and 57 mins
*Mild spoilers possible in discussion
Summary:
Scarred by her witnessing her father's brutal death by soul-sucking monsters, Ikena Ralliday just wants to help her family survive. She suddenly develops magic runs away to get trained to use her powers by some dude living in the woods because a book she felt drawn to described the situation.
Additional Comments:
Performance 4/5: Very nice performance. Characters are distinguishable. Awkward phrases were handled well.
plot 2.5/5: So, the girl runs to the woods and meets her mentor figure. She asks to be trained. He says no. She asks again and he relents. After a week of training, she is like this is too easy, take me bad guy hunting. And he is like no, too dangerous. She insists and they end up in the woods fighting the shadows soul-sucking creatures.
The cyclical nature of events got comical.
Cedric – the love interest gets hits with a blade that will turn him into a bad guy, but wait, there's more, he's saved as long as she agrees to help the Cloaks, exactly what she wanted to avoid. The love interest's role is purely as love interest. Otherwise, the dear boy is useless. Soldiers: you can't come in. Please. Oh, ok. Later … Soldier: you can't come in. Main Character: Please? Soldier: Oh. Ok. King: I won't help. Please. Oh. Ok. If u join the army.
During training: Mentor: No time to rest. MC: But I'm tired. Mentor: Take a pop quiz … eh, you're great at this, take a break. … later MC: *uses dark magic. Mentor: I'm telling the king. MC: Please don't. Mentor: oh, ok.
The Big Bad Plan to Defeat Evil is to find a key to a box that the bad guys have. MC: (I want to go on the key mission. King: No. MC: Yes. King: Oh. All right. MC: I have no idea how to find this key. Has a dream/vision. King: I know where to find the key.) Result: MC and 3 week training buddies are dispatched to find the key.
Odd grammar/dialogue tags not really fitting the situation or just being exceedingly awkward (some are kind of funny): whispering tone; beautiful garden she witnessed; tears strolled down her face; darkness wielding her in; put her in a disadvantageous position; copy her doing the same thing; situation dispersed; waited for the other group to disperse in; "well done," he roared; tactics she thought of in her mind; "don't think I will get used to that," he groaned; I will endeavor you; killing a Sinturi who happened on be standing next to him in a fit of anger and rage; distasted the word; giggled between themselves; the scenery was deserted; Dispersed the looks; In the commander's office there was a commander; who were all sat around the table; felt her heartbeats begin to beat faster; her headache grew in her brain; their mouths escaped soft whispers; Barked as a dialogue tag is fine; 15 times in a book, not so fine.
The end twist: Highly predictable and subtle as a bulldozer; one piece of foreshadowing practically announced it with a loudspeaker.
Random social justice commentaries: MC: What about the poor crew? (Kid is constantly appalled by the social disparities.) They need to concentrate on running the boat. Kid invites them all to eat the big feast prepared for the cloaks. MC laments: The king's so rich yet people in my village are starving. Aside from being righteously indignant about 4 times in the book and inviting the crew to join the festivities, she does zip about it. It's fine, just another point that kind of sucks you out of the story.
They are elite soldiers, but their training is like another year of high school
3/5 Stars World-building is ok but repetitive. I'm pretty sure the history's in there like 5 times.
Other Oddities: Soldier: cease fire (um, nobody was firing); presence of things like: professors, bullies, radios, holograms, ancient armor, bunk buddies (the whole village vs. posh palace life thing is reminiscent of Hunger Games, but it doesn't ever provide a valid enough reason.) (These sorts of things don't fit the fantasy world of magic power and Chosen One lore.) Daggers in back holsters. (I've heard of dagger sheathes, but not holsters.)
Who gets sent on the mission: The MC insists on her friends being the team to go after the key. I can see why she'd go, but unless she trained extensively (not 3 weeks), it doesn't seem like a great plan to send untested people as her support. The former bully is now a seafaring commander-in-training, so she's sent on the mission to retrieve the key.
Teaching style: Teacher: Do this. Students: *do this* … then they practice; no real struggle, (they just automatically know what the heck the teacher's talking about; even in a magical school, that's just not how teaching goes. I am a teacher, so that's probably just a pet peeve.)
Conclusion:
Aside from needing a line editor and the random fits of scifi and modern influences, it's your typical Chosen One fantasy story.
Audiobook Promotions …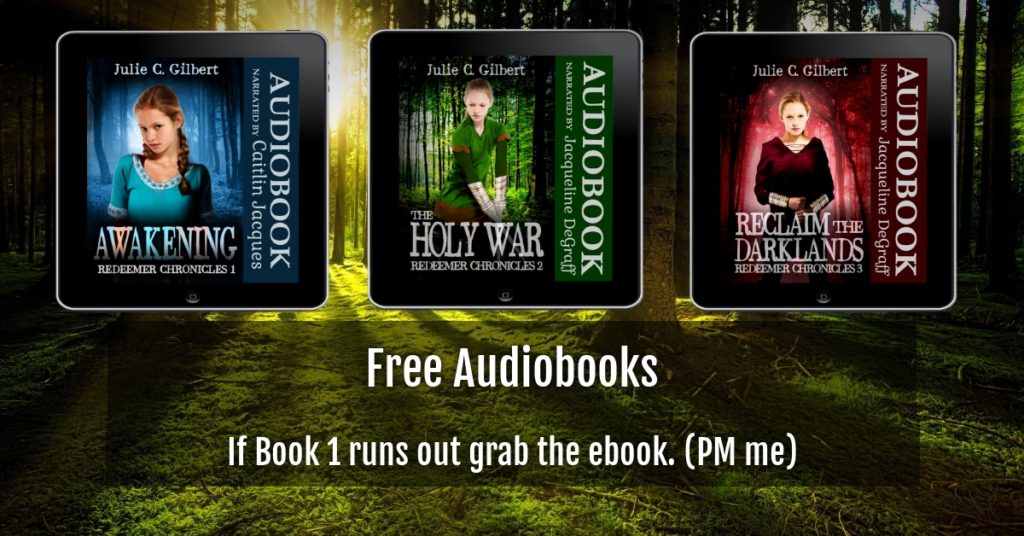 Many of my 50 audible titles are listed on Audiobooks Unleashed.
Whether you're looking for mystery or suspense or fantasy, I've got a title for you. Free codes are probably on audiobooks unleashed.
Normal links go to audible. *The Amazon labeled links are affiliate links. That means I get a very small payment from Amazon if you go through with a purchase.*
Note: Filter by US if you're looking for those codes as many titles are out.
Ones I think may still have US codes: Reshner's Royal Ranger, Never Again, Innova, The Golden City Captives, The Holy War, Reclaim the Darklands, Eagle Eyes, Treachery Makes it Tense, Ashlynn's Dreams Shorts, The Dark Side of Science, Ashlynn's Dreams, Nadia's Tears, Malia's Miracles, and Varick's Quest
There are plenty of UK codes, but not many US ones left.
Redeemer Chronicles (Fantasy)
Awakening – Redeemer Chronicles Book 1, MG fantasy (Amazon) (free codes)
The Holy War – Redeemer Chronicles Book 2, MG fantasy (Amazon) (free codes)
Reclaim the Darklands – Redeemer Chronicles Book 3, MG fantasy (Amazon) (free codes)
River's Edge Ransom – Prequel to Redeemer Chronicles (Amazon) (email devyaschildren @ gmail.com for free codes)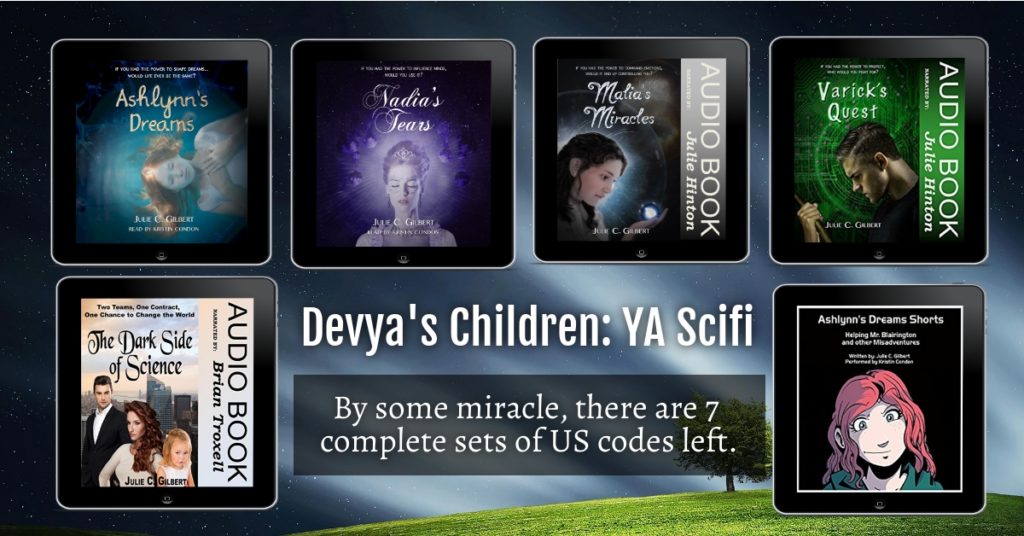 Devya's Children Series Links:
Ashlynn's Dreams Shorts – short stories featuring Jillian. (Amazon) (free codes)
The Dark Side of Science – official prequel to Devya's Children; Genetically altered kids fight for the right to live. (Amazon) (Please email devyaschildren @ gmail.com for free codes)
Ashlynn's Dreams – Genetically altered Dream Shaper learns her gift. (Amazon) (free codes)
Nadia's Tears – Jillian tries to awaken her sister, Nadia, from a coma. (Amazon) (free codes)
Malia's Miracles – Jillian and her siblings try to save a friend's mother. (Amazon) (free codes)
Varick's Quest – Jillian and Danielle get kidnapped. Nadia's also in trouble. (Amazon) (free codes)
More Scifi:
Reshner's Royal Ranger (epic sci-fi) just made it there. (Amazon) (free codes)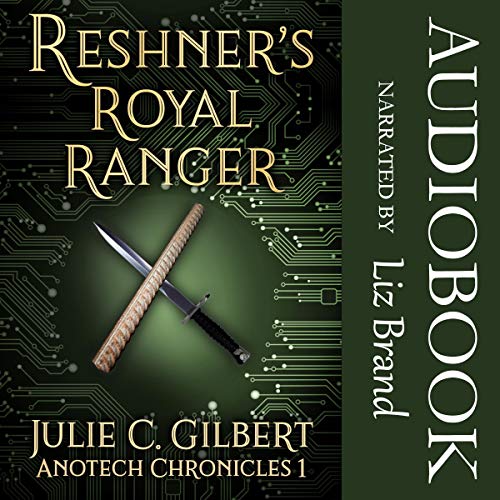 Guardian Angel Files:
Spirit's Bane – Allister and Mina are training to be Guardians. Satan's out to get them. (Amazon) (free codes)
Kindred Spirits – Mina's exiled to Earth. Allister's stuck in the Heavens. (Amazon) (free codes)