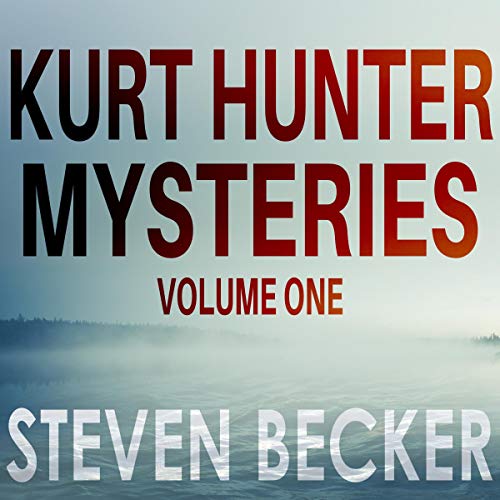 Narrated by Paul J. McSorley
Summary:
This omnibus consists of 3 books: Backwater Bay, Backwater Channel, and Backwater Cove. Let's be honest, you aren't going to learn jack from the titles. But they're cute when listed side by side. The series is about Kurt Hunter, a National Park Service Ranger in Florida. (Or is it U.S. Forest Service. I think it may have started as one and ended up the other.)
Additional Comments:
Plot 4/5 stars: Can't remember too much about the individual plots, but they moved along nicely. Things are contrived quite regularly to get Justine more involved, but it's understandable.
Characters 4/5 stars: Kurt's resourceful but he's not perfect. He's got family issues, but he also has a new girlfriend he's trying to balance. Justine (the girlfriend/forensic tech) is reminiscent of Pauley Perrette's NCIS character (Abby Sciuto). Martinez (Kurt's glory hound boss) is the typical mix of incompetent and supportive when it suits him.
Who would like these? Fans of Anna Pigeon and Joe Pickett will enjoy this series.
Narration 4/5 stars: The voice fits. I played it at 2x speed to get it moving at something that seemed normal to me, but that's an easy fix. I think if I was reading, this might be a very different review.
Content Warnings: Offscreen adult stuff. Overall, relatively clean for murder mysteries.
At $2.99-$4.99, they seem way overpriced as standalone books. At ~186 pages, they're on the short side for novels. If you like supporting small press/indie publishers, go for it, but otherwise, you'd be better off hunting up some Anna Pigeon or Joe Pickett in the library for free. They're in KU though, so if you have that, you should also consider checking it out.
They're branded right. You couldn't tell one cover from the next if it didn't clearly tell you in the description that it's book 1, 2, or 3.
Quick, clean reads that have garnered a fair number of reviews.
Don't think park rangers are known as special agents.
Note: You may not like them if you actually know something about law enforcement or boating.
Conclusion:
If you're looking for a clean mystery series to dive into and can take the mistakes in research, check the series out.
Associate links to follow…
Amazon Prime
The Collins Case – 2 FBI agents track down a kidnapped family. Kid friendly.
If fantasy's more your thing, go Redeemer Chronicles. The first, Awakening, is available as an audiobook.
Ashlynn's Dreams Shorts – a kid deals with her parents' divorce, bullies, and the wonder of discovery.
Try The Dark Side of Science – Genetically altered kids fight for the right to live.
Beyond Broken Pencils – Contemporary literary tale of a school shooting. Ian unleashes his inner demons on his classmates and teachers…
Scratched Off – FBI agent vs a serial killer. When Sam Kerman sets out to hunt a serial killer, he has no idea how personal the case will become.

OR