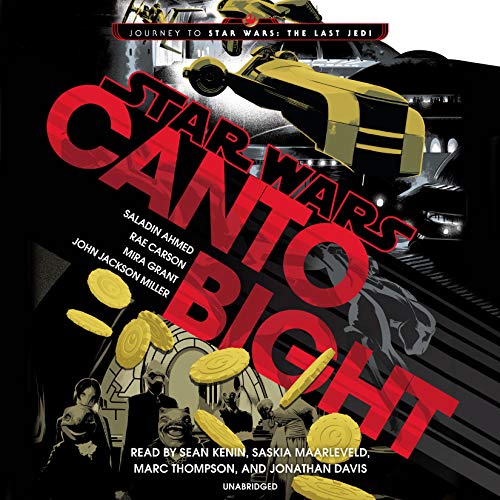 Narrated by Sean Kenin, Saskia Maarleveld, Marc Thompson, and Jonathan Davis
Summary:
A collection of 4 short stories set in the Star Wars universe after it was Disneyfied. To be clear, the title and setting are about all these stories have to do with Star Wars. There's no bearing on the overarching war. About the extent of the connections is a few recognizable species and a few vague references to the First Order and the Resistance.
How the heck did it earn 3 stars if it's not Star Wars?
I'm taking the stories individually. They're not bad stories. They're just not great either.
Additional Comments:
I 100% forget the titles to each story, but the blurbs give enough background to jog the memory. And there's a convenient list.
First story: Rules of the Game 3/5 A hapless Vaportech salesman wins an all expenses paid trip to Canto Bight and about loses his shirt and his life when unscrupulous beings try to take advantage of him. Sean Kenin's performance was decent. I don't recall anything that mesmerized or truly assaulted my ears.
Second story: The Wine in Dreams 4/5 I had a tough time keeping track of who's who in this one. It wasn't the narrator's fault (I don't think), but everybody was just so darn forgettable. This one kind of dragged, but I enjoyed the ending, which always gives a book a boost in my book.
Third story: 4/5 Hear Nothing, See Nothing, Say Nothing. Oddly enough, even though I don't particularly like Marc Thompson (clearly he's impressed somebody because they hire him for a LOT of Star Wars projects), this might be my favorite of the bunch. He's very good at distinguishing between characters. It's his normal narrator voice that sounds pretentious to me. Anyway, the story itself was fun with characters I could root for.
Fourth story: 2/5 The Ride. I love Jonathan Davis, but the story contained so many unimpressive, forgettable, annoying characters that it just sort of dragged on. It was a hair shy of being a documentary about how to play Pizaac (I'm totally spelling that wrong), which I'm pretty sure is like Black Jack. There was nothing wrong with the performance. I just don't like stories about bumbling idiots who win all the time. It's a severe waste of my time.
Conclusion:
If you enjoy short stories and love Star Wars, you may enjoy this book. Just be aware it's going to have zero bearing on anything in Star Wars. The ONLY thing it has in common is the talent, the marketing team, and the setting.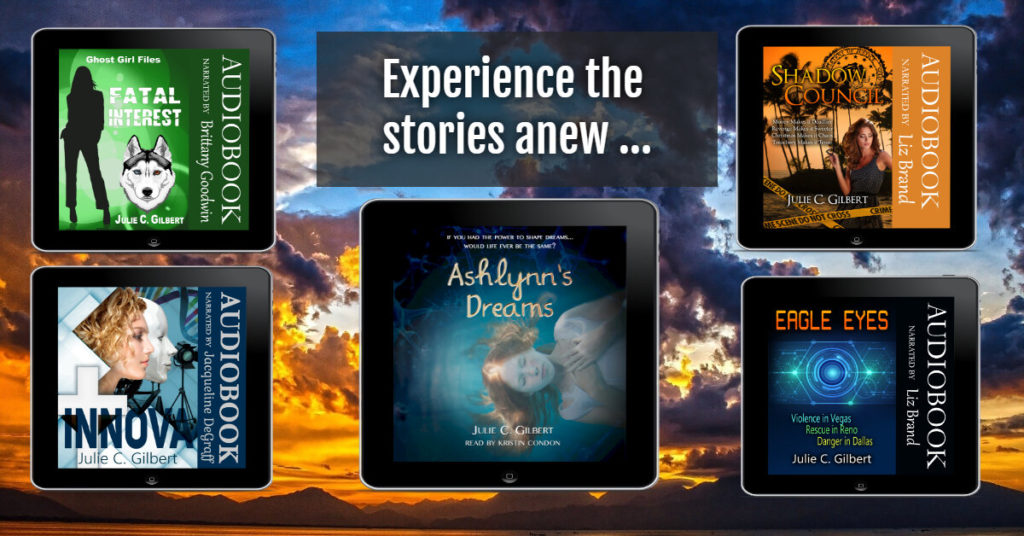 Audiobook Promotions:
33 of my 34 audible titles are listed on Audiobooks Unleashed.
Whether you're looking for mystery or suspense or fantasy, I've got a title for you. Never Again (mystery, suspense) and Reshner's Royal Ranger (epic sci-fi) just made it there.
Note: Filter by US if you're looking for those codes as many titles are out.
Ones I think may still have US codes: Reshner's Royal Ranger, Never Again, Innova, The Golden City Captives, The Holy War, Reclaim the Darklands, Eagle Eyes, Treachery Makes it Tense, Ashlynn's Dreams Shorts, The Dark Side of Science, Ashlynn's Dreams, Nadia's Tears, Malia's Miracles, and Varick's Quest