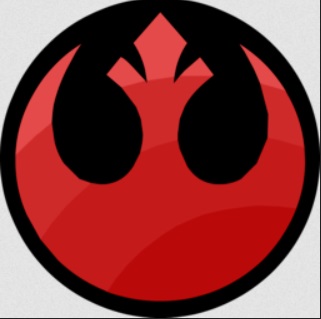 Summary:
A scrappy band of Rebels try to resist the spread of the Empire's tyranny further into the Outer Rim.
Additional Comments:
It's not a must but it is good to watch before The Mandalorian.
Characters 4/5: Kanan Jarrus, Chopper (the droid with much attitude), Sabine Wren, Ahsoka Tano, Hera Syndulla, Ezra Bridger, Garazeb "Zeb" Orrelios take on Grand Admiral Thrawn and Maul. Captain Rex shows up too. Agent Kallus probably has the strongest character development.
If you were/are a fan of the old school EU books, then Thrawn will be familiar to you. He's a tactical genius, an art lover, and a truly scary dude. Ezra has his moments, and I like his overall character arc, but there are entirely too many whiny teenager moments to make him completely likable. Hera's your typical awesome pilot. Kanan's the token Jedi. Zeb's the muscle man of the crew. Ahsoka has some nice cameos in the series. I think Sabine might be my favorite character from the show. The Mandalorian chick has a lot of growing to do. Her mother's kinda a trip. I enjoyed the few episodes focused on Sabine.
Side Characters 4/5: The show has some interesting side characters, including Bail Organa, Wedge Antilles, Ryder Azadi, Fenn Rau, Saw Gerrera, and Vizago. I do NOT like Hondo Ohnaka. Not sure you're supposed to like him, but he's not even a charming scoundrel, just a jerk.
Plot 4/5: As a cartoon, each episode is relatively short. I think they stick to a fairly strict 24 min marker. There's usually some crisis involving the Empire or a scoundrel of one flavor or another. It typically gets resolved within the 24 minutes, but occasionally, there are part 1 and part 2 to cover slightly larger arcs.
Conclusion:
If you want to understand more of the side characters and reveals in the Mandalorian, then it's worthwhile to watch Rebels. As a standalone cartoon, it's decent, but if there wasn't more to look forward to in other Star Wars shows, I'm not sure how much I'd like the series.
(I haven't finished The Clone Wars, still slogging through Season 1. Not sure I will finish. Time will tell.)
Audiobook Promotions …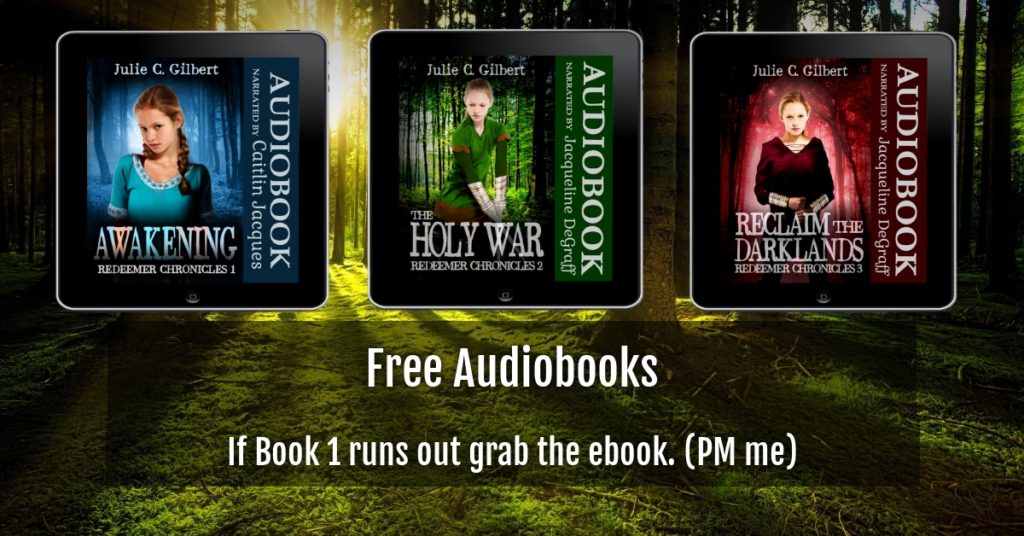 Many of my 42 audible titles are listed on Audiobooks Unleashed.
Whether you're looking for mystery or suspense or fantasy, I've got a title for you. Free codes are probably on audiobooks unleashed.
Normal links go to audible. *The Amazon labeled links are affiliate links. That means I get a very small payment from Amazon if you go through with a purchase.*
Note: Filter by US if you're looking for those codes as many titles are out.
Ones I think may still have US codes: Reshner's Royal Ranger, Never Again, Innova, The Golden City Captives, The Holy War, Reclaim the Darklands, Eagle Eyes, Treachery Makes it Tense, Ashlynn's Dreams Shorts, The Dark Side of Science, Ashlynn's Dreams, Nadia's Tears, Malia's Miracles, and Varick's Quest
There are plenty of UK codes, but not many US ones left.
Redeemer Chronicles (Fantasy)
Awakening – Redeemer Chronicles Book 1, MG fantasy (Amazon) (free codes)
The Holy War – Redeemer Chronicles Book 2, MG fantasy (Amazon) (free codes)
Reclaim the Darklands – Redeemer Chronicles Book 3, MG fantasy (Amazon) (free codes)
River's Edge Ransom – Prequel to Redeemer Chronicles (Amazon) (email devyaschildren @ gmail.com for free codes)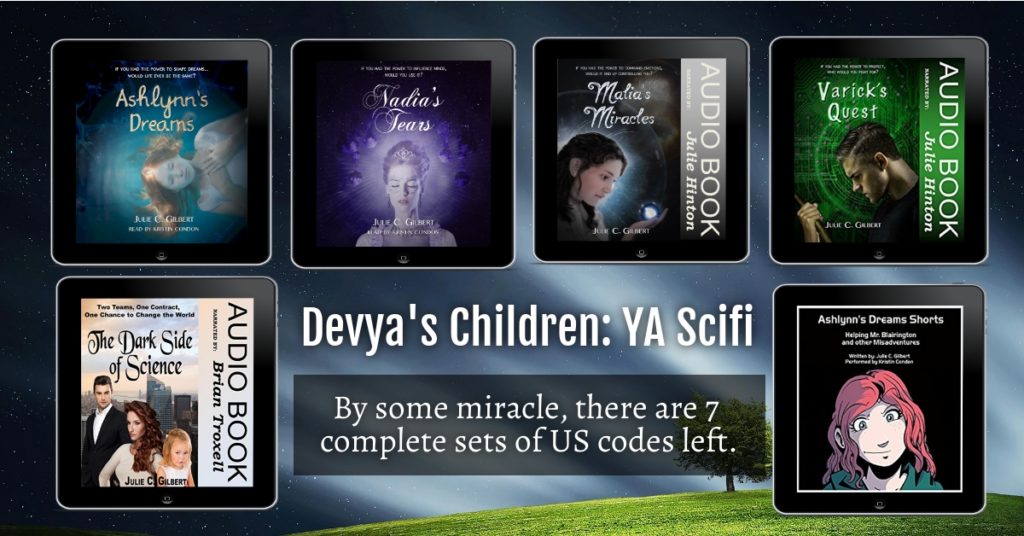 Devya's Children Series Links:
Ashlynn's Dreams Shorts – short stories featuring Jillian. (Amazon) (free codes)
The Dark Side of Science – official prequel to Devya's Children; Genetically altered kids fight for the right to live. (Amazon) (Please email devyaschildren @ gmail.com for free codes)
Ashlynn's Dreams – Genetically altered Dream Shaper learns her gift. (Amazon) (free codes)
Nadia's Tears – Jillian tries to awaken her sister, Nadia, from a coma. (Amazon) (free codes)
Malia's Miracles – Jillian and her siblings try to save a friend's mother. (Amazon) (free codes)
Varick's Quest – Jillian and Danielle get kidnapped. Nadia's also in trouble. (Amazon) (free codes)
More Scifi:
Reshner's Royal Ranger (epic sci-fi) just made it there. (Amazon) (free codes)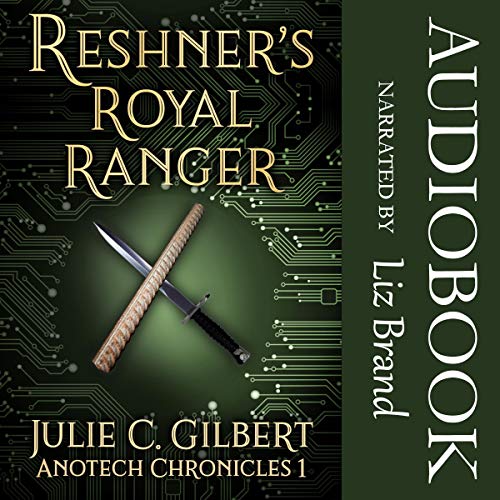 Guardian Angel Files:
Spirit's Bane – Allister and Mina are training to be Guardians. Satan's out to get them. (Amazon) (free codes)
Kindred Spirits – Mina's exiled to Earth. Allister's stuck in the Heavens. (Amazon) (free codes)