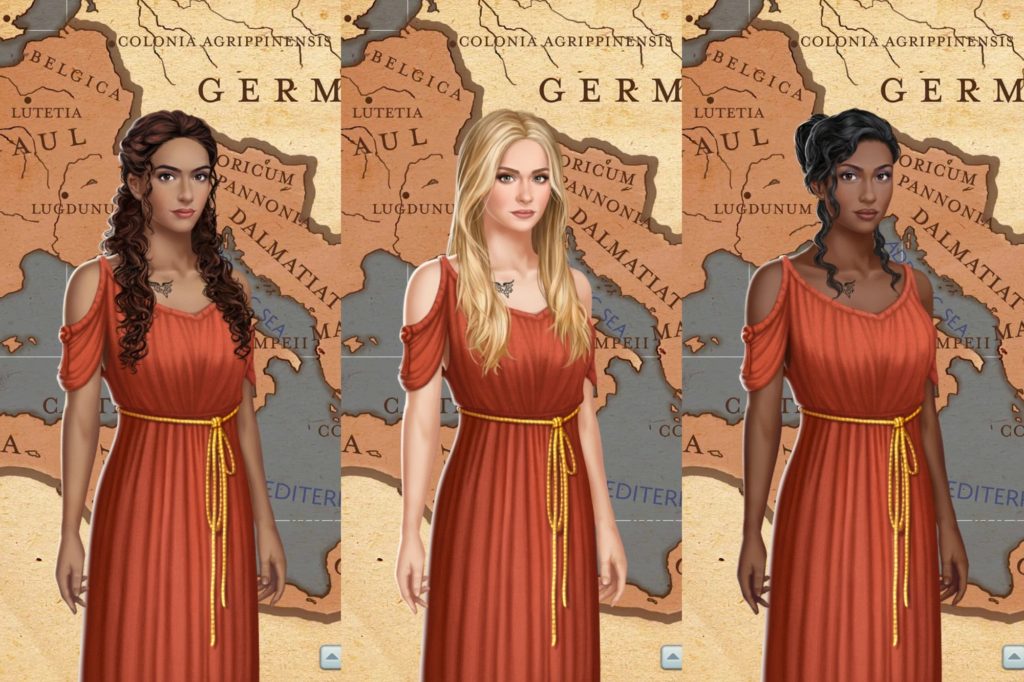 My MC was named Gina. Who'd have thought naming could be the hardest part of some of these games.
Genre: Historical Fiction
Summary:
The main character is a young woman captured by the Romans during the reign of Ceasar as he tries to take over the world.
Additional Comments:
The end kind of let me down, but I thoroughly enjoyed most of the journey.
Every chapter begins with a flashback scene to your time on the run with your family.
This book switched quite often to other perspectives, mostly the main character's father or mother.
These stories can be as sweet or risky as you wish, but you've got to spend diamonds for the extra scenes. Not paying is sort of the abbreviated version of each story.
You can adopt a monkey and a greyhound dog this round.
Your love interests are the wife of a Roman officer, a Roman senator, and Mark Antony.
The main character goes through a heck of a lot in her life. There's only one point where they really went out of the way to stretch the plot beyond the illogical point to keep the MC alive. Despite this, I really loved that scene.
It must have taken quite a bit of work to get the MC's life to parallel some key points in history.
Conclusion:
Story themes include: family, seduction, and revenge. They don't have many historical fiction stories. In fact, this might be the only one. I'll have to check. I tend to like the stories with higher stakes than winning a dance off. Well worth reading.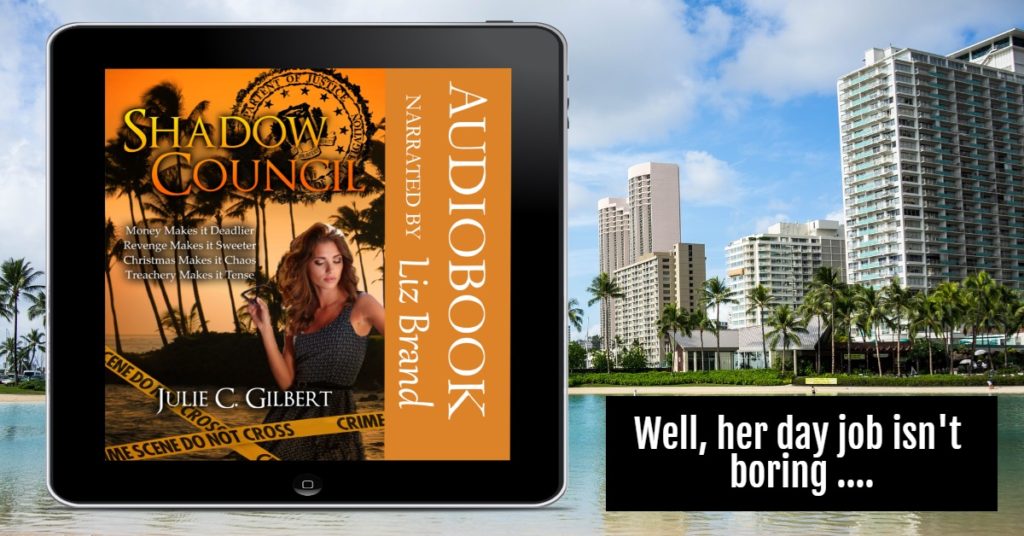 Associate links to follow…
Available Audiobooks: I have free codes for almost everything.
New Release: The Shadow Council Series 1: Money Makes it Deadlier – An FBI agent gets caught up in a robbery gone wrong.
Shadow Council Book 2: Revenge Makes it Sweeter – A midnight summons calls FBI Special Agent Megan Luchek into a fight for a young girl's life.
Shadow Council Book 3: Christmas Makes it Chaos – The FBI agent gets a strange ally in the quest to prevent chaos from rocking a lot of people's holiday season.
Shadow Council Book 4: Treachery Makes it Tense – The agent and the assassin have to team up if they want to survive.
Shadow Council is also available as a ~13 hr bundle.
The Collins Case – 2 FBI agents track down a kidnapped family. Kid friendly.
If fantasy's more your thing, go Redeemer Chronicles. The first, Awakening, is available as an audiobook.
Ashlynn's Dreams Shorts – a kid deals with her parents' divorce, bullies, and the wonder of discovery.
Try The Dark Side of Science – Genetically altered kids fight for the right to live.
Beyond Broken Pencils – Contemporary literary tale of a school shooting. Ian unleashes his inner demons on his classmates and teachers…
Scratched Off – FBI agent vs a serial killer. When Sam Kerman sets out to hunt a serial killer, he has no idea how personal the case will become.