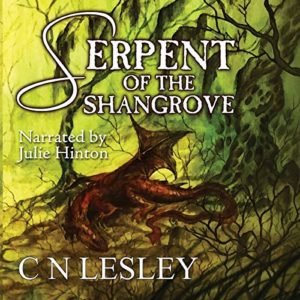 Narrated by Julie Hinton
*spoilers possible in the discussion
Summary:
A dragon shapeshifter named Copper gets insulted at a party. As a result, he goes on a quest to prove himself. That's what I gather from the book description. Reality is a tad more subtle. I don't think I would have picked up on that being his sole reason for his quest relying just on the story. Anyway, he runs afoul of a serpent in the shangrove of a different world, one his clan just migrated to. His parents try to rescue him. Meanwhile, the girl who did the insulting also slips through the portal and finds trouble.
Additional Comments:
World-building (4/5) – The author created a rich and full and fleshed out messy world for these characters. I suppose that's part of it being book 2 in a series. Descriptions of magic and general lore were fun and imaginative. The power over small creatures is kind of sadistic, but neat. There seemed to be a lot of explaining why characters couldn't do something. The simple reason being because if they could the plot wouldn't exist as is.
Plot (2/5) – The insult at the gathering being the inciting incident for Copper to go on his quest to find Jazlyn (sorry about spelling, I heard the audio, so I'm not sure how it's supposed to be), is kind of weak. Most other things follow a logical path. Copper goes with his uncle, a drake who really likes eating rats. Raven, Copper's mother, and Connor, his father, go on two separate quests to try and save him.
Content Warning (high) – What's with the obsession with rape? Either through spells or brute force and coercion, two characters in separate strands of the story are raped repeatedly. The whole plot sort of centers around the aggressor's need to have heirs by these unwilling people.
Narration (4/5) – I've heard the narrator before. Her voice variation, editing, and reading is pretty good, though book to book most of her bad guys sound the same. Most of the Drakken sounded British. Can't go wrong with that accent. The snake was suitably creepy.
Characters (3.5/5) – Rosella's probably the most intriguing side character, as the other three are sort of main characters. Yet, she goes straight from super annoying to victim. It would have been nice to see her come into her own here, but I guess that's going to wait for another book. The other three, Connor, Raven, and Copper are livelier and more likable. Raven's powers are probably the coolest.
Ending (2/5) – Blatant bid for a sequel. It's not quite a true cliffhanger, but there are definitely huge loose ends.
I never read Darkspire Reaches, nor am I going to.
Conclusion:
There's a niche for every kind of work. Those who loved the first in this series probably won't be disappointed. Those who like the narrator could go either way. Her performance is good, but despite liking her, I didn't particularly enjoy the story.
Associate links to follow…
(If you click through and buy something, there's the chance I'll earn like $0.04 ….)
Amazon Prime
The Collins Case – 2 FBI agents track down a kidnapped family. Kid friendly.
If fantasy's more your thing, go Redeemer Chronicles. The first, Awakening, is available as an audiobook.
Ashlynn's Dreams Shorts – a kid deals with her parents' divorce, bullies, and the wonder of discovery.
Try The Dark Side of Science – Genetically altered kids fight for the right to live.

OR