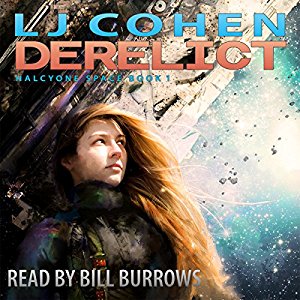 3.5/5 Derelict by LJ Cohen
Summary:
Ro and a motley stow-away crew find trouble on a derelict ship.
Additional Comments:
What I Didn't Enjoy:
There's a LOT of strong language in here, which is weird because the book otherwise seems aimed at young adults. I work with teenagers. Some of them curse, but very strong languages loses its impact when used this casually.
There's not one fleshed-out, competent, sympathetic adult. The adults here come in three flavors: overbearing jerks or manipulative, overbearing jerks or manipulative, overbearing, psychopathic jerks.
The friendships and rivalries seemed genuine but there's also a bizarrely paced, subtle (F/F) romance.
Neutral:
At its heart, the plot's actually rather simple. (Girl wants to get away. Girl and acquaintances get into trouble. Runaway ship nearly kills 'em all.)
The purpose of Deadilus (sorry about spelling, I heard the audio version) was never really made clear. Is the station strictly for research or survival?
What I Enjoyed:
The technology aspects of this book were pretty cool. The computer programming aspects were nicely described.
The music integration and purpose where Halycone is concerned rocks.
Bill Burrow's performance fits very well.
The four main characters are both well-developed and likable. I enjoyed how their names unfolded piece by piece. Their nicknames work.
Conclusion:
If you're okay with a lot of strong language and quite a bit of adult-bashing,  you would probably enjoy this book.
As Always …
Note: this book will not be on the regular Audiobook Readers' Edge, but it is available via the matchmaker program.
If you're an author with an audiobook you'd like featured, sign up for Audiobook Authors/Narrator's Edge.
Thanks for your time.
Sincerely,
Julie C. Gilbert
Audiobook Edge and it's Matchmaker Program are completely free now, but if you wanna donate anyway, go for it 😉
Er, just do it as a friend b/c otherwise, you're basically just paying paypal.
[paypal-donation]