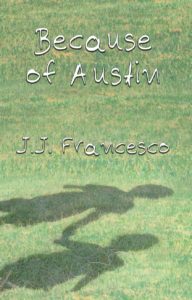 Introduction:
Hey, I'm J.J. Francesco and my books are probably one of the only places in the literary world where you can get a hybrid of Criminal Minds type psychopath, Lifetime movie type melodrama, and Sunday morning Catholic themes. Well, at least I like to think so.
If you're here, you're probably on a scavenger hunt. Hope you're having fun. I'm supposed to introduce myself here but there's not a big story to tell. I was never a good reader and still am not, but I liked TV and Movies. I took this weird path from motion picture fan to writing prose that still kind of baffles me. But stories are just that powerful, I guess.
My Publishing Story:
After several failed attempts to get into "writing a book," when I was 18, I decided to dip into personal experiences to tell a radical "what if" version of a trauma that happened to me in first grade. This novel draft became what would, years later, become my third published book, Because of Austin. Despite my attachments to my crime series revolving around Detective Julie Martel, I think Because of Austin may be the work I am the most proud to share. It touches on several social themes facing our kids today and I think it's a book that both younger and adult audiences can benefit from.
The book originally looked very different, but after reading Emma Donoghue's Room, I gutted the book start to finish and literally rewrote almost every word. The structure of the story remained intact and yet so many more nuances came out in this rewrite. It was the first time I really feel another book influenced me for the better. And now? I can hardly imagine this book any other way. While a few small things got lost in the translation that I do miss, there was so much more gained in this narrative approach that I can't even think of looking back. I hope readers who discover my books will connect with my characters and ultimately find new friends that will stick in their heads for a long while.
My Stories:
Blood Chain, Death Scene, and Because of Austin.
Conclusion:
There are still so many stories left in me to tell. And I hope one day I can un-scatter my brain enough to get them out there to the world. But for now, I have 3 books that I am immensely proud of and that's something, right?
Want to stay in touch?
Amazon:
Facebook: facebook.com/jjfrancesco
Twitter: @jjfrancesco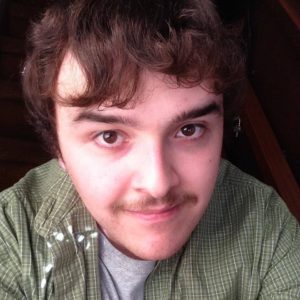 And Now Your Hunt Here Ends and Begins Anew …

Thanks for stopping by. Best of luck in the game.
Link to Full Scavenger Hunt: http://kendrasgiraffecrafts.blogspot.com/p/indie-e-con-2018-scavenger-hunt-stops.html