Author Interview:
Hey, join me in welcoming Nix Wittaker today. Hope you're all having a lovely weekend.
Tell me a little about your background.
I was born in South Africa on the east coast. Mosquitos and green mamba rather than lions and giraffe Africa. I left when I was a young girl and moved to New Zealand with my family. And traded snakes and sharks with earthquakes and volcanoes.
What do you do for fun?
Reading and looking after kittens. I'm a foster mom for the RSPCA and hand rear week old kittens or help tame feral kittens.
Who or what inspires you the most?
My grandfather believed in collecting useless information. I do the same and that is where I get most of my ideas.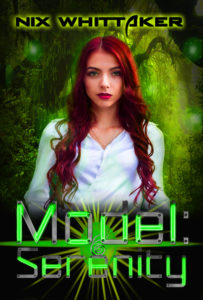 About your writing:
What got you into writing?
I'm dyslexic but when I was growing up no at school figured that out because I'm also a smart cookie so they suggested I read books. I read a lot. Talking about 3 digits and so I ran out of books to read and started writing my own.
What is your writing process?
I am not a pantser I always plan out the book. Not in detail. I plan it out start writing and then pause when I get a feel for my characters and go back to put more detail into the plan. Then I write the exiting bits and figure out why the rest isn't interesting. Once I figure those out I start having others start reading chapters and giving me feedback while I tweak and polish.
When do you consider a work complete?
Never. I like to go back over and over. I usually publish though after I spend the cash on an editor. My mother is an artist and she is the same. She usually sells her work or paints over it as it never seems perfect. At least with writing you can forever tweak it.
About your book:
Are there any deep themes or messages in the book the readers should be aware of?
My book is set on another planet where some crazy scientists have played eugenics. The same stuff the Nazi were trying during WWII, I wanted to show that our racism in this day and age is insidious and everywhere.
me: That's a great theme. I've got a series with crazy scientists too. (I'm a chem teacher too…so I get the appeal of going nuts with science.)
What gave you the idea for this book?
I've had this idea for a long time. But the original was a fantasy but I find I write Sci-Fi better and when I changed it to science fiction the story became something new. There are a few things that came over from the fantasy version like the names of the caste systems.
How long did the book take to write?
Longer than usual. My first novel took 3 months, to write this one it is already at a year but I have managed to knock out the next book in the series in that time as well. I thought I would write the whole series before I published.
Who designed the cover?
I design my own covers but don't take that as permission to make your own. I am also a digital designer and sell covers professionally. If you are an author let the designer do their job, it is what you pay them for in the first place. I cringe when an author wants you to change everything or add in too much on the cover.
Me: Ha, yes, I can understand that. Wow, if I were a digital designer that would save me a whole heap of money :-). I've only ever made my nonfiction covers b/c they're mainly text. (It is a very cool cover.)

Do you write in other genres?
I have another series in Steampunk with dragons so in my mind it is alternative history slash fantasy. Though technically it still falls under Science Fiction.
Tell us about one other book or series and why it's important to you.
I've another series and this one is set a little in the future after the world has survived global warming. Usually when you have dystopias it is awful but my world isn't. Humans are amazing and can adapt and that is exactly what they do in this book.
Random:

What animal do you most relate to?
Cats. Who wouldn't want to lie in the sun and sleep all day.
What's one thing very few people know about you?
What's your favorite flavor of ice cream? Triple chocolate. I have a distinct soft spot for anything chocolate. Add anything with nuts to the chocolate and I am in heaven.
What are you non-writing hobbies or interests?
Art. I'm a decent artist but I realised at a young age that I couldn't be a great artist. So I thought I would become great at something else.
Conclusion:
If you'd like to learn more about Nix, please visit her website.
Website: www.nixwhittaker.com
Associate links to follow…
Amazon Prime
Free Kindle Reading App
Audible – If you buy some of my audiobooks with your first credits, I'll pay the first month's bill (beyond the free ones). (Terms and conditions: must have proof of purchasing my books, like a screenshot. Will also have to have paypal.)