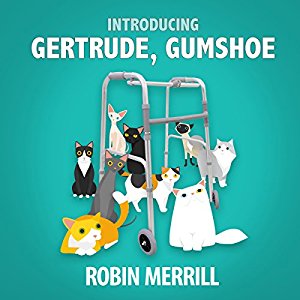 Introduction:
Something flavorful for cozy mystery fans.
Summary:
Meet Gertrude. She's an eccentric, cat-loving, cranky, coot with mild kelpto tendencies who toddles around with a walker and finds plenty of trouble.
Additional Comments:
– We don't really know much about Gertrude or how she got to be where she is in a tiny trailer park. Maybe more of her past comes out in future story. I only mention that because she's occasionally delightfully and occasionally eye-brow raising sort of naïve. (i.e. stars in a Thai restaurant, existence of P.I. licenses, etc)
– She's willful, opinionated, and nosy, but she cares. While that might rub some readers the wrong way, I think it's part of her charm.
– The cranky part of her character manifests as rude at times, but there are parts where her better nature shines through.
– I heard the audio version. The narrator handled voices superbly, but her normal reading tone sounded pretty robotic.
– The salt shaker collection's a tad weird.
– We don't actually see much of her cats, which is odd given she has so many of them.
– The side characters are intriguing but could be fleshed out more. I'm assuming there will be some recurring characters throughout the series.
Conclusion:
It's a solid start to a cozy mystery series. There's a definite flavor here. Many will find it amusing.
Associate links to follow…
Amazon Prime
Free Kindle Reading App
Audible – If you buy some of my audiobooks with your first credits, I'll pay the first month's bill (beyond the free ones). (Terms and conditions: must have proof of purchasing my books, like a screenshot. Will also have to have paypal.)