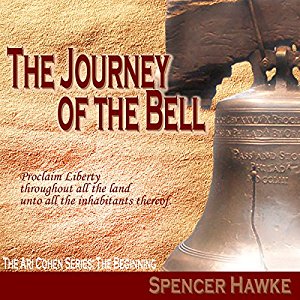 I pulled the picture from Audible.
Summary:
A very short novella about two men and a secret society.
Additional Comments:
I heard the audiobook. The author has a very nice reading voice.
The book's mostly a setup for the rest of the series, so in that sense, this is a prequel. However, I personally didn't like that twenty minutes of this book are actually an excerpt from a different book.
Historical fiction always takes liberties with facts and public figures. The Eyes of Athena are probably supposed to be the Masons. I probably missed something but I sort of wish I knew more about how the fictional counterpart got its name.
It's all right, but I think it would be more enjoyable as a prequel, meaning as something to fill in gaps and give greater depth to things for current fans of the regular series. It's really about the setup of the secret society and two random early members, not about Ari.
The skipping around in the timeline threw me a bit.
Conclusion:
A story geared more toward fans of the Ari Cohen series. It's also light historical fiction. If you're looking for a quick read, it's a decent fit.
*I received a copy of the audio free. I chose to review it.*
As Always …
If you want the chance to get the audiobook for free, please join Audiobook Readers' Edge.
If you're an author (or a narrator) with an audiobook you'd like featured, sign up for Audiobook Authors' Edge.
Thanks for your time.
Sincerely,
Julie C. Gilbert
Audiobook Edge and it's Matchmaker Program are completely free now, but if you wanna donate anyway, go for it 😉
Er, just do it as a friend b/c otherwise, you're basically just paying paypal.
[paypal-donation]
Prime Student – Oh, how I wish I was still a student.
Kindle Unlimited
Free Kindle Reading App