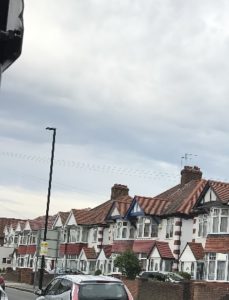 A West London borough
Arrival
The 8:35 flight from Newark got into London's Heathrow Airport around 8:30 at night local time. There's currently only a five hour difference time-wise. Jet lag wasn't too bad for me in either direction. I'd had to get up at 3:40-ish to get picked up and get over to the airport, so even though it was only 4:00 according to my internal clock, I was more than ready for bed. I think it was still 11:00 local time before I actually got into bed, but I didn't stay up too long.
First Day in the City
My friends dropped me off at the Underground station around 9:30 the next morning. I bought a one-way ticket into zone one so I could go pick up my London Pass stuff. Used a twenty pound note for a 5.50 pound fare and ended up with a pocket full of coins. Literally. Fourteen shiny pound coins and a fat fifty pence coin. It was like winning a jackpot in Vegas.
Phone Adventures in London
As I got out of the underground station in zone 1, Leicester Square, my phone said "welcome abroad." Two minutes later, it said, "by the way, you're over $100 in roaming charges. Call us. We can save you money."
I was like "Say what? I already took care of it." Anyway, ended up sort of bumbling my way in the right direction to go pick up my London Pass stuff, but was also distracted by needing to call the phone company. After a 10-minute conversation, got that mess sorted. I'd called before the trip to take care of getting a plan for going abroad, but for whatever reason, it didn't kick in. Lady on the phone was nice enough though.
In a way, I'm glad that it happened this way because I would have inadvertently blown through all my data in no time, but the lady on the phone described how to turn off cellular data roaming when I didn't need it.
Finding the London Pass … More Adventures
Okay, so finding 11A took some serious doing. It helps to read all of the directions. I walked up and down a street watching the numbers change and skip right over 11A. I'd even seen it from the other side. However, I didn't read the part of the directions that said go underneath the ticket booth that's located in the middle of the road. That part of the directions happened to be on the next page from the rest of the directions just by luck of the draw.
Who puts 11A in the middle of the road?
The sign for 11A was in cute small letters partially under the ledge of the ticket booth's roof. So you can only see it from one side. Anyway, once there, the nice, large sign said go down the stairs for the London Pass. I did. This was my first experience with narrow, treacherous, shady, tightly-wound staircases in England. Success! Got the London Pass and spent a few minutes down with the free wifi basking in the airless glory of having found it. When I needed to breathe again, I left the itty-bitty ticket booth thingy and loitered outside it until my other friend found me.
The Rest of Day 1 in the City …
We walked around a fair amount looking for a decent place to eat. I think we settled on a pizza joint. Might have been Pizza Express, which are all over that city, but it could just as easily have been a different small pizza place. I kind of think it was one of the locations in the London Pass Dining Guide.
The Margarita pizza I ordered was giant. I ate half of it … maybe. Luckily, my friend helped finish part of the rest so it didn't got to waste.
Landmarks
After lunch, we walked some more. After meandering over to the Thames River, my friend pointed out all the major landmarks within view. The London Eye, Tower Bridge, and the Elizabeth Tower were visible. Then, we walked over to St. Paul's Cathedral. That would have been covered by the London Pass, but my friend didn't have such a pass. I didn't want to pay the entry fee of ~20 pounds to get in and get out. We'd not planned to see that anyway. First experience with bag checks, which are everywhere in that city.
What is not everywhere are rubbish (garbage) containers.
First Museum
Most of the major museums in London are free. I believe the first one we actually walked in was the Museum of London. Fitting. This one talked about the history of the city. I bought postcards. Later, as my travels continued, I'd find out that I'm a sucker for postcards.
Tower of London
In days gone by, going to the Tower of London pretty much sealed your doom. These days, they charge about 22 pounds to walk in the gates. After the bag check, of course. We got to the Tower of London pretty late. Twice, the people asked if we really wanted to go in knowing that we wouldn't be able to see everything and there were no more guided tours. We managed quick tours of the crown jewels and the White Tower and a very, very quick tour of the tiny thing called Torture at the Tower. Nice way to end the day.
Crown Jewels didn't wow me as much as I expected, but that's because it mostly consisted of fancy spoons and decorative gear and armor for this or that coronation. It's worth seeing to say you saw it, but not the highlight of my trip.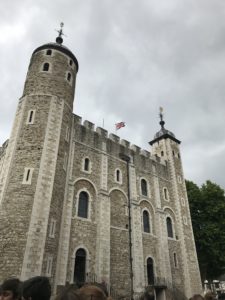 The view of the While Tower from the queue to see the crown jewels.
Fine Dining
By the time we finished with the London Museum and the Tower of London, we wandered around a little more in some authentic British weather. The skies decided to dump a few liters per second on people's heads. Great fun. So, soaking wet, we wandered about some more and made our way to another place in the Dining Guide. We walked in. We walked out. The dining guide failed to mention it was a bar that served only snack type foods, not full meals.
Nearby, we found a really nice Italian restaurant that had a few people sitting in. The rest of the official dining area was abandoned, which I'm going to attribute to the early hour. I had pasta with Bolognese sauce. For the life of me, I can't remember what that place was called. I did better most of the rest of the week remembering where I went. Promise.
Back to Base
My friend nicely escorted me to an Underground station that would get me back to where I needed to go. The first walk from the Underground station to my friends' home was very long. Partially, I believe that's because of the rain, but it's also a decent 15 minute walk I'd never done before. Things look a lot different from a car.
Conclusion:
The first day certainly involved a lot of walking. I consider it my whirlwind tour of the city of London.
Need to Catch Up?
Part 1: Preparation, Planning, Cost
Gearing up to travel? Grab some books and stuff.