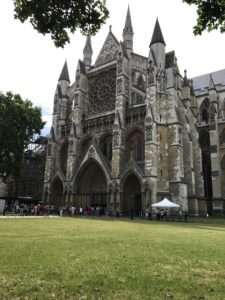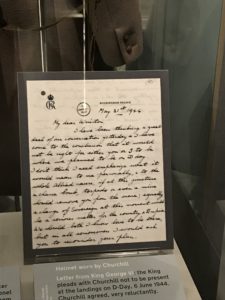 Left to Right: Westminster Abbey; A Letter from King George to Winston Churchill asking him not to go to the staging grounds of D-Day.
Last Day to Play: Tuesday, July 18, 2017
Westminster Abbey
Found my way to the right station no problem, but got turned around and couldn't actually find the abbey for a few minutes. That takes some serious talent. I mean the building's huge. This is another place that I might not have gone inside if I didn't already sort of pay for it by buying the London Pass. It was definitely cool with yet another neat audio tour, but 22 pounds would probably have turned off the cheapskate in me. Can't take pictures in there either. I think it's because they want you to buy officially sanctioned postcards.
Gift shop:
Yes, I'm pretty sure I bought a postcard or two. I know I bought chocolate. Who knows, perhaps tourist chocolate is better than grocery story chocolate.
Lunch at a Random Noodle Joint
Okay, so I hate to admit it, but we were looking for the McDonalds and couldn't find it. We walked over Westminster bridge on the right side if you're facing away from the side that has Westminster Pier. By the time we crossed the street we were on a part of the walkway that didn't have the steps down so we walked around the whole building. Pit stop at a noodle joint. It was all right. Looked it up. Place is called Ned's Noodle Bar. If I was rating the restaurant, I'd give it 3 of 5 stars.
Food was decent but nothing to write home and rave about. Maybe I just chose something too mild. Their system isn't that smooth. It wasn't that busy but I wasn't sure where to go to pick up the food. I can see them placing random boxes on the top of the counter getting kind of confusing. Heck, even McDonalds had a more efficient system with order numbers displayed above and somebody there who shouted out the number that was ready. If you read the google ratings, they're basically split down the middle. Kind of pricey for what you get. Each box is about eight pounds.
Arcade – Namco Funscape
Took me a little while to understand the place. The London Pass came with three free tokens here, but they're not useful for most things, just the video games. I bought the further deal which was buy five tokens and get five free. Oh well, we had fun blowing up bad guys and robots. There was a crane game with Star Wars character plushies in it. Being Star Wars nuts, naturally my friend and I tried for one. Every crane game try cost thirty pence, which is actually much cheaper than the arcades I've seen in the states.
After a few tries, we quite that and played some of the ticket games. My friend did amazing at this game where you drop random balls and it trickles down and lands in various fish bowls. Each of those turns was ten pence. I had fun with a different game where you try to time a token sliding down a ramp into the back to get the game to drop more tokens that you want to slide off the platform.
Eventually, we spent some of the tickets on a mug and a collectable Star Wars piggy bank style tin. It's currently holding one pound, but if I ever want that back, I'll need to break in with a can opener. Literally. That's the instructions on the bottom of the container.
Conquering the Crane Game
Anyway, back to that darn crane game. It was mocking us. We had to try again. My friend tried once or twice more. I turned a cute little five pound note into coins and fed three of them to the machine, giving me ten turns. On the third of these, I picked BB-8's behind up for the umpteenth time and miracles happened. By that, I mean the crane didn't drop him until it was over the prize box. Success! Had a few tries left so blew them trying for a Kylo Ren, but he's too darn skinny for that crane thing to pick him up.
Ice Cream and the Great Sweatshirt Hunt
I'm relatively easy to please with few wants. One of those wants was a London sweatshirt. Didn't find too many without hoods,but finally got one. It's a tad small but it was the last one they had and five pounds cheaper than the other place across the bridge. This stall was almost identical to the other just on the Westminster Pier side. Saved a fiver, so I spent it almost immediately on ice cream of all things. The soft ice cream with flake was a bit softer than it ought to be but that just meant we had to eat it quicker and use more napkins in the fallout.
For an underground bunker of sorts, the place is quite extensive. Once again, you wind your way down some stairs, buy a ticket, and head in with your audio tour looped around your neck. The Imperial War Museum people know how to create a nice exhibit. There's a large room where you can explore the different phases of Churchill's life, but most of the tour focuses on the various rooms that make up the bunker. Some of them have audio clips from people who worked for Churchill or the other important leaders of the day. Hearing the voices of people who lived and worked back then was great.
Gift shop:
Nope, didn't buy a postcard, but I did make a purchase here. Would have bought a DVD too if it was compatible with US players. Pretty sure it wasn't.
Conclusion:
I really enjoyed the arcade. Learning the history in the Churchill War rooms was cool too. Westminster Abbey was beautiful, as expected, but I'd already seen much the same type of thing at St. George's Cathedral in Windsor Castle.
Need to Catch Up?
Part 1: Preparation, Planning, Cost
Part 2: Arrival and First Day in the City (The London Museum)
Part 3: Getting into Tourist Mode (British Museum)
Part 5: Buckingham Palace and More Museums (Natural History and Science Museums)
Part 6: Tower Bridge, HMS Belfast, Shakespeare's Globe
Part 7: City Cruises, Greenwich, and Church
Part 8: Kensington Palace, Curzon Bloomsbury, and a Pub
Had enough Reading? Check out some Video Games