Introduction:
I know we're all focused on building our own stories and keeping that going, but you might want to consider writing for Kindle Worlds. Here, Amazon has created a place for you to get paid to write fanfiction. Fanfiction gets a bad rap, but in Kindle Worlds it's a little more structured. You have to abide by the rules set forth in whichever world you are writing for.
I've joined two KWs: The Lei Crime Series and The Sydney Rye Series. Lei Crime is mystery/thriller and Sydney Rye is more vigilante thriller.
5 Key Benefits to Writing in Kindle Worlds?
You're starting with a ready-made audience. Amazon has specifically chosen popular series to offer kindle worlds to. You often have a plethora of cool side characters to explore. This is especially true for the Lei Crime Series as Toby Neal has gone out of her way to make deep side characters with lots of room for exploration.
Try new things – this is pretty much a risk-free way to try a genre you may not have done yet. At the time, I'd not done any traditional type mystery/thrillers. The first Kindle World story I wrote was Never Again, which was a prequel to the Lei Crime series. It explores the question why one of the characters chose to become a cop.
Interact with other authors – Networking is super important. You never know who you're going to meet and what the long-term benefits will be of that relationship. As a part of both KWs, I've met a lot of great people. I've even gotten to meet one of them, even though she lives in Canada and I live in the US. It's not exactly a mentoring system in all cases. The worlds differ in how involved the original author wants to be.
Power of the collective – The Lei Crime series in particular is very purposeful about launches. You can publish at any time, but joining a launch will likely get you better sales results. I've had months where the sales are triple what they normally are just because of the collective advertising and social media presence of a launch.
It's a heck of a lot of fun. – At the end of the day, you've got to enter this because you love what you do. Some of the worlds, like the Sydney Rye one will allow you to integrate characters you've already written. The Lei Crime series is under and older contract that does not allow this, but in Fatal Interest (Sydney Rye KW) I was able to bring in Nadia, who is also featured in the Devya's Children series.
"Writing for KWs is easy and fun. The "heavy lifting" of character and world building is done, and with the addition of a little imagination, the writing feels like play and flows easily. I enjoy the creativity that gets unleashed by not having to build everything myself." ~ Toby Neal (Author of Lei Crime Series)
"I like how there's at least a possibility you can get some new eyes on the backlist (on the off chance readers of the KW world's original author likes your work enough to check out your other books). 🙂 And I feel like Amazon gives their KW books a nice boost during release day / month, which is always welcome." ~Marian Tee (NYT Bestselling author, The Marriage Dare, a KW novella)
"I love writing for KW LeiCrime because it brings happy memories of living there and I enjoy working with great writers such as Toby Neal." ~J.L. Oakley (Author of //ws-na.amazon-adsystem.com/widgets/q?ServiceVersion=20070822&OneJS=1&Operation=GetAdHtml&MarketPlace=US&source=ac&ref=tf_til&ad_type=product_link&tracking_id=juliecgilbe05-20&marketplace=amazon&region=US&placement=B00VQWUE5C&asins=B00VQWUE5C&linkId=b781e041307cf743263459a8ddaff64d&show_border=false&link_opens_in_new_window=false&price_color=333333&title_color=0066c0&bg_color=ffffff" target="_blank">Saddle Road, Lei Crime Kindle World Series)
How do you get involved?
Technically speaking, all you have to do is write a book that follows the guidelines of the world you want to join. Here's the link to the main Kindle Worlds page. Odds are good that every genre is represented.
The first thing to do is get familiar with the world you want to join. If you're already a fan of something, that's great you can skip that step. But this is a hugely important step. Make sure you understand the world. Next, choose a character to write about. I started the Lei Crime Series intending to do a Defining Moments series featuring many different characters in each subsequent book, but once I wrote the second one, I stuck it out with FBI Agent Marcella Scott. I rebranded that series to focus just on her and called it The Shadow Council Series.
It might help to get involved in some of the FB groups for authors interested in a particular Kindle World. I know both the Lei Crime and Sydney Rye series have FB groups. They're private but if you're interested, you can always apply and the admins will let you in if you're serious.
BTW, if you grab one of the free books below then let me know you came from this e-conference, I will enter you into a contest to win a copy of any of my Kindle World titles, 2 Shadow Council pencils, and a postcard pack.
Conclusion:
Kindle Worlds are an excellent publishing option, but you have to follow very specific guidelines for each world. You need to read those rules closely for each world because they will differ. That said, it's a fun and profitable way to gain more exposure for your existing works.
Thanks for reading!

If you want to see more from the Indie e-Con, go here.
If you want to win a free Kindle Paperwhite, enter the giveaway.
Love Science Fiction or Mystery?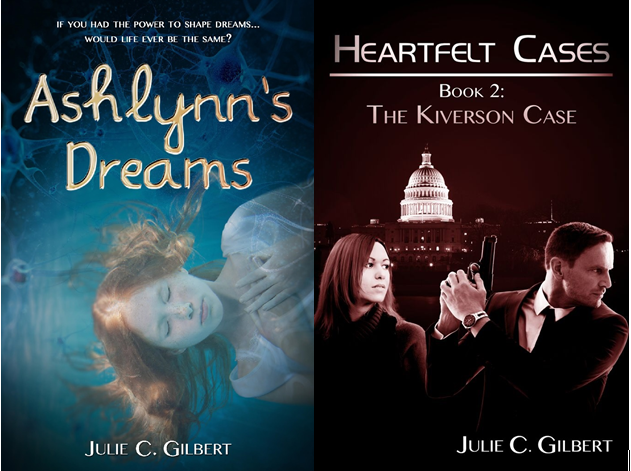 Choose your adventure!
Get Ashlynn's Dreams or The Kiverson Case absolutely free.
Email and Links:
Devyaschildren @ gmail.com