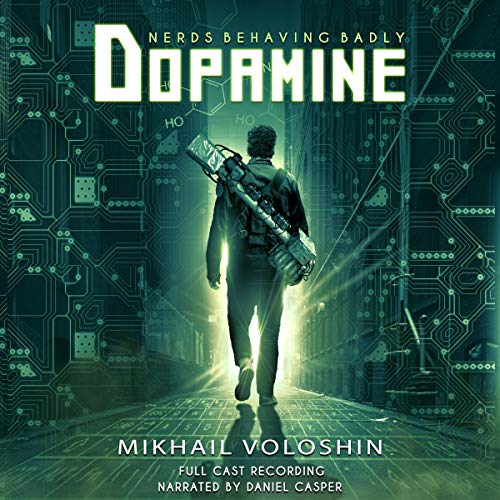 Narrated by Daniel Casper
Run Time: 10 hrs 16 mins
Genre: Cyberpunk/thriller
*spoilers possible in discussion
Summary:
Danny and his group of Dungeons and Dragons players take on the job of hacking into a medical research facility and get way more than they bargained for.
Additional Comments:
If you don't like spoilers, don't read the blurb. It pretty much spells out the first half of the book.
Performance 4/5 Stars: It's a full-cast audio with about 6-7 names listed at the very end. I know that's becoming more of a thing, but it was kind of distracting. I don't read romances and that's where you'd probably hear the most dual performances. I would have preferred 1 narrator in a story like this. All narrators did fine, and the editing was good enough to keep all transitions smooth. That's about the best you can hope for with full-cast shows. I would certainly listen to another of their productions.
Story 3.5/5 Stars: There's a cool premise, hero's kind of purposefully lame. He's a tech genius, not an action hero, which is fine. But that means most of the action is carried out by others. There are some neat plot twists near the end. The plot is high action, but at times, the action seems to just move the characters about at will with them having 0 control over what to do next.
Seemed to have more to do with cocaine than dopamine. I guess I missed that connection. Pretty sure it was mentioned. Probably would have had a different audience if that were the title though.
Side Characters 3.5/5 Stars: While realistic even in their stereotypes, not many of the characters are very likable as people. Roger is a sex-addicted nincompoop. Tina's an underappreciated, brilliant woman wasted on the job of answering phones. Danny's your average tech genius. Jason's the greedy corporate guy with a heart of gold in the end. He might actually be the one to show the most character growth. The Russians are mostly mobsters.
I probably would have pegged it for near future scifi/thriller over cyberpunk, but maybe I'm just not familiar enough with the nuances of the genre.
Monologues: There were at least 2 main character monologues that should have been skipped.
Content Warning: Very, very strong language. Hit 4 f-bombs within 15 minutes and kept that general ratio throughout the story. A few adult scenes that could easily have been skipped.
Conclusion:
An interesting tech-heavy thriller.
Audiobook Promotions …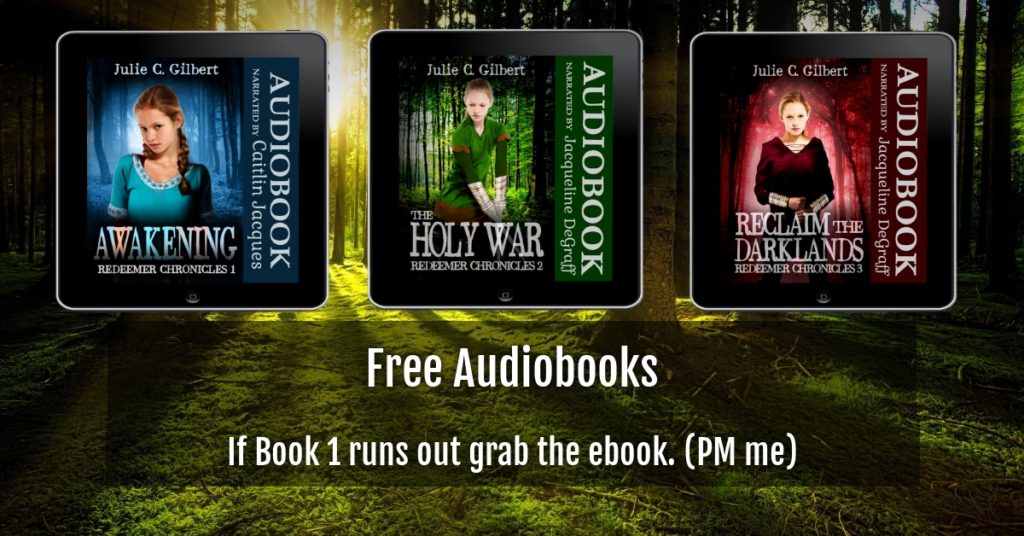 Many of my 44 audible titles are listed on Audiobooks Unleashed.
Whether you're looking for mystery or suspense or fantasy, I've got a title for you. Free codes are probably on audiobooks unleashed.
Normal links go to audible. *The Amazon labeled links are affiliate links. That means I get a very small payment from Amazon if you go through with a purchase.*
Note: Filter by US if you're looking for those codes as many titles are out.
Ones I think may still have US codes: Reshner's Royal Ranger, Never Again, Innova, The Golden City Captives, The Holy War, Reclaim the Darklands, Eagle Eyes, Treachery Makes it Tense, Ashlynn's Dreams Shorts, The Dark Side of Science, Ashlynn's Dreams, Nadia's Tears, Malia's Miracles, and Varick's Quest
There are plenty of UK codes, but not many US ones left.
Redeemer Chronicles (Fantasy)
Awakening – Redeemer Chronicles Book 1, MG fantasy (Amazon) (free codes)
The Holy War – Redeemer Chronicles Book 2, MG fantasy (Amazon) (free codes)
Reclaim the Darklands – Redeemer Chronicles Book 3, MG fantasy (Amazon) (free codes)
River's Edge Ransom – Prequel to Redeemer Chronicles (Amazon) (email devyaschildren @ gmail.com for free codes)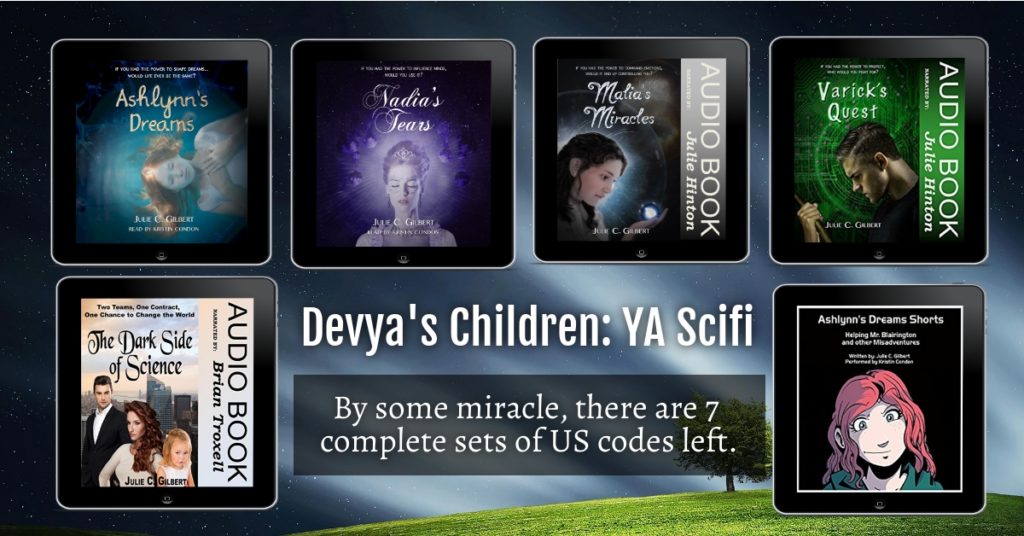 Devya's Children Series Links:
Ashlynn's Dreams Shorts – short stories featuring Jillian. (Amazon) (free codes)
The Dark Side of Science – official prequel to Devya's Children; Genetically altered kids fight for the right to live. (Amazon) (Please email devyaschildren @ gmail.com for free codes)
Ashlynn's Dreams – Genetically altered Dream Shaper learns her gift. (Amazon) (free codes)
Nadia's Tears – Jillian tries to awaken her sister, Nadia, from a coma. (Amazon) (free codes)
Malia's Miracles – Jillian and her siblings try to save a friend's mother. (Amazon) (free codes)
Varick's Quest – Jillian and Danielle get kidnapped. Nadia's also in trouble. (Amazon) (free codes)
More Scifi:
Reshner's Royal Ranger (epic sci-fi) just made it there. (Amazon) (free codes)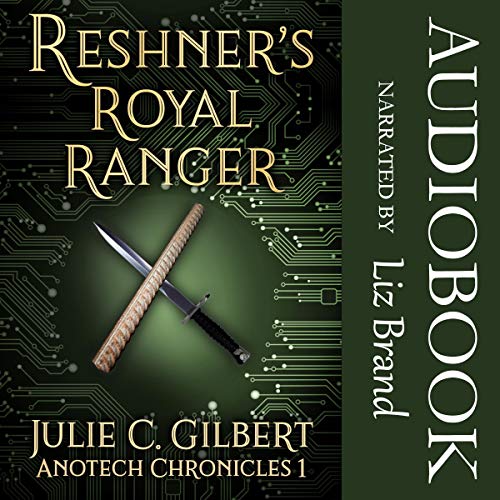 Guardian Angel Files:
Spirit's Bane – Allister and Mina are training to be Guardians. Satan's out to get them. (Amazon) (free codes)
Kindred Spirits – Mina's exiled to Earth. Allister's stuck in the Heavens. (Amazon) (free codes)