Length: 1 hr and 6 min
Introduction:
I usually do all the instrumental music followed by the lyric-containing songs, but I figured I'd switch that around for 2021. It's a relatively short list so far, but I anticipate it growing throughout the year.
Wave 1:
I'm Feeling Good by Cameron James – Once again, I'm outright baffled by the fact that there are only 59 views on Youtube. That's crazy. But this song perfectly captures the hope of a flip to a new calendar year.
Wake Up Sleeper by Austin French – A reminder to wake up from the things in life that don't matter. Fav lines: "Leave your past at the door" "Come to the light" "Death don't live here anymore" "Rise up and come out of that grave." The problems that arose in 2020 were always there, but the reaction of people and governments
Rebels by Influence Music, Michael Ketterer – A beautiful song. Pretty sure there's a lot to unpack here, but on the surface, it's a declarative song about serving others as Jesus did.
Catch the Light by Svrcina – A nice, upbeat song. Not sure I understand all the nuances of the lyrics, or if it's just a super simple song.
Wave 2
Time Has Come by Wildwood Kin – Another upbeat song. Sort of a seize the day theme to this one.
This is My Time by Carrollton – Has a very similar vibe and message as Time Has Come. Favorite lines: "No regrets. Never say die. Gonna give it all in this fight." "Won't stop til the battle's done."
Love Goes On and On (feat. Amy Lee) by Lindsey Stirling – The list wouldn't be complete without an entry from Lindsey Stirling. She's got a very unique sound.
Come Thou Long Expected Jesus by Michael Logozar – This is just one of dozens of versions of the classic hymn. It's very peaceful. I think this is an instrumental version.
Wave 3
Unbroken by Max Herman – A soft, contemplative theme. Peaceful. A touch sad.
Rounds of the Fates by Tomoki Miyoski – Livelier. Fun. Hopeful.
Nanko Warfire by Sybrid – You may notice I have a bunch of video game music. Besides just liking gaming music, my plans for the year include some gamelit/litRPG stories. So it's good to have mood music. Beautiful, somewhat haunting, spirited music.
Pumpkin Stew by Derek Fiechter, Brandon Fiechter – I don't usually add seasonal music to a year-long list, but somehow, it fit the moment. I'm not sure it came across as the brand of creepy they were going for, but it's interesting.
Dark Glacial by Frostudio Chambersonic – Kind of a cold, epic struggle theme. If you didn't realize it was from Frozen 2, you'd probably pick up on that by the last quarter of the song.
Wave 4
The Captain's Dance by Marcus Warner – Found this song a few months ago. It's just lively and fun.
Written in the Wind by Vlado Hudec, Future World Music – Mysterious.
Protectors of the Earth by Thomas Bergersen, Two Steps from Hell – Classic Two Steps from Hell. Epic and sweeping. Kinda brings up images of armored armies about to clash.
Wave 5: Finale
A Thousand Deaths (Instrumental) by Globus – Definitely fits in the epic music pile. Kind of frenetic.
Unyielding by Martin O'Donnell and Michael Salvatori – A little steadier and classic.
I am Unbreakable by Niklas Johansson – Another epic video game style theme. Ha, maybe being stuck inside a lot of this year, just gives me the urge to listen to epic struggle/war kind of themes.
Ultra Necrozma Battle (Remix) by GlitchxCity – Not a Pokemon fan, but some of the music is okay. The background notes and much of the middle remind me of Mass Effect music. It's sort of a hey, to be continued vibe.
Conclusion:
I don't believe that leaving the 2020 calendar year behind is going to solve all the world's problems. For all we know, it'll just reveal new ones, but if 2020 proved anything, it's that life goes on even through serious setback and panicking doesn't help the situation. Sit back. Listen to some excellent music and gear up for an awesome year.
Audiobook Promotions …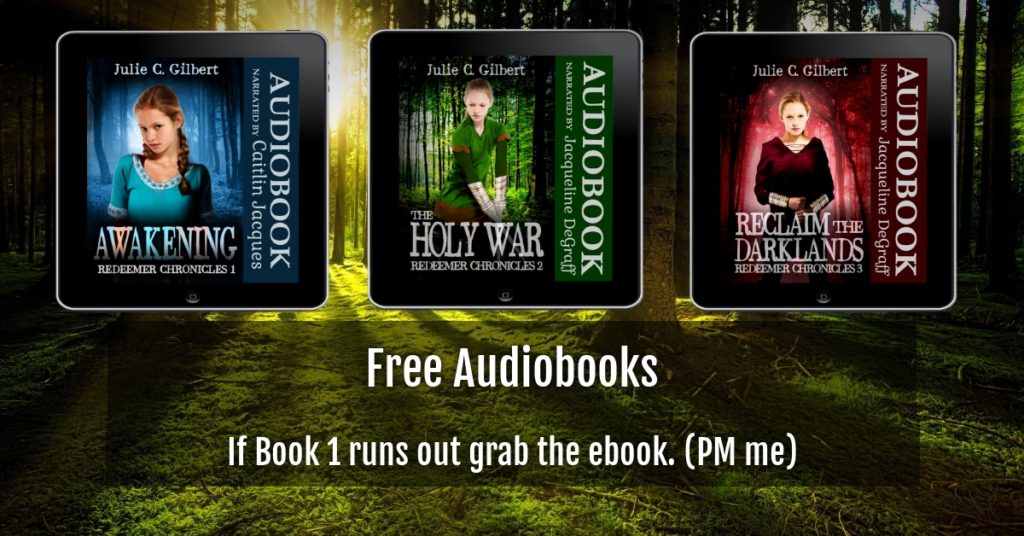 Many of my 42 audible titles are listed on Audiobooks Unleashed.
Whether you're looking for mystery or suspense or fantasy, I've got a title for you. Free codes are probably on audiobooks unleashed.
Normal links go to audible. *The Amazon labeled links are affiliate links. That means I get a very small payment from Amazon if you go through with a purchase.*
Note: Filter by US if you're looking for those codes as many titles are out.
Ones I think may still have US codes: Reshner's Royal Ranger, Never Again, Innova, The Golden City Captives, The Holy War, Reclaim the Darklands, Eagle Eyes, Treachery Makes it Tense, Ashlynn's Dreams Shorts, The Dark Side of Science, Ashlynn's Dreams, Nadia's Tears, Malia's Miracles, and Varick's Quest
There are plenty of UK codes, but not many US ones left.
Redeemer Chronicles (Fantasy)
Awakening – Redeemer Chronicles Book 1, MG fantasy (Amazon) (free codes)
The Holy War – Redeemer Chronicles Book 2, MG fantasy (Amazon) (free codes)
Reclaim the Darklands – Redeemer Chronicles Book 3, MG fantasy (Amazon) (free codes)
River's Edge Ransom – Prequel to Redeemer Chronicles (Amazon) (email devyaschildren @ gmail.com for free codes)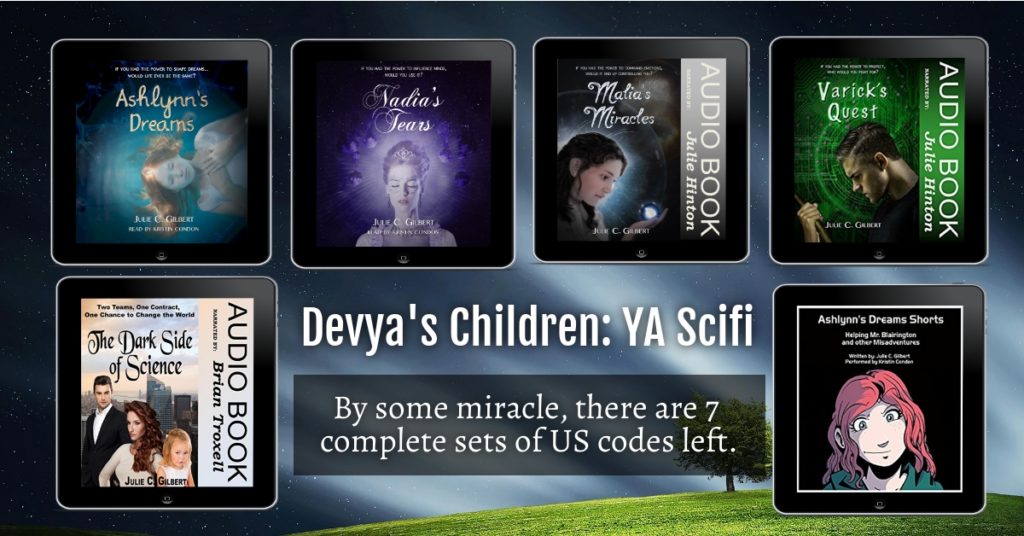 Devya's Children Series Links:
Ashlynn's Dreams Shorts – short stories featuring Jillian. (Amazon) (free codes)
The Dark Side of Science – official prequel to Devya's Children; Genetically altered kids fight for the right to live. (Amazon) (Please email devyaschildren @ gmail.com for free codes)
Ashlynn's Dreams – Genetically altered Dream Shaper learns her gift. (Amazon) (free codes)
Nadia's Tears – Jillian tries to awaken her sister, Nadia, from a coma. (Amazon) (free codes)
Malia's Miracles – Jillian and her siblings try to save a friend's mother. (Amazon) (free codes)
Varick's Quest – Jillian and Danielle get kidnapped. Nadia's also in trouble. (Amazon) (free codes)
More Scifi:
Reshner's Royal Ranger (epic sci-fi) just made it there. (Amazon) (free codes)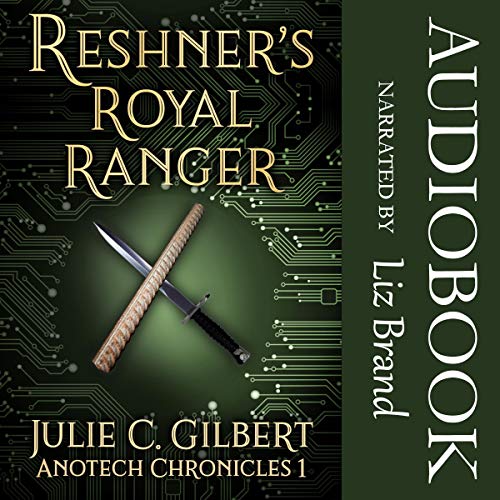 Guardian Angel Files:
Spirit's Bane – Allister and Mina are training to be Guardians. Satan's out to get them. (Amazon) (free codes)
Kindred Spirits – Mina's exiled to Earth. Allister's stuck in the Heavens. (Amazon) (free codes)