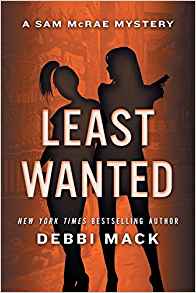 Summary:
Sam McRae's a lawyer with an interesting caseload and some highly uncooperative clients.
Additional Comments:
Main Character 4/5 Stars: I like Sam. She's a dogged realist who just wants to do the best she can for her clients, whether they act like they want her help or not. She's also a certifiable trouble magnet, and that's endearing. She's more PI than lawyer, but it's a fun combo anyway. Think Stephanie Plum with less guy problems and better luck with cars.
Side characters 3.5/5 Stars: I like Diesel. He's uncomplicated. Most of Sam's clients are shady creepers. A few have some redeemable qualities, but the majority have a punchable air about them.
Plot 3.5/5 Stars: The action surrounding Sam was fun. The actual cases were sad in many instances. I guess I'm just more of a happy ending, everything gets a bow kinda girl. The outcomes for many characters did strike a few realistic chords.
Content Warnings: Quite a bit of cursing and violence. Some disturbing adult-ish content. Most of the cursing fit the moment.
Conclusion:
If you can handle hard language, some violence, and a discussion on adult content, the Sam McRae's the sort of character you'll enjoy getting to know.
Associate links to follow…
Available Audiobooks: I have free codes for almost everything.
New Release: The Shadow Council Series 1: Money Makes it Deadlier – An FBI agent gets caught up in a robbery gone wrong.
The Collins Case – 2 FBI agents track down a kidnapped family. Kid friendly.
If fantasy's more your thing, go Redeemer Chronicles. The first, Awakening, is available as an audiobook.
Ashlynn's Dreams Shorts – a kid deals with her parents' divorce, bullies, and the wonder of discovery.
Try The Dark Side of Science – Genetically altered kids fight for the right to live.
Beyond Broken Pencils – Contemporary literary tale of a school shooting. Ian unleashes his inner demons on his classmates and teachers…
Scratched Off – FBI agent vs a serial killer. When Sam Kerman sets out to hunt a serial killer, he has no idea how personal the case will become.
Nonfiction:
5 Steps to Surviving Chemistry – A primer for chemistry students. Breaks down concepts into simple terms.
5 Steps to Better Blurbs – A book for writers looking to improve their book descriptions