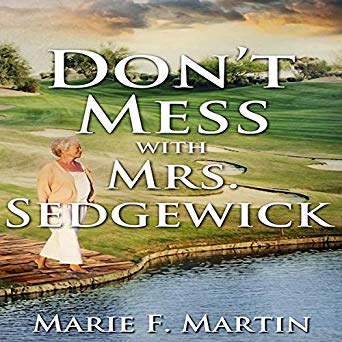 Summary:
A 70-something widow, Roberta Sedgewick, gets 3 of her golfing buddies to buy condos near each other so they can keep each other company as they enjoy their golden years. Unfortunately, old secrets and a snooping maid don't mix well, leaving the ladies scrambling to secure silence.
Additional Comments:
– Characters 4/5: It's got quite the cast. I heard the audiobook, and I'm pretty sure I missed some details. I can't tell if they're too realistic or not realistic enough.
– Plot 3/5: It meanders a lot. I almost gave up on the book at one point because of the maid's devious dealings. I was really rooting for one of them to just off her.
– Not usually a fan of flashbacks, but it was intriguing to get a glimpse into each of their lives and see the "sins" of their youth.
– It kind of bothered me that the author never mentioned Roberta's kids' names. I think she even waffled between the number of them (3 in one place, 4 in another). The book discusses that at least some of the others too have kids, but I don't think they're named either. I get that they're minor characters, but it's hard to think of them as having any sort of connection to the main characters if we don't even have a name for them.
– Narration 4/5: The chosen reader fit the content well. The reading was super slow, but I fixed that by going 2x normal reading speed.
– I hadn't read any books featuring older characters in a long time, and this is the second such one recently. All the main characters are in their 70's or late 60's, unless you count the really, really, really annoying maid.
Conclusion:
If you can take a slow start and love character-driven stories, give this a shot.
Associate links to follow…
Amazon Prime
The Collins Case – 2 FBI agents track down a kidnapped family. Kid friendly.
If fantasy's more your thing, go Redeemer Chronicles. The first, Awakening, is available as an audiobook.
Ashlynn's Dreams Shorts – a kid deals with her parents' divorce, bullies, and the wonder of discovery.
Try The Dark Side of Science – Genetically altered kids fight for the right to live.
Beyond Broken Pencils – Contemporary literary tale of a school shooting. Ian unleashes his inner demons on his classmates and teachers…
Scratched Off – FBI agent vs a serial killer. When Sam Kerman sets out to hunt a serial killer, he has no idea how personal the case will become.

OR