(Plus info on her new release)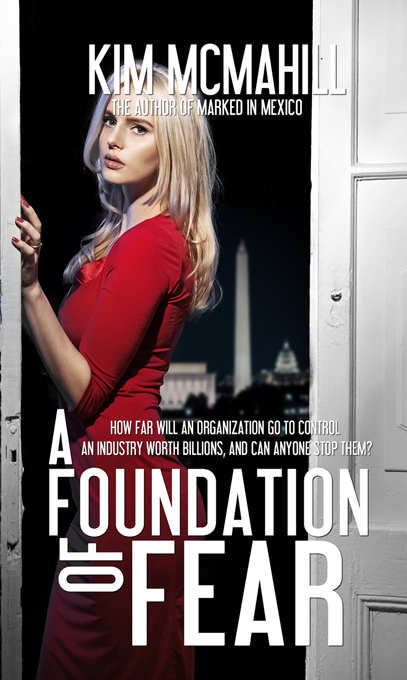 Introduction:
Today, we have an interview with Kim McMahill. She's excited to tell you about her new release. It's called A Foundation of Fear, just in case you totally skipped over the giant cover above.
What inspired you to write this series?
KM: A Foundation of Fear is the third novel in the Risky Research Series. The series explores the diet, nutrition, research and pharmaceutical worlds. The book topics range from a miracle weight loss pill, to a deadly sweetener, to the political influence exerted in order to maximize profits from an industry worth roughly 40 to 100 billion dollars annually. Health and nutrition are such complex topics and impact nearly everyone, and the money involved is definitely worth killing for.
What makes your main character unique?
KM: Devyn is a fearless FBI agent who definitely leads a much more adventurous life than I do. Well, she has no fear of drug dealers, crime bosses, or back-alley thugs, but she does have a fear of relationships and having her heart broken.
When you're brainstorming for a new story, what usually comes first for you, the plot or the characters?
KM: Usually the plot comes first. Once I know how the story will unfold it is easier to determine the types of characters that I need in order to accomplish the mission in an interesting and entertaining way.
Tell us something about yourself that we don't know.
KM: Hold on to your hats! I don't own a Smart Phone. I don't have anything against the device and suspect I'll get one in the not so distant future, but for now I haven't felt the need for one and fear it may consume time I don't have to spare.
Me: Yup, that's different.
Do read in the same genre you write in, or do you avoid reading that genre?
KM: I love to read suspense and action adventure. I can't imagine writing in any other genre. Action adventure and romantic suspense can take the reader on journeys to places they can only dream of and put them in situations that make their hearts race, something very far from most of our daily lives.
Besides writing is there another career you would have liked to pursue?
KM: I always dreamed of being an archeologist, but when looking into college majors I thought I should pursue something more practical. Writing action, adventure, and suspense allows me to explore and solve mysteries. My goal in the next phase of my life is to find and take advantage of volunteer opportunities to participate on digs.
Blurb for A Foundation of Fear:
FBI Special Agent Devyn Nash is obsessed with taking down Coterie, a deadly group out to control the multi-billion-dollar diet product industry. The FBI's plan to expose Coterie places Devyn's best friend and her partner's fiancé in the crosshairs of this ruthless organization. Can Devyn protect her friend and bring the coldblooded killers to justice before they strike again while distracted by injury, a sexist bully, and a long-distance relationship with a handsome Wyoming sheriff?
Lobbyist and Coterie assassin Sofia Wilks wants nothing more than to regain control of her life. Sofia knows Agent Nash is nipping at her heels, but the FBI agent isn't the worst of her fears. She is drawn to a man who has the power to destroy her.
Excerpt:
The man flipped the sign outside the door to read "Privacy Please," before slipping silently into the dimly-lit room. The sound of the harmonic overtones from the Tibetan singing bowls reverberated throughout the serene space. Aromas from exotic oils and incense assaulted his senses, momentarily distracting him from his mission.
As he shut the door, it clicked loudly.
"It's about time. I thought maybe you had forgotten about me," the woman in the hot tub stated.
"Of course not, just continue to relax while I prepare your robe," he replied.
He noticed cucumber slices obscured her vision. He silently walked up behind her and knelt down. Placing his hands on her shoulders he began to gently knead her muscles.
"Oh, that's wonderful," she said as she slid lower into the water.
He continued to masterfully massage her shoulders until her body became limp from complete relaxation. He slowly eased her lower and lower into the steaming cauldron. The water began to lap at her chin. He could feel her tense.
"That's enough. I'm ready to get out now," she demanded as she tried unsuccessfully to push herself up from the tub.
She was so reclined that her feet were unable to get any purchase on the sloped surface to counteract the downward pressure he exerted on her shoulders. She struggled against him, but her position and his size made the attempt futile.
About the Author:
Kim McMahill grew up in Wyoming which is where she developed her sense of adventure and love of the outdoors. She started out writing non-fiction, but her passion for exotic world travel, outrageous adventures, stories of survival, and happily-ever-after endings soon drew her into a world of romantic suspense and adventure fiction. Along with writing novels Kim has also published over eighty travel and geographic articles, and contributed to a travel story anthology. Kim currently resides in Colorado, and when not writing, she enjoys gardening, traveling, hiking, and spending time with family.
Buy Links for A Foundation of Fear:
Amazon: https://www.amazon.com/dp/B07PVL4391
Barnes and Noble Buy Link: https://www.barnesandnoble.com/w/books/1131000069?ean=9781522398547
iTunes: https://itunes.apple.com/us/book/a-foundation-of-fear/id1457767041
Social Media Links:
Blog: http://www.kimmcmahill.blogspot.com
Twitter: https://twitter.com/kimmcmahill
Facebook Page: https://www.facebook.com/KimMcMahillAuthor/
Instagram: https://www.instagram.com/kimmcmahill/
Goodreads author page: http://www.goodreads.com/author/show/849945.Kim_McMahill
Associate links to follow…
Amazon Prime
The Collins Case – 2 FBI agents track down a kidnapped family. Kid friendly.
If fantasy's more your thing, go Redeemer Chronicles. The first, Awakening, is available as an audiobook.
Ashlynn's Dreams Shorts – a kid deals with her parents' divorce, bullies, and the wonder of discovery.
Try The Dark Side of Science – Genetically altered kids fight for the right to live.
Beyond Broken Pencils – Contemporary literary tale of a school shooting. Ian unleashes his inner demons on his classmates and teachers…
Scratched Off – FBI agent vs a serial killer. When Sam Kerman sets out to hunt a serial killer, he has no idea how personal the case will become.

OR