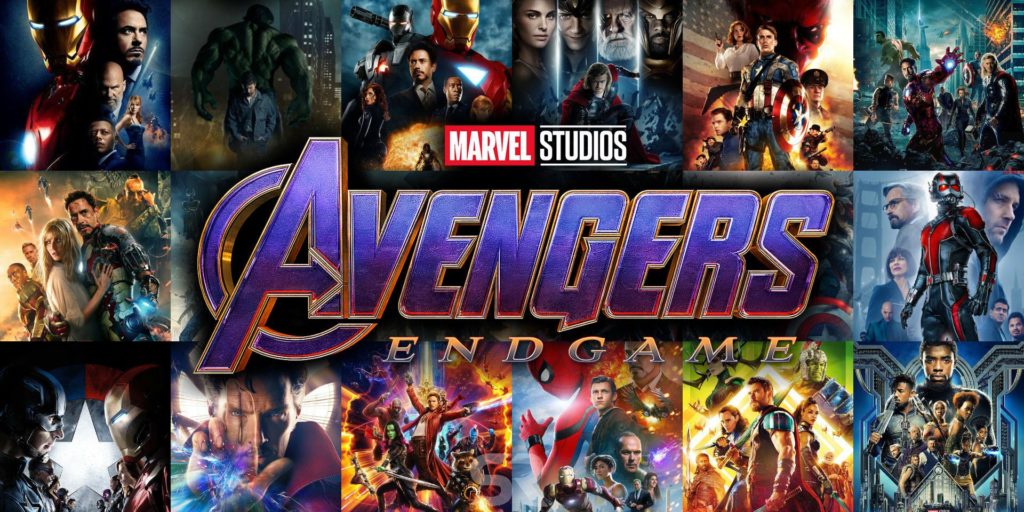 *Will Contain Spoilers during discussion and esp after ads*
Summary:
This movie picks up where Avengers: Infinity War ended. That movie left people in a bad spot. With a snap of his fingers, Thanos sent half of the heroes and half of all living creatures into dust. The heroes are left to pick up the pieces and try to move on. They deal with Thanos, but get kicked again (no infinity stones).
Recap of who survived Infinity War (I think):
Black Widow (Natasha Romanova, played by Scarlett Johansson), Captain America (Steve Rogers, played by Chris Evans), Captain Marvel (Carol Danvers, played by Brie Larson), Iron Man (Tony Stark, played by Robert Downey, Jr., Thor (played by Chris Hemsworth), Hulk (Bruce Banner, played by Mark Ruffalo), Hawkeye (Clint Barton, played by Jeremy Renner), Nebula (played by Karen Gillan, Ant-Man (Scott Lang, played by Paul Rudd), Rocket (voice by Bradley Cooper), War Machine (James Rhodes, played by Don Cheadle), Falcon (Sam Wilson, played by Anthony Mackie)
Additional Comments:
– Points of convenience: A rat sort of saves humanity by randomly brining back Ant-Man.
– They did a relatively good job of explaining time travel, but at its core, this is a time travel movie. If you love those, this will be cool. If you hate those, this might stink. If you are neutral, you'll probably end up on the like side.
– Characters really die … for good … they mean it this time … Can you imagine being in on the meeting? Who should we write off?
– How the heck did they not know the price of the soul stone? Nebula knew for sure. You'd think she'd say something in the little pre-war powwow.
Epic Moments:
– When the hammer slams into Captain America's hand.
– The beginning of the end battle. Where the yellow sparkly things show up and let in the armies of Wakanda and pretty much everybody else Hulk brought back.
– Watching the return of everybody Hulk snapped back into reality.
– The moment where the ladies of the MCU unit to lay the smackdown and clear the way for Captain Marvel to make it to the new "old" time machine.
– Thor's new hairdo for battle.
– Capt's speech before they enter their time heist.
– "Avengers assemble" – Captain America
– The relay race at the end was cool: Hawkeye happens to land near the gauntlet with the infinity stones after the freaking building collapsed thanks to Thanos's triumphant return to the future. (I know, it's weird.) He passes it off to Black Panther. When the king gets into trouble, he punts to Spiderman. Peter Parker fights hard but gets fire rained down from above, so he gives it to Captain Marvel.
Conclusion:
Same as before, definitely worth watching in theaters. Worth rewatching a time or two. If you don't think too hard, it's a fun time with lots of fan service.
Aside:
It's got the sort of cult following that will get tempers pretty heated. One lady in the theater we were at for round 2 about came to blows because somebody was laughing at a somber moment. It was equally amusing and scary.
Associate links to follow…
Amazon Prime
The Collins Case – 2 FBI agents track down a kidnapped family. Kid friendly.
If fantasy's more your thing, go Redeemer Chronicles. The first, Awakening, is available as an audiobook.
Ashlynn's Dreams Shorts – a kid deals with her parents' divorce, bullies, and the wonder of discovery.
Try The Dark Side of Science – Genetically altered kids fight for the right to live.

OR
*Definite Specific Spoilers*
– Stupid Lines: Yeah, it had a few. This is just a sample. (paraphrased, hey, I only saw the movie twice)
– It has to work because I don't know what I'll do if it doesn't. – Capt America
– I am inevitable. – Thanos (Yeah, I get it, every baddie needs a tagline, but even with his complete obsession with destiny, you'd think he could do better.)
– Funny Moments:
– Rocket slapping Thor. "Get it together."
– Rocket (to Thor) "You look like melted ice cream."
– Black Widow: "I get emails from a raccoon. Nothing's strange."
– Tony Stark (to Rocket) "Honestly, at this exact second, I thought you were a Build-A-Bear."
– Scott Lang's first experimental time travel adventure.
– Rocket treating Scott like he's a puppy.
– Past Hulk forced to take the stairs.
– Awwww moments:
– Thor got to speak with his momma.
– Morgan Stark extorting a popsicle from her dad because he said a bad word.
– Tony ending his message with the same thing his daughter said to him as he tucked her in.
– Hawkeye and Black Widow dueling to be the sacrifice.
– Mild disappointments: Black Widow shoulda had better lines during her epic exit.
– Head scratchers: During the end where they tied up each story …
– Who didn't survive Endgame?
Black Widow – she died for the soul stone. What I don't get is why they couldn't just bring her back by going back in time. I mean, now they know the rule, somebody gotta give up something they care for. Pluck some unlucky fool and the thing/person they love. Haul 'em up the mountain and throw one off. Boom, soul stone. (I know that's cold, but the point is … it's technically doable.)
Iron Man – Fitting that the man who started the saga should end it. I love that he pre-recorded a "hey, in case of my death" letter to his family. If his suit had been working properly, could he have survived? I mean he had lightning from Thor soaring through that suit no problem.
Captain America – He goes back in time to put the stones back where they belong so they don't screw over time. But then… he decides to stay with Peggy Carter, presumably back in 1945 ish. It shouldn't mess with time, but it probably would. The future would still be the future for everybody else. Don't care what they said about the future becoming the past for you. Might be true, but what if he had kids with Peggy? In one of the Capt America movies, he gets to meet her post thaw and she has grandkids. Awkward moment.