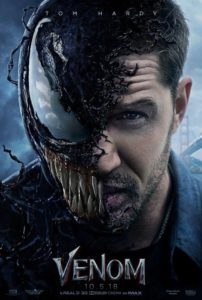 4.5/5 Venom; Surprisingly Good Comic Book Movie
*mild spoilers possible*
Summary:
Eddie Brock (Tom Hardy) has it all: a great job as an investigative reporter, a beautiful fiancée, and a really nice apartment. One mistake/ moral choice costs him all of that. Six months later, he's broke, living in a run-down apartment, job hunting, and very single.  Meanwhile, Carlton Drake (Riz Ahmed) is a very wealthy business owner trying to save mankind by getting alien and human biology to be symbiotic to each other.
Additional Comments:
One of my friends said he overheard some young teens chatting afterwards, saying they were bored by the first half of the movie. I am grateful there was some setup involved. You got to see the rise and fall of Eddie Brock. This same friend also mentioned that since Tom Hardy played Eddie and voiced Venom, it was basically him talking to himself the whole movie.
CGI and special effects worked well enough. Venom's not exactly going to be the poster child for hero, nor it is the best comic book movie I've ever seen. The general vibe of the movie goes toward action/horror.
Humor: There's some. Not as much as most Marvel movies, but there are some well-timed funny lines. Venom can be sentimental and deadly.
So why the high rating: I found it entertaining. It's not a deep-thinker, twisty movie. A guy picks up an alien and a lot goes down soon thereafter. There's a certain amount of logic to the plot. Sure, there are quite a few predictable things, but it should hit the fandom-pleaser mark.
A note about expectations: The source material for this movie is a comic book series. You have to expect a certain amount of campy split from reality.
Parental Warning: Not exactly family fun. This movie does come with quite a few curses and at least one f-bomb.
Action movie: There's a nice motorcycle/car chase and quite a few smaller fight scenes. The two larger fight scenes near the end didn't have much suspense but they still scored.
I guess you could go into the ethical debates about progress vs human life, but generally, it's recommended you leave it as an afternoon entertainment piece.
Conclusion:
Worth watching on a big screen. Going to the movies is expensive, but if you're going to watch something like Venom where it's pretty much about the fights, a giant screen is recommended.
Associate links to follow…
(If you click through and buy something, there's the chance I'll earn like $0.04 … not kidding, that's basically it.)
Amazon Prime
Ashlynn's Dreams Shorts – a kid deals with her parents' divorce, bullies, and the wonder of discovery.
Try The Dark Side of Science – Genetically altered kids fight for the right to live. Some of the crazy scientists in Venom reminded me of these people.