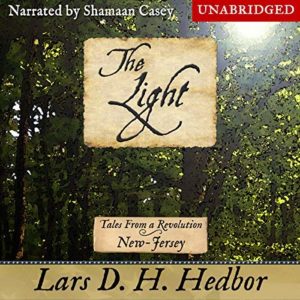 The Light: Tales from a Revolution New Jersey by Lars D. H. Hedbor
Summary:
Robert, a Quaker and a blacksmith, tries to balance his beliefs and the uncertainties of the budding war.
Additional Comments:
Characters 4.5/5 – The good guys are good, the bad guys are bad. It's clear cut, but it works.
Pacing 4/5 – The beginning's a bit slow, but the middle and the end flow pretty nicely.
Language/dialect 3/5 – The author uses a lot of "thee" and "thou" to be authentic, but that makes it a lot harder to listen to. You do gain an ear for it, but that takes some time.
Audio performance 4/5 – The narrator has a nice, deep voice. One can imagine it fitting a guy like Robert very well.
Although it's part of a series, I imagine each book stands alone rather well.
Conclusion:
Nice glimpse into struggles of the common folk during the revolutionary war.
Associate links to follow…
(If you click through and buy something, there's the chance I'll earn like $0.04 … not kidding, that's basically it.)
This book:

Amazon Prime
Audible – If you'd like some free codes, please email me at [email protected] with requests for any of my works.

OR