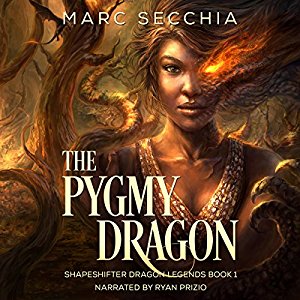 Introduction:
Whenever you pick up a book by Marc Secchia, you can expect epic adventure. He's created quite a wide world of dragons, shapeshifters, and humans locked in strife.
The Review:
Summary: Pip gets snatched away from her family and put in a zoo. There she befriends Hoonago (sorry about spelling, I heard the audiobook), a giant ape-like creature. After that, she's rescued/ kidnapped by a dragon and taken to a dragonrider school.
Additional Comments:
– World Building – 5/5 The story's full of imagination and neat world-building. The story fits within the same world as Aranya, though if asked to compare, I think that book's better.
– Pip's kind of a fun character.
– Pacing 3/5 – Parts of this book are unnecessarily long. I heard the audioversion, which made those sections bearable, but I don't think it really got to the "meat" of the story until quite a few hours in. The time spent describing the zoo could easily have been halved and still given readers a feel for the horrors Pip faced.
– The end didn't have as much closure as I like, but it's still a good story.
Content warning: Recommended for upper teens and adults. While there's nothing I'd consider steamy by any stretch, there are a few references to nudity and subtle suggestive comments made by some of the characters.
Conclusion: If you like dragons, Marc's definitely a writer to check out.
Conclusion:
This is the second story I've listened to by this author. The narrator did a decent job, but I didn't love his voice as I did with the narrator of Aranya. I know it's a companion book, but it still sort of suffered sequel syndrome of not quite being as good as the first book experienced. That said, it's still a solid fantasy read.
Associate links to follow…

Amazon Prime
Free Kindle Reading App
Audible