Hi Kim, thanks for taking the time to answer a few questions. What can you tell us about yourself?
My name is Kim Riehle.  I am a wife, mom of 10, grandma of 7, and avid reader and writer.
Me: That's a lot of kids.
What do you do for fun?
I love spending time with my family.  I also love theater.
Who or what inspires you the most?
One of the things that inspire me the most is the untold story.  I am a genealogist at heart, and I love researching the lives and experiences of those who have lived before us.
Tell us about your Vella series.
The Sliders Series is a YA story.  The first part is Quartet and comprises 57 episodes on Kindle Vella.
Are there any deep themes or messages in the book the readers should be aware of?
Friendship and loyalty are at the core of this story.  The experiences the characters have test those boundaries and they have to decide what is really important in their lives and relationships.
What gave you the idea for this book?
This is a story I started about ten years ago and it has increased in depth over that time.  I came up with the idea because I love the thought of being able to travel to another time.
How long did the book take to write?
From beginning to end, ten years.  Total writing time about six months.  There was a lengthy period of time when it just sat in my to-do file on my computer.
Who designed the cover?
I designed the cover.
Do you have other works?
I have three other stories on Vella.
Mending the Mirror is a Middle Grade, Mississippi Bones is a Historical Fiction, and H.O.P.E is a non-fiction.
Tell us about one other book or series and why it's important to you. 
Mississippi Bones is important to me because of the extensive research that took place to make sure the historical events were portrayed accurately.
What other writers/people do you consider inspirational? If they're authors, what about their work captures your interest? 
I like many of the classical authors, not just for their stories but because of where there stories originated.  Many of Tolkien's characters came from his experiences in WW1.  I also love Little Women by Louisa May Alcott because of her character Joe.  I am a lot like Joe. 
What got you into writing? 
I began writing as a companion to my reading.  I would write additional characters for the stories I read when I was a child.
What is your writing process? 
I am a planner and a world builder.
When do you consider a work complete? 
It is just a feeling.  I believe every story has more but there comes a point when you can say it is good and end it there.
Random:
How do you think your personal chances of survival are in an apocalypse? (zombie or other)
Answer: I believe I would be able to survive because I am a firm believer that when there are trials if you seek to help someone else they will be able to help you.  I also have taught survival to kids for a number of years.  
What's 1 thing you want to accomplish in your lifetime?
Answer: I want to give my kids an opportunity to learn enough to be successful, strong, and a positive influence in this world.
Would you rather get a tangible object or have an experience? (you can't say give me money.)
Answer: I love experiences.  For me spending time with someone is worth more than  money or things.
If you could have 1 (just 1) superpower, what would it be and why?
Answer: My superpower would be the ability to read emotions.  I would love to be able to help facilitate joy and peace in the lives of others.  Sometimes that is hard to do when you don't understand what they are feeling.
What's your "new" as in most recent favorite movie? 
Answer: My favorite movie is The Return of the King.  I know that is not a new movie but it is one where I feel there is so much to be learned through the relationships.  I love Sam.  He knows he can't carry the burden of the ring, but he can carry Frodo.
What brought you to working on this project?
A friend of mine introduced me to Kindle Vella in July of 2021.  I had this story mostly finished for years and it just seemed like the right time to pull it out and give it a new life.
What was the hardest part of bringing this story to life? 
For me, the hardest thing is time.  I write after all my kids are in bed.  That is also when I do my homework from the University.  Juggling between the two is difficult some days.  It takes discipline and a lot of time management.  I would get a lot more done if I didn't have to sleep.
Do you have a favorite character voice from the project? Why/ why not? 
 I love Emma.  She is the one who sees things differently because she is a transplant to the town where the story takes place.  
Do you have a favorite chapter from the project? Why/ why not? 
My favorite episodes are 53-57.  These episodes were all one chapter in the original story.  Because of the nature of Vella the episodes are much shorter than a chapter.  Those episodes are so powerful for me as an author.
Is there anything you'd like readers to know? 
No matter what you love to do in your life, please continue.  What we each contribute to this world is valuable.
Website: www.amazon.com/kindle-vella/story/B09F2CSYY8
If you want to get 5 clean audio promos a month. Sign up here.
Have You Tried Kindle Vella Yet?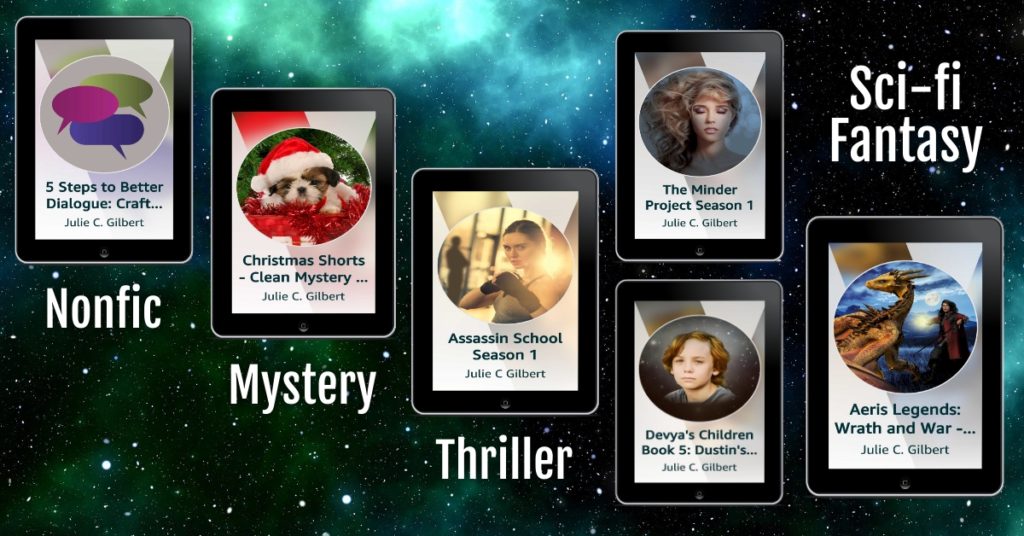 5 Steps to Better Dialogue – (nonfiction, writing skills; Complete) I feel like nonfiction titles should come with spoiler tags. This is a book for writers seeking to learn more about the creation of realistic characters and dialogue.
Christmas Shorts – (Mystery, thriller, Christian, suspense; Ongoing; story 1 is complete) Only one story right now, but will be a collection of short stories with characters from across my series. Typically, FBI agents with personal drama. Might feature an abundance of cute puppies.
Assassin School Season 1 and 2 – (thriller, YA; Season 1 complete; 2 releases Fridays) Teen spies try to survive the rigorous training and other drama as powerful people battle to control the Ghost children.
The Minder Project Season 1 – (scifi, genetic engineering, superpowers; shares characters with Dustin's Decision, Season 1 complete, 2 coming soon) The government gave her genetic Gifts. Now, it wants what it paid for from the program.
Dustin's Decision Devya's Children Book 5 – (YA scifi, shares characters with The Minder Project; Complete) Genetically altered teens struggle to navigate the murky world and control their Gifts.
Aeris Legends – Wrath and War (LitRPG, gaming, fantasy) This takes a box-of-chocolate approach to providing lore entries (creatures, quest descriptions, game mechanics) and short stories for a fantasy world.
Trials, Tribulations, and Trust Issues (Superheros, superpowers) A young woman who can access almost any superpower gets manipulated into testing them for the government.