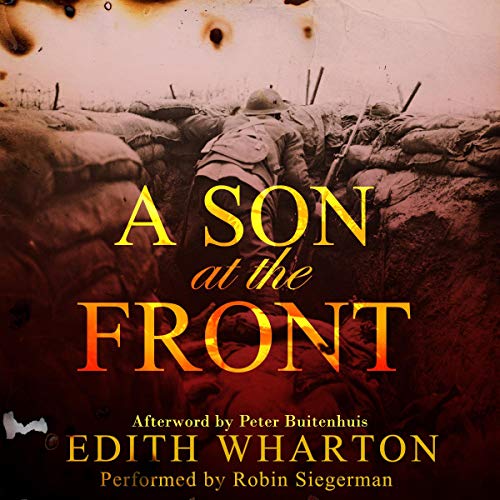 Narrated by Robin Siegerman
Run Time: 11 hrs and 52 mins
Summary:
The back cover copy/ book description pretty much spells out the book start to finish. John Campton's only son, George, by an accident of birth is a French citizen. So, when WWI opens, he's conscripted into the army. John, his ex, and his ex's husband try their darndest to get George a cushy staff posting instead of going to the front, but George has his own plans, duties, and ideals to adhere to.
Additional Comments:
– The summary at the end was quite helpful.
– Length 3/5: Probably would have been more powerful as a 6-hour book instead of almost 12.
– Plot 3/5: A lot happens, but the perspective hampers the experience. It's limited to John's point of view, which is fine, but since he's not really involved in any action per se, the book drags a lot. There are huge events talked about instead of experiences. It rehashes the horrors of war and the nervousness the parents feel by talking about the situation instead of showing the mud and blood of the trenches. WWI kicked off a long, bloody century. Now, a little over a hundred years have past and the problems of the day dominate thoughts, making the sufferings recounted seem mute, almost trivial.
– Characters 3.5/5: As Mr. Buitenhuis nicely summed up, the other characters are completely self-absorbed. That makes them realistic but not very likable. Even John's not exactly a character who stands out in many ways. That's kind of the point. He's an artist and a father put in difficult circumstances, but always on the edge of the action because he's legit powerless to change the war that threatens his most precious possession, his son. (That can be taken as endearing or creepy.)
– Performance 4.5/5: Solid. The characters are distinguished well. The French phrases and accents are also handled nicely. I would certainly listen to more of her efforts.
Conclusion:
In many ways, it's a beautiful story, but it's too literature-y for me to be in love with. Maybe I'm just a soda fan being served wine.
Audiobook Promotions …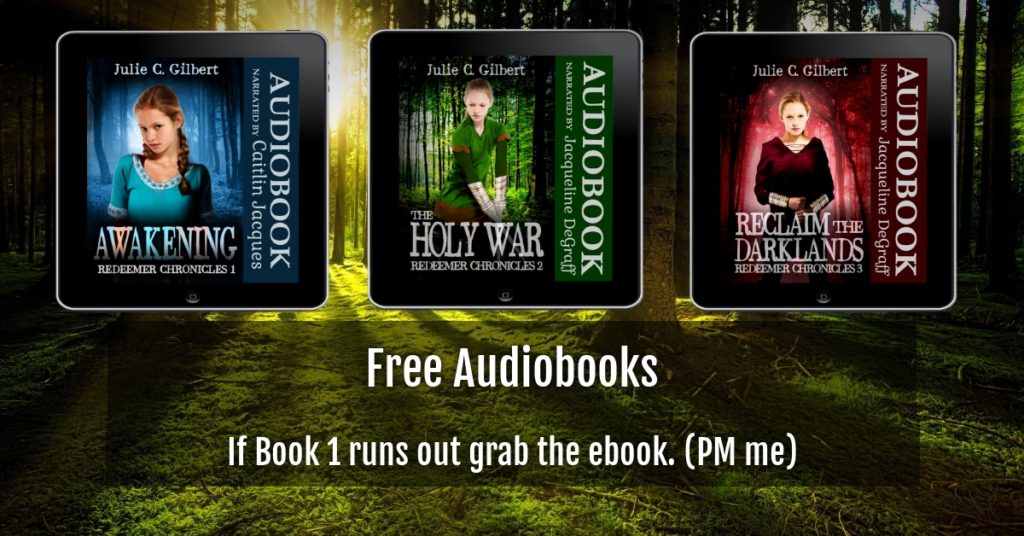 Many of my 44 audible titles are listed on Audiobooks Unleashed.
Whether you're looking for mystery or suspense or fantasy, I've got a title for you. Free codes are probably on audiobooks unleashed.
Normal links go to audible. *The Amazon labeled links are affiliate links. That means I get a very small payment from Amazon if you go through with a purchase.*
Note: Filter by US if you're looking for those codes as many titles are out.
Ones I think may still have US codes: Reshner's Royal Ranger, Never Again, Innova, The Golden City Captives, The Holy War, Reclaim the Darklands, Eagle Eyes, Treachery Makes it Tense, Ashlynn's Dreams Shorts, The Dark Side of Science, Ashlynn's Dreams, Nadia's Tears, Malia's Miracles, and Varick's Quest
There are plenty of UK codes, but not many US ones left.
Redeemer Chronicles (Fantasy)
Awakening – Redeemer Chronicles Book 1, MG fantasy (Amazon) (free codes)
The Holy War – Redeemer Chronicles Book 2, MG fantasy (Amazon) (free codes)
Reclaim the Darklands – Redeemer Chronicles Book 3, MG fantasy (Amazon) (free codes)
River's Edge Ransom – Prequel to Redeemer Chronicles (Amazon) (email devyaschildren @ gmail.com for free codes)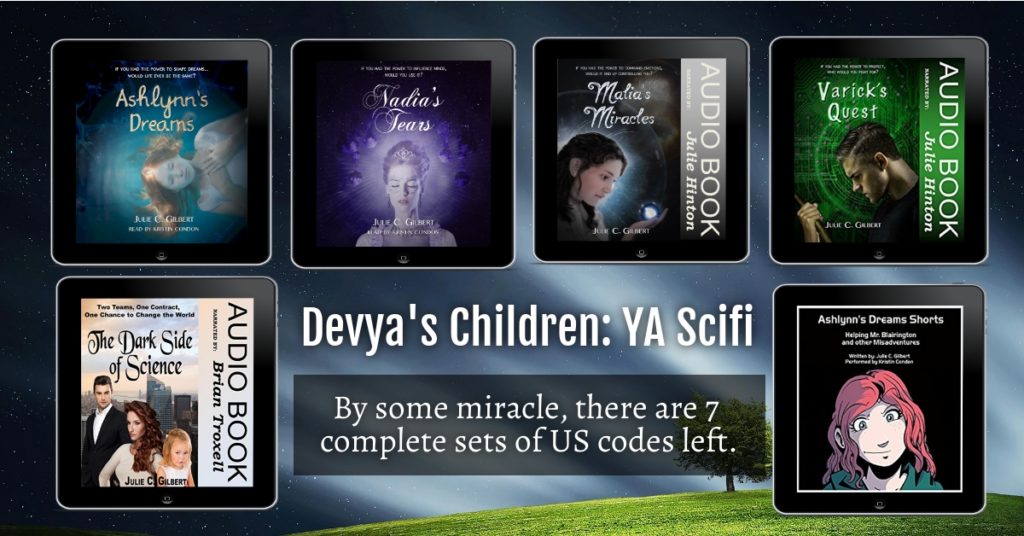 Devya's Children Series Links:
Ashlynn's Dreams Shorts – short stories featuring Jillian. (Amazon) (free codes)
The Dark Side of Science – official prequel to Devya's Children; Genetically altered kids fight for the right to live. (Amazon) (Please email devyaschildren @ gmail.com for free codes)
Ashlynn's Dreams – Genetically altered Dream Shaper learns her gift. (Amazon) (free codes)
Nadia's Tears – Jillian tries to awaken her sister, Nadia, from a coma. (Amazon) (free codes)
Malia's Miracles – Jillian and her siblings try to save a friend's mother. (Amazon) (free codes)
Varick's Quest – Jillian and Danielle get kidnapped. Nadia's also in trouble. (Amazon) (free codes)
More Scifi:
Reshner's Royal Ranger (epic sci-fi) just made it there. (Amazon) (free codes)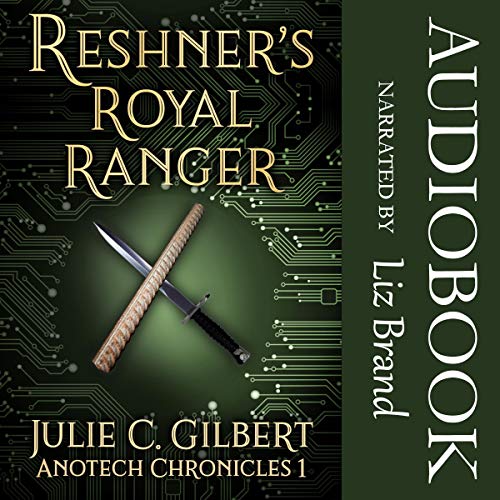 Guardian Angel Files:
Spirit's Bane – Allister and Mina are training to be Guardians. Satan's out to get them. (Amazon) (free codes)
Kindred Spirits – Mina's exiled to Earth. Allister's stuck in the Heavens. (Amazon) (free codes)