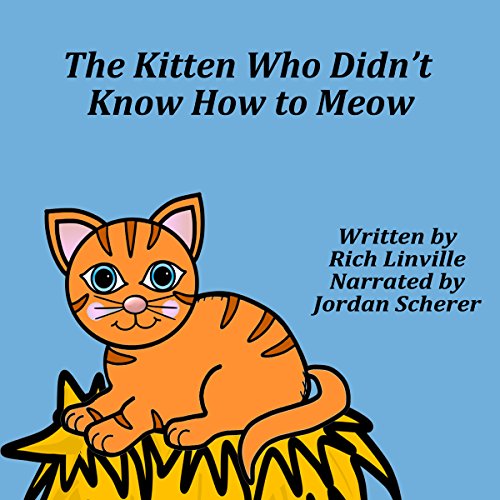 Summary:
This is a very, very short children's book that explores most of the sounds common farm animals make. Since the total runtime of the audio is 3 minutes and 16 seconds, my review probably has more words than the book. Literally a minute of that runtime is a note to kids, parents, and teachers.
Additional Comments:
– It's cute.
– There's not much of a story though. It's just a survey of various animal noises because the kitten's asking them how to meow. How would a kitten know the word without knowing how to do it?
– I know I'm way overthinking it, but the lack of logic drives me nuts. She's also a lost newborn kitten in the beginning but talking to her mother at the end. She's also a lost, newborn kitten trekking all over a farm. They don't tend to walk that far for a few weeks. (Yeah, yeah, I get it, the whole animal talking thing didn't bother me one whit. That meets general suspension of disbelief standards.)
– Also, if you've ever tried to teach anybody anything, you know that demonstrating it once isn't really going to stick.
– Animals included: dog, owl, horse, goat, pig, chick, cow, mouse, duck.
– What this book has going for it is the very clever wording. There's a nice, poetic cadence to the arrangement.
– Audio performance is okay. The rendition of meow at the end is stellar, but the whole audio has a slight tinny quality to it. (That might be ACX's processing of it.)
Conclusion:
I'm going to chalk this up to I am NOT the target audience. If you have a small child or really love children's stories, this will probably be a great experience for you.
Associate Links:
(If you click through and buy something, there's the chance I'll earn like $0.04 ….)
Amazon Prime
The Collins Case – 2 FBI agents track down a kidnapped family. Kid friendly.
If fantasy's more your thing, go Redeemer Chronicles. The first, Awakening, is available as an audiobook.
Ashlynn's Dreams Shorts – a kid deals with her parents' divorce, bullies, and the wonder of discovery.
Try The Dark Side of Science – Genetically altered kids fight for the right to live.
OR