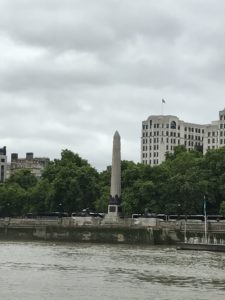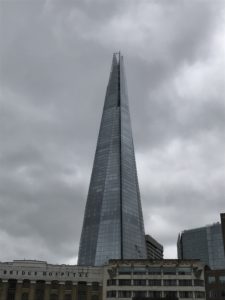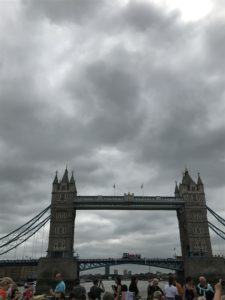 Left to Right: Cleopatra's Needle in Westminster (I think, tour guide said there was a twin of it in New York City. I'll have to look for that.); The Shard (weirdly shaped building with a penthouse worth 42 million once upon a time, might be more now.); View of Tower bridge with a tourist bus going through.
Sunday, July 16, 2017
City Cruises – River Red Rover
The London Pass comes with the ability to take a City Cruises river boat ride. Just make sure you have plenty of time to enjoy it. The line to get the ticket was giant and seemed to move nowhere until a lady came out with a scanner and pre-printed tickets to process some of the London Pass people.
The round trip for Westminster Pier to Greenwich Pier would be 3 hours. That sounds like a very long time, but I rather like the way I did it. I took the trip from Westminister Pier down to Greenwich, got off, walked up to the Royal Observatory, stepped into the National Maritime Museum, ate lunch, and got back on the boat to come back to Tower Pier.
Greenwich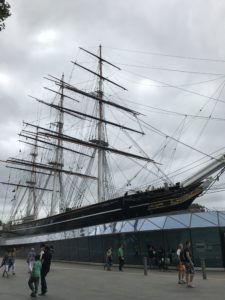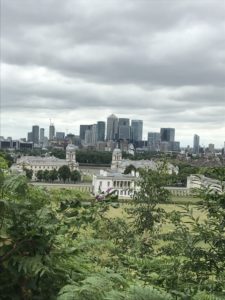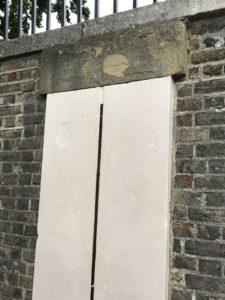 Left to Right: The Cutty Sark, The view from Greenwich's Royal Observatory, and the line splitting the East and West Longitudes
Unfortunately, I didn't get time to explore the Cutty Sark. Taking that picture was about the extent of my experience with the ship, unless you count using it as a landmark to get back to the pier. It took some doing and quite a bit of walking to get up to the Royal Observatory. That is a very large park. The day couldn't have been nicer though, so it was a pleasant walk.
On the way back, I stepped into the National Maritime Museum, but I lacked the time to explore that as well. Took a picture of the ship in a bottle. I considered getting lunch there, but decided to find a place in town. Ended up buying  a pie and a 7-up in a little place that sold nothing but pies.
Unexpected "Excitement"
Incidentally, I sort of think I passed a murder scene on the way back to the dock. In any case, there was a section cordoned off by police and a stain very much like blood spatter on the wall of a vestibule. Oh, and a lady constable yelling at people not to take pictures. Such excitement. World could do with a little less of that sort of excitement. Given the view, I'm fairly certain it was this story. (Link with more details.) For all my rushing to get back, I had a half-hour wait until the boat left, so I got an ice cream and waited.
Picture Opportunities – Tower Bridge from a Different Angle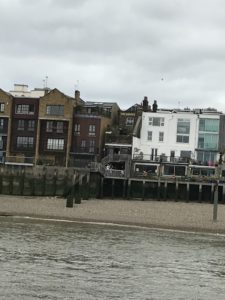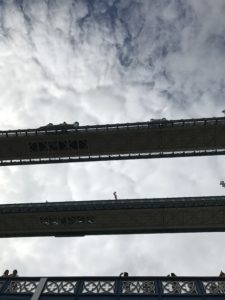 Left to Right: A picture of the pub owned by Sir Ian McKellen called The Grapes; A view of Tower Bridge from underneath
I had three pictures but had to delete one because some dude's elbow got in the way. At least he didn't hit my phone and knock it into the Thames.
Church at Night
I got back with seconds to spare and attended church with my friends. Afterwards, they served a potluck style South Asian dinner. While not my typical fare, I enjoyed the meal and found plenty of things to try. The kids ran around and played sports for a while after the meal, at least until they knocked both tennis balls over the fence. My friend needed to run some errands after church, so I tagged along. Got to visit Tesco, which I'm told is sort of like a Walmart. Anyway, it looked like a place with clothes and food. I managed to buy some cookies to share at home. Got to have something English from such a trip.
Conclusion:
Sunday kept me hopping. Probably the single most traveling I did the whole trip.
Need to Catch Up?
Part 1: Preparation, Planning, Cost
Part 2: Arrival and First Day in the City (The London Museum)
Part 3: Getting into Tourist Mode (British Museum)
Part 5: Buckingham Palace and More Museums (Natural History and Science Museums)
Part 6: Tower Bridge, HMS Belfast, Shakespeare's Globe
In the Mood for Some Shakespeare?