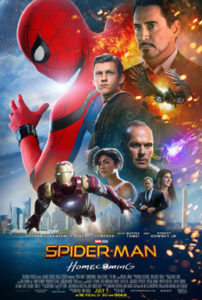 Note: I don't own the rights to the movie poster. You can find it here.
Introduction:
I enjoyed this movie. It's an origins story for Spiderman, but it gets past the stuff we've seen before and dives into Peter's struggle to balance school and life as the webslinger. He's frustrated because Tony Stark/Iron Man's treating him like a kid. He's also crushing on a girl who's head of the Academic Decathlon team. He's a genius but unreliable when it comes to competing.
Additional Comments:
I loved how doing the right thing didn't always make everything better.
Much of the movie turned into typical Marvel action fare – how many buildings and vehicles can we destroy in the next two hours?
Tom Holland fills the role nicely. Aunt May works. Her last line's perfect. I like how they worked MJ in.
I'm never a fan of home videos so the beginning was annoying. I like the idea, but the shaky cam style messes with my head.
There's a good balance between ups and downs for the hero, sentiment, growing pains, and action. And comedy. I don't think there were quite as many funny lines as other Marvel movies, but they worked in some situational comedy like the gangster giving him interrogation advice.
I wonder how many Death Stars they broke for that one scene?
They're definitely shooting for a sequel, but there's enough closure to feel like you've seen a complete story.
Except the stinger. It's a stinker. (Okay, so mildly amusing but leaves one feeling annoyed nonetheless.)
Conclusion:
They've successfully passed along the Spiderman torch, yet again. Not even sure I saw the Andrew Garfield version. Last Spidey I remember was Toby…and that was a very long time ago. Definitely the sort of movie worth seeing in theaters and adding to your blu ray collection if you have such a thing.
In the mood to splurge on your Spiderman Obsession?