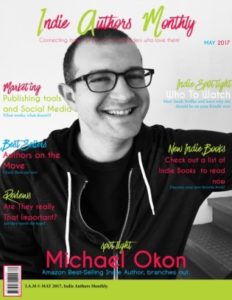 What is Indie Authors Monthly?
Here's the answer according to one of the editors:
Indie Authors Monthly is a new magazine geared with a focus on exceptional Indie Authors and readers. We aim to connect readers with new authors, while being the go-to source for indie author news, events and processes. Readers get a unique perspective into authors and have opportunities to sound off on their likes and recommendations. Readers can find author events for the ultimate fan experiences and lively ads to showcase new books that may interest them.
What do they offer readers?
Get inside the minds of some of your favorite authors or find some new writers to love. The indie author community in general is highly active. If people don't hear about our works, they languish in obscurity. Networking and interacting with the fan base is one of the most exciting parts of being indie.
What do they offer authors?
Check out their site for a few great opportunities to advertise. But there's much more than just ad space.
If you're in indie, find your time to shine.
The editor I talked to, RL Jackson, was very open and responsive. Their Facebook page has the "very responsive" tag. That's not easy to earn! So, somebody must be at the controls.
Find out what they're looking for in terms of an article or column. I wrote an article about audiobooks that should be out later in the year.
Conclusion:
Whether you want to talk about the triumphs or the struggles of being an indie author, this magazine looks to have an opportunity for you to join the community.
Links:
Main Website
Place to Download the May Edition
Facebook Page