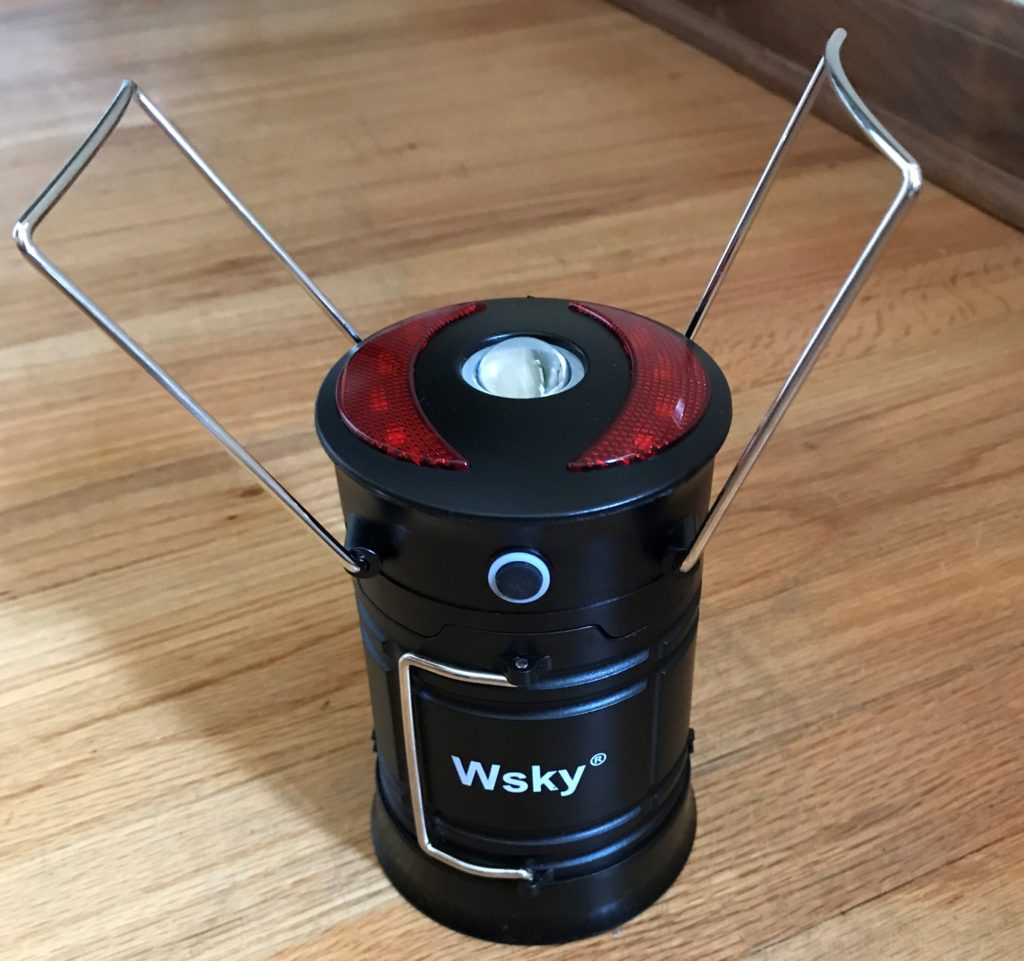 Small but Mighty, Versatile Flashlights/Lanterns
Summary:
Whether you're going camping or looking for emergency backup lights, these little lanterns are a good investment. They're pretty versatile, being able to be used as a normal flashlight, an emergency beacon, or a lantern.
Additional Comments:
If you buy them on Amazon, you get a 2-Pack of these handy little lanterns for about $29. I think there's currently a $2 off coupon, but you also have to pay taxes in most states.
I was surprised a how tiny these lanterns turned out to be. They're surprisingly light-weight too.
Usage Length: Wanted to see how long they would last, so I left one on. It's not a true experiment, but I left both on for long periods of time over the last few days just to see what would happen. It stayed really bright (as in almost too painful to look at) for ~2-3 hours. Then, it turned a "normal" bright for about 4-5 hours beyond that. For 1-2 hours beyond that, it still worked but was almost useless as a lantern to do stuff with. (The last bit, it would work for moving around in the dark but you couldn't see well enough to read by it.)
Recharge time: It came mostly charged. I plugged it in and it turned green light in about 20 minutes. After I'd used it for the 9-ish hours, it took about 3 hours to recharge to max power again.
I love that there's a rechargeable battery as well as a slot for 3AA batteries.
The lanterns are surprisingly light weight. While this is super helpful if you intend to pack it, I think some people may be skeptical, thinking lightweight translates automatically to cheap quality. They subconsciously have old-school flashlights (that weigh a bunch because they're powered by 3 D-batteries) in their heads.
The side and top handles are thin, but they seem to work fine.
The design is simple yet aesthetically pleasing.
The emergency flashers are highly annoying, which is perfect for drawing attention. There are a few settings for these.
Conclusion:
Moderately priced, light-weight, but bright and versatile lanterns perfect for everyday or emergency use.
Associate links to follow…
The Collins Case – 2 FBI agents track down a kidnapped family. Kid friendly.
If fantasy's more your thing, go Redeemer Chronicles. The first, Awakening, is available as an audiobook.
Ashlynn's Dreams Shorts – a kid deals with her parents' divorce, bullies, and the wonder of discovery.
Try The Dark Side of Science – Genetically altered kids fight for the right to live.
Beyond Broken Pencils – Contemporary literary tale of a school shooting. Ian unleashes his inner demons on his classmates and teachers…
Scratched Off – FBI agent vs a serial killer. When Sam Kerman sets out to hunt a serial killer, he has no idea how personal the case will become.