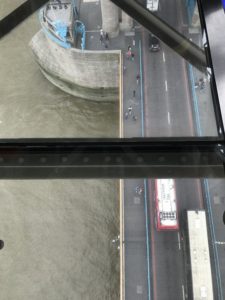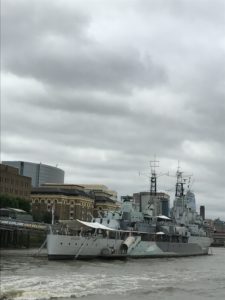 Left to Right: The view from inside Tower Bridge; the view of Tower Bridge from the walkway up to the HMS Belfast; the view of the HMS Belfast from a City Cruises boat
Tower Bridge Exhibition
By the time Saturday morning rolled around, I figured out that I ought to do some of the paid stuff on my own before meeting my friend. My plan involved seeing the Tower Bridge Exhibition, which I did, but it didn't take as long as I expected it might. The tourist trap, I mean shop, there provided the perfect opportunity to get some other odds and ends for various people. When I got done, I was on the far side of the bridge, near the Belfast. Since I still had time before meeting my friend I decided to check it out.
H.M.S. Belfast
Besides doing a lot of walking, I wouldn't call any previous part of the trip strenuous and would recommend everything to all ages. The Belfast, however, is a different story. It's amazing and totally worth doing, but it's also tight. I don't mean that like slang for cool. I mean literally tight. Nine some odd floors of up and down ladders and walking through very narrow spaces. Not sure how sailors spent months at sea here.
The free audio tour with your entry fee is lovely. I took a lot longer than expected exploring even though I don't think I got to everything. Pretty sure I managed to get lost a few times. They had a really cool exhibit area that walked you through the history. The Belfast saw action during WWII and patrolled both the Arctic and the Pacific during its career.
*One of the highlights of my trip. If you're not up for climbing and squeezing and ducking though, you might want to skip this.
Shakespeare's Globe Exhibition
I'm glad I did it, but I don't think I would have done it if the London Pass didn't already pay for it. Also, it was definitely better to go with a friend who appreciates Shakespeare more than I do. Shakespeare's okay. I know that's like blasphemy to a lot of literature nuts, but I'm a simple murder mystery kind of girl. I love the stories but not necessarily the old-school, hard to muddle through language.
The guy who ran the tour new his stuff, and we got to see part of the upcoming show. I think I'd rather pay five pounds and see one of the shows instead though. In the gift shop, I almost bought a mug with the tube map, but I refrained.
Aside: It seemed every mug in that city was super tiny.
Random Fact: This is the 3rd globe theater as I think they managed to burn down the second one a few hundred years ago.
Need to Catch Up?
Part 1: Preparation, Planning, Cost
Part 2: Arrival and First Day in the City
Part 3: Getting into Tourist Mode
Part 5: Buckingham Palace and More Museums
Want to Build Tower Bridge?